Page 2 of 2 •

1, 2
@VJ72584

wrote:http://survivial-training.wonderhowto.com/how-to/heat-your-home-emergency-without-gas-using-flower-pots-candles-0150341/
The discussion rebuttal at the bottom of the page makes more sense to me than the concept itself.



Posts

: 7392


Join date

: 2010-02-26


Age

: 64


Location

: yelm, wa, usa



Hello all.  As most of you know, here in the Atlanta area we have had bizarre and dangerous winter weather.  Being that we are originally from Los Angeles, we have never experienced anything like this weather in all our lives.
Fortunately we never lost power and the one tree that fell did not hit our house.  In fact, it fell directly between all of my boxes that could have been hit by it.
Here is a shot of the one downed tree (you can also see one of my Earth Boxes that is full of garlic):
I put tarps on almost all of my boxes.  I am very surprised by how well my winter variety plants did in this bitterly cold weather.  Here's one of my boxes: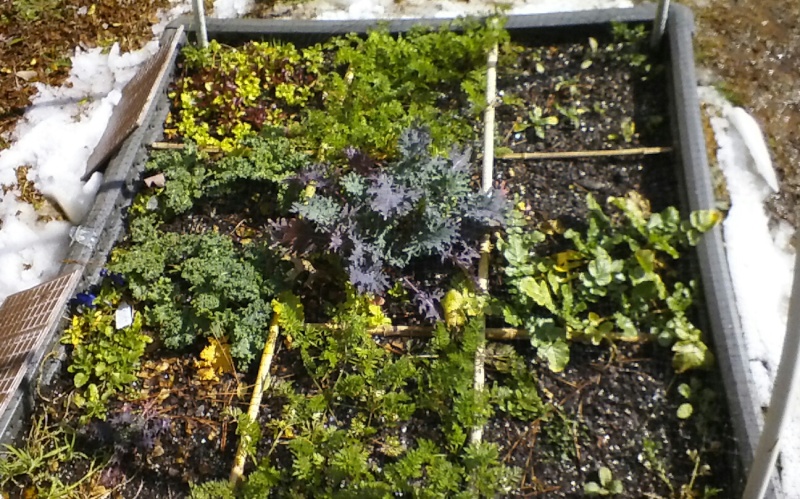 With one of my Earth Boxes, I did not have a tarp left to cover it.  So, I just left it and hoped for the best.  The box contains radishes and a sole pansy for color.  Well, we came out and removed all the hard ice that had caked around/above everything... and low and behold... the pansy looked fresh as a daisy (ha ha).   My wife calls it "The Little Pansy That Could."  Here's a shot of it: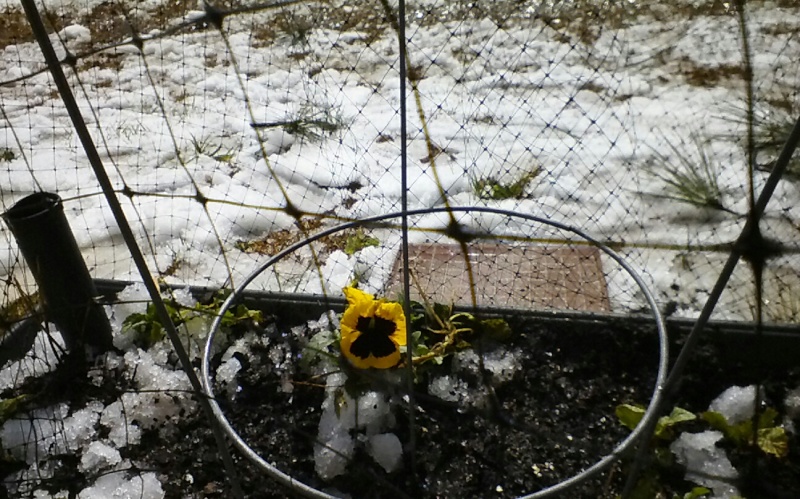 Having experienced some success with all of my winter veggies, I am very encouraged.  I never would have thought that anything could be grown in the bitter cold.
I hope everyone who was affected by this storm is ok.  Yolos, I was thinking about you.  I hope you are ok and that things are coming back to normal.  Bnoles, I hope you are doing ok too.



Posts

: 1425


Join date

: 2013-02-26


Age

: 48


Location

: Fayetteville, GA - Zone 7B - 8A



Windmere - Glad you made it thru the storm without losing power.  We lost our power for about 8 hours yesterday (Wed) but it came back on about 8:30 pm.  Also glad the falling tree didn't hit anything important.  We had 3 trees fall but they fell back into the woods so no damage done.  We kept hearing loud cracking noises as the trees were breaking and we would kind of freeze up momentarily until we heard the trees crash somewhere other than our house.

Your winter garden looks nice.  With this horrible weather we had this winter I am amazed that yours is doing so well.  I did not do a winter garden this year.  The company I work for was notified in August that the IRS was going to do an audit of our company.  Since I am the head of the accounting department, it meant many hours/days/weeks of work and worry.  So my winter garden never got planted.  Maybe next year.



Posts

: 3178


Join date

: 2011-11-20


Age

: 67


Location

: Brooks, Ga Zone 7B/8A



Hi Yolos,
I am so glad to hear that you are ok and that you eventually did get your power back.  The news said that so many were without power for a very long time.  I know exactly what you are talking about with the falling trees.  When our tree fell, it made these popping sounds... I've never heard anything like it.  Also, in the distance, we would here enormous (evidently) trees fall with very loud crashes.  It was really unnerving.  My wife even said that she would prefer our California earthquakes to this.  I understand her reasoning.  Earthquakes are over and done within a minute or so.  You don't have the dread of seeing something slowly approach you on the weather radar.  Of course, both events are horrible.  Hard for me say which is the lesser evil.  Probably has much to do with where you are from.
Thanks very much for your kind comments about my winter garden.  I gave it lots of tender loving care when it came to shielding things with tarps when the temps went to the low 20s.  Interestingly, they were all fine (without tarps) in weather that was in the mid 20's and up.  I never would have believed it.
Sorry to hear that work has been stressful.  I can empathize. As you said, there is always next year. 




Posts

: 1425


Join date

: 2013-02-26


Age

: 48


Location

: Fayetteville, GA - Zone 7B - 8A



That is all such good news!  Many didn't fair so well but it's nice to hear some success stories.  Our prayers are will all the folks out there.



Posts

: 319


Join date

: 2012-10-24


Age

: 66


Location

: zone 6b, southwest missouri



I am glad to be back online here in North Augusta, S.C we got hit really hard by the ice. I was out of power for 5 days since all of the trees falling took everyone's power lines off of the sides of our houses. No power 5 days no cable,phone,internet for 8 days.Thinking twice about "the bundle" I got from Comcast. Funny someone mentioned earthquakes above we had that too one 4.2 then a 3 something aftershock. I thought the 2nd one was the power company truck showing up. All of the cleaning up and recovery (back into the 70 degree temps) has got me getting the garden itch. Last year my garden did great until the monsoon started 

. I have to travel to Cape Town, South Africa on Monday for work and will return March 12th. Getting seeds and starter stuff ready for when I get back. The beds are ready and waiting. I think I will cover them really well with cardboard or tarps to deter weeds from getting an early start any suggestions?



Posts

: 26


Join date

: 2013-02-23


Age

: 54


Location

: North Augusta, S.C.



Cj, sounds like you have had quite a time. At least you will have the seeds to look forward to when you get back from SA. Have a safe trip.

Forum Moderator Certified SFG Teacher




Posts

: 13980


Join date

: 2013-04-21


Age

: 68


Location

: Fresno CA Zone 8-9



I never got around to starting plants for my early spring garden so last weekend I purchased some transplants.  I was going to plant them in the garden last weekend but the projections were for a low of 19 degrees tonight so I have not planted them yet.  I have one of those shelf units that is covered with thick clear plastic.  I have it sitting on my back porch which is exposed to the cold but gets plenty of sun during the day.  I put the transplants on the shelf and used the suggestion of one of our members (I think jimmy cee) and put a crock pot full of water on the bottom shelf and plugged it in.  Sure enough, the temperature is now 10 degrees warmer than the outside air.  I did not have time to harden them off so this should keep them nice and warm tonight. 

The drawback is that it is very moist inside the "greenhouse".  I will have to open it up before I leave for work in the morning which will be about 25 degrees.  I can't wait until I retire so I can grow more plants in the late fall and early spring.  Covering and uncovering before and after work is a real pain so I try to keep it to a minimum.



Posts

: 3178


Join date

: 2011-11-20


Age

: 67


Location

: Brooks, Ga Zone 7B/8A



Page 2 of 2 •

1, 2
---
Permissions in this forum:
You
cannot
reply to topics in this forum