I am in Hawaii, where supply resources are limited. I also didn't plan ahead (so I can't order online in time). I have a cucumber plant that is frantically looking for ANYTHING to climb on. I checked 2 Home Depots, 3 Walmarts, a Lowe's, several local gardening stores - and could not find any nylon trellis netting. I finally did find something called "cucumber netting," but with very large holes - just over 9 inches. Has anyone used something with holes this large, and will it work ok? I have a tomato and an eggplant and some snap peas that will all be needing it.

Thanks for any input.
Well I wouldn't advise anyone to use this stuff, mostly because it is difficult to work with. I had to buy a 300 foot roll of it, and it came all tied up with no obvious way to undo it. Then, the grid of holes is apparently on a diagonal, which is hard to fasten tightly onto the trellis frame. I finally got something up, but it took two hours and much swearing. The cucumber seems happy enough, so it may work out, but I wouldn't use it again.
Wow, that's dedication. I would love to see a picture. If you got 300 feet maybe you can figure out a way to use it for other stuff.



Posts

: 53


Join date

: 2010-03-26


Age

: 37


Location

: South East Idaho (Zone 4a/4b)



I'll try and get a picture on here later today.
This is how it came packaged.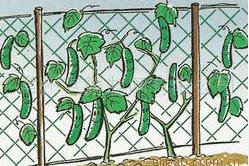 This is a drawing of how I think it is intended to be used (note diagonal orientation - "diamonds" rather than squares.) I tried to put it up this way, but couldn't get it tight (and wrestling with a 300 ft blog of tangled netting is not fun.) So I re-oriented it and cut out the largest rectangle I could that would allow vertical and horizontal squares. It looks "normal" now, although the 9-inch holes are larger than Mel's guidelines.
Maybe this would be easier...At a class I took someone said that the way they connect the netting to the post is to weave the post in and out of the holes before connecting the posts together. He didn't tie a thing. I haven't put one up yet but that's how I plan on doing it. It looks like the cucumber netting is just perfect for that with the diagonal holes.

Certified SFG Instructor




Posts

: 247


Join date

: 2010-03-23


Location

: Western NC - Zone 6a (mountains)



I take it you already have a trellis. Why don't you just get some sisal twine and make your own? 4in. squares should work. Fasten the ends with staples or thin baling wire or something.



Posts

: 5


Join date

: 2010-03-31


Location

: Kansas



Howdy All:

9 inch square for a trellis is fine. On the other hand netting with holes to small are hard to reach through and pick all of your crop. I grew cukes, beans, tomatoes, and other vineing plants on a chain link fence and it was a real pain.

God Bless, and good gardening.

Ward.

Certified SFG Instructor




Posts

: 935


Join date

: 2010-02-26


Age

: 67


Location

: Wake, VA



Oooh, if you have a staple gun you can staple it to a trellis or make a cage to keep critters out. Sorry to hear its such a pain to work with.



Posts

: 53


Join date

: 2010-03-26


Age

: 37


Location

: South East Idaho (Zone 4a/4b)



Thanks for all this input. I made my trellis according to Mel's instructions, with the electrical conduit. I wanted to weave it, like someone suggested, but couldn't get it to work. So I just tied it. Here it is: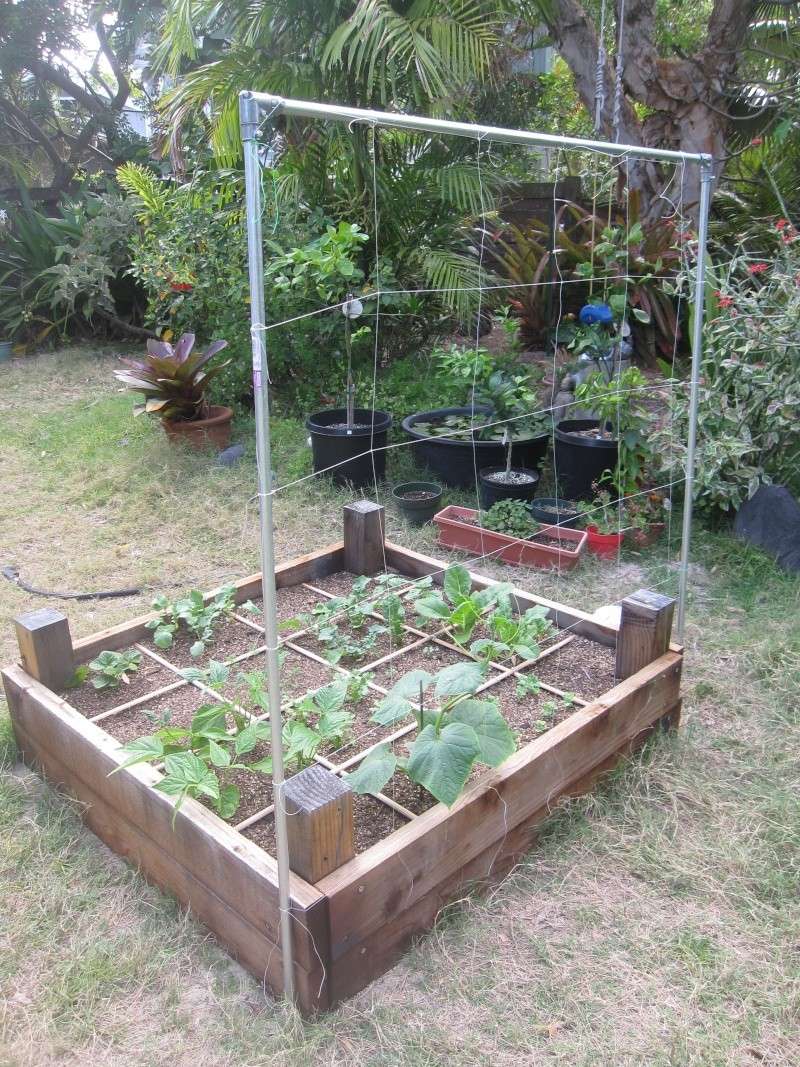 I am glad to hear that 9-inch is ok.
Thanks again!
(And those four posts are sticking up because I had originally made my sfg higher, but when I realized how much soil I had to prepare, I decided to bring it down. And then I was too lazy to cut off the post tops...hoping the shadow cast doesn't hinder plant growth...)

Certified SFG Instructor




Posts

: 247


Join date

: 2010-03-23


Location

: Western NC - Zone 6a (mountains)



---
Permissions in this forum:
You
cannot
reply to topics in this forum