Can you tell the clear winner?
Tomatillo and Tomato seedlings in Jiffy Peat Pellets on the left...tomato seedlings in NK Seed Starting Mix.
Had the same results last year.  My only complaint about Jiffy is that the refill pellets are just as expensive as buying a whole new kit (pellets, tray, clear lid)...doesn't make sense.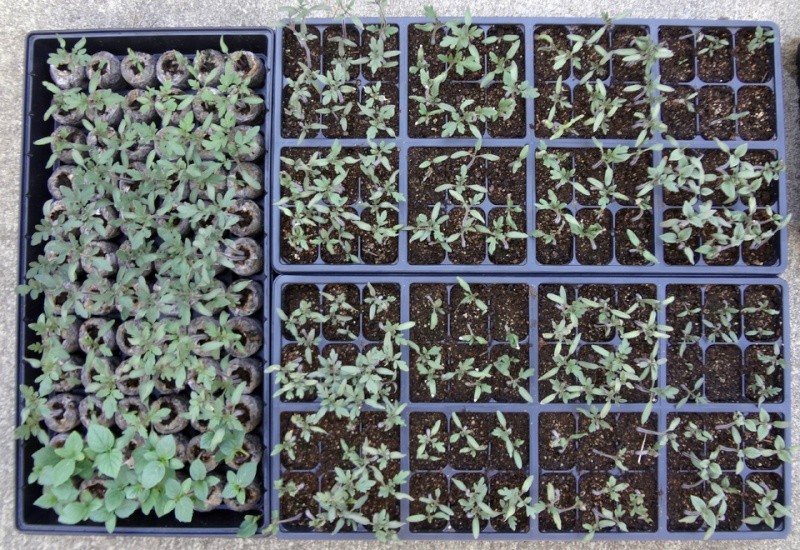 Also trying 16 oz clear cups from Walmart to pot-up seedlings this year (holes drilled in bottom).




Posts

: 1144


Join date

: 2012-01-22


Location

: kansas city



Very interesting results!  I did a similar experiment using Burpee 'Super seed growing pellets' and vermiculite.  With my Salvia and Petunias it was a dead heat - all plants have germinated (in 4 1/2 days from planting with light and bottom heat).  My tomatoes also seem to prefer the pellets Sweet Baby Girl cherry, Seedless Hybrid, and Wisconsin 55.  So far no call as to what my peppers prefer - only one sprout at this point.  I think next year I will run the same side by side and maybe try Mel's Mix vs. pellets.  I also like the idea of the clear plastic cups for potting up transplants - much less expensive than plant pots!



Posts

: 9


Join date

: 2013-04-17


Age

: 52


Location

: Waunakee WI, zone 5a



I've tried peat pellets in the past.  In my experience, they don't degrade in the garden, leaving the roots [size=12.727272033691406]snarled up and reluctant to grow.  [/size]


On the other hand, starting seeds in vermiculite (even coarse) has been successful for me.  

See what works for you!

Certified SFG Instructor




Posts

: 2144


Join date

: 2010-03-02


Age

: 70


Location

: Bend, OR (Zone 5-6)



I had very poor results with Jiffy pellets last year. And I guess pretty much universally, the wrapping around the outside of the pellets did not biodegrade. Generally that didn't do good things for the root balls, keeping them small and the plant small too. Just today I dug up another pellet in the garden from last year. Still intact, the undegraded wrapping binding it thoroughly.



Posts

: 3638


Join date

: 2013-07-05


Age

: 56


Location

: SW Oregon



Mel's Mix for me wins
I tried it with everything and it sure is a winner IMO

Certified SFG Instructor




Posts

: 1917


Join date

: 2013-02-16


Age

: 81


Location

: Indiana PA....zone 5



Nice Jimmy!
____________________________
41 years a gardener and going strong with SFG.
http://squarefoot.creatingforum.com/t3574-the-end-of-july-7-weeks-until-frost
There are certain pursuits which, if not wholly poetic and true, do at least suggest a nobler and finer relation to nature than we know. The keeping of bees, for instance. ~ Henry David Thoreau
http://squarefoot.creatingforum.com/t1306-other-gardening-books

Forum Moderator Certified SFG Teacher




Posts

: 14165


Join date

: 2010-03-06


Age

: 54


Location

: Keene, NH, USA ~ Zone 5a



Hi
landarch
,
I use Jiffy Peat Pellets all the time because I've had really good results with them. 
To the cost of replacement pellets down, I shop eBay.  Last year, I splurged and bought 1,000 pellets for about $95 ($0.095 each).  But they're available in any volume you need.  Usually at a good price. 
FWIW, to prevent the roots from "circling" and avoid having non-biodegradable mesh in the garden, I remove the little covering before planting.  It's really easy to do, and if the pellets are handled carefully the peat stays together so the roots don't get disturbed at all.  (Much like planting soil blocks.)
Hope this helps,
Gloria



Posts

: 435


Join date

: 2010-03-15


Location

: Double Oak, TX Zone 8a



I'm glad you had better results than I did. When I tore off the binding prior to planting, it tended to tear off some roots while I was trying to preserve some others. When I left it on, it never went away. Maybe I'm just cursed with the things.



Posts

: 3638


Join date

: 2013-07-05


Age

: 56


Location

: SW Oregon



Hi Marc,

Sorry to hear you've had so much trouble. 

FWIW: I pot-up into 3" peat pots of MM when the seedlings are fairly small.  To remove the mesh binding, I use a small pair of scissors to clip the mesh near roots that have worked their way through.  Haven't really had too much trouble with it.  Its a very quick job and the plants seem to handle the transplant well.  (BTW: I also purchase peat pots on Bay at under $0.10 each, so my total cost is very low per plant.)

I haven't tried transplanting the pellets directly into the garden, so I don't know if that would make a difference.

Good luck,
Gloria



Posts

: 435


Join date

: 2010-03-15


Location

: Double Oak, TX Zone 8a



My experience has been that the peat pellets are packed full of wonderful roots...and I transplant into 3" pots or plastic cups right when the roots reach the fabric.  If the moisture content is spot on, the pellet stays in tact while pulling off the fabric (I pull apart at the seam).

In addition, if I need to consolidate seedlings into a single tray, the pellets with seedlings can be easily moved around.



Posts

: 1144


Join date

: 2012-01-22


Location

: kansas city



---
Permissions in this forum:
You
cannot
reply to topics in this forum