Passing this On, Went to Sams club and found this kit measures 60x60x8 for 45 dollars locally
some what heavy box. all plastic composite every thing is a slide in arrangement. No place to setup as the back yard is still under snow Tried to remove my Sapling covers they are frozen to the ground.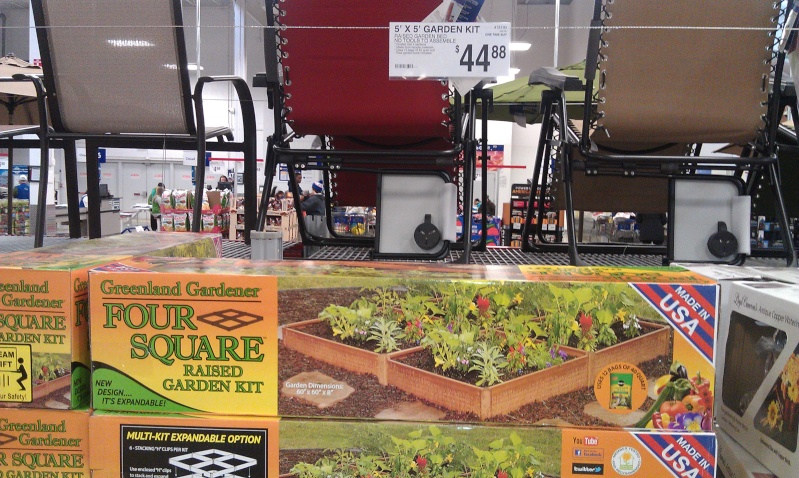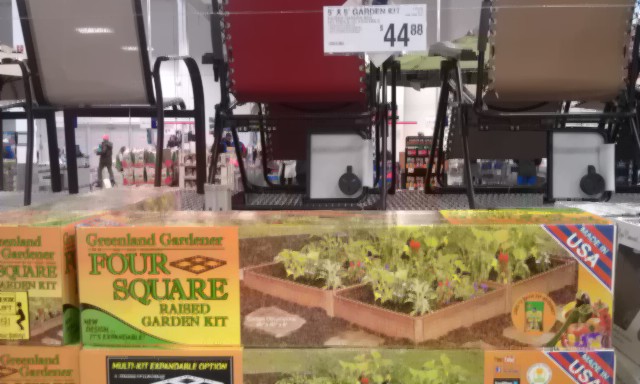 It would be difficult to reach the center of a 5'-wide box.  Mel recommends no more than 4' wide.

Certified SFG Instructor




Posts

: 2096


Join date

: 2010-03-02


Age

: 69


Location

: Bend, OR (Zone 5-6)



Hello,
Is it possible that the 4 boxes can be separated? As a whole the 5ft may be too large to work with but broken down it could work. 



Posts

: 54


Join date

: 2014-03-14


Location

: Pacific Northwest



It looks to have boards down middle, etc. Maybe you could balance on inner and outer boards to reach inside sqs.

My beds, 4 x 8, only cost about $15 dollars. But, they are wood and will have to be replaced.

Jo



Posts

: 1532


Join date

: 2011-05-04


Age

: 63


Location

: Cottageville SC 8b



Their is room for change as they appear to be configurable why i bought 2 to play with 
running a board down the center makes the most sense.
my other thought was to 2 frames then a walkway then 2 more frames etc..
of course i am assuming  

  Make a dado with my router in some hardwood to make a short corner.
here the pictures of whats inside the box not 8 inch board both sides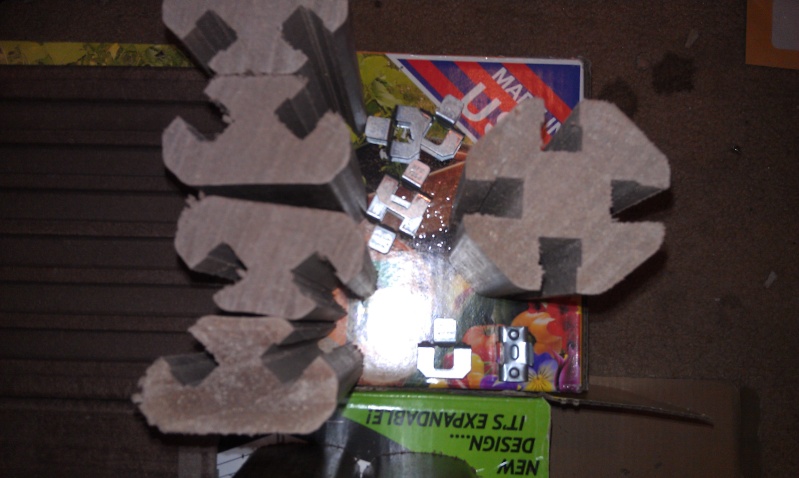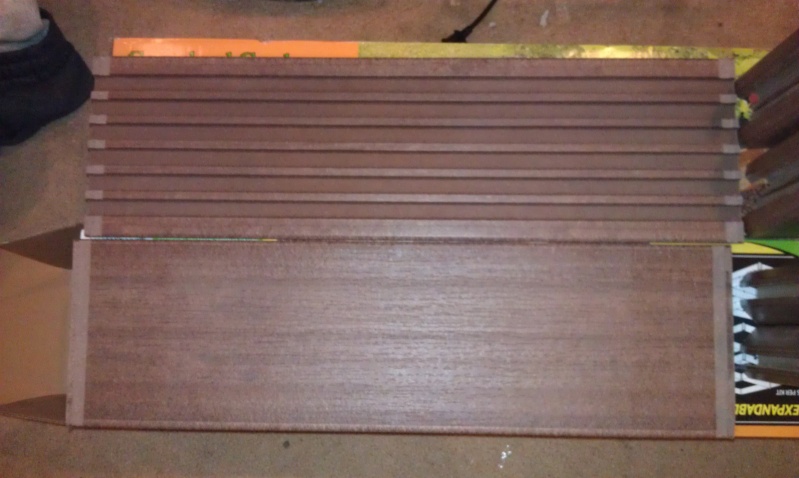 I have a similar setup as that and another that uses hollow composite 2x6. The cost is prohibitive if you are going to do major gardens. My last 200 sq feet were plain old 2x6 and cost me less than the 48 sq feet of composites I bought. The Composites don't stand up to the weed whacker like a 2x6 does either.



Posts

: 3


Join date

: 2011-09-13


Location

: west central Pa




 thanks figured worth a shot with my luck figured quick was better then nothing.
as i head out of town on a 23 sec notice for a leisurely 4 hour-6 drive for a 15 min fix and 45 minutes of paper work 
They definitely look configurable.  Will be neat to see what you come up with!

Been trying to talk a neighbor into a front yard garden and a kit like this is the kind of idea I was pitching to her.  (Making it three different levels, deeper in the back and stepping down towards the street.)  Someone in my region posted a setup like that made from one of these composite kits and it was very attractive.

Certified SFG Instructor




Posts

: 1413


Join date

: 2011-05-11


Location

: Vancouver, WA



those look pretty neat, it will be fun to see how you set it up  

hubby built me a 4 tier SFG bed out in our front yard out of left over broken fence boards....we love it!
happy gardening
rose



Posts

: 2424


Join date

: 2011-05-10


Location

: Western WA



My mom has that bed; she subdivided each square into two smaller ones. One problem is that due to the composite material she couldn't drive anything into it to subdivide the squares. Its sixe was a little unwieldy but she has a year experince with it now and it works for her.



Posts

: 563


Join date

: 2010-03-27


Age

: 54


Location

: Central OH



---
Permissions in this forum:
You
cannot
reply to topics in this forum