Or what I like to call the 7th Circle of Hell. :)When DH retires, I've already informed him that I refuse to die anywhere it snows regularly. I'll move back to either Texas or South Carolina and he's welcome to tag along. *gg*

I have a question and I'm not sure which part of the forum I should post it in, so I'll start here.

We had thought about building a few 2-3' raised beds so that my mom - who lives with us, but doesn't bend as well as she used to - could still get her dirt-digging fix.

It turns out that we have access to a couple of those fancy "vegetable trugs" you see in the gardening magazines AND we'd like to try the SFG methods. My question is that the trugs are a good bit deeper than the 6" indicated by SFG, much like the raised beds we were considering.

I think I remember Mel advising that if you were going to build a taller raised bed, to fill the bottom with sand and then put his mix in the top 6".

Has anyone tried that successfully? Is there a lighter material we could use? Or should we just go with a shallow TT garden?

Thanks for your input!
Welcome to the forum, and thanks for the intro to a new word.  Trug...interesting word.
If this is what you mean,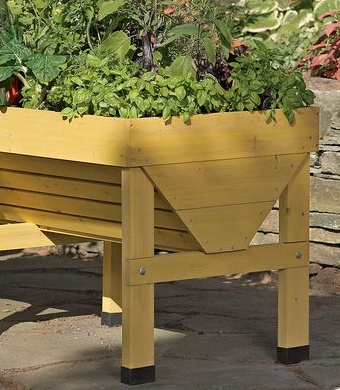 fill the bottom with 2L pop bottles or bags of Styrofoam peanuts, and cover with weedcloth to keep the MM contained on top.
If weight isn't an issue, the bottom could be filled with anything free, cheap, or easy.
From what I've read here on the forum, St. Louis' summer weather makes it a pretty good place to be a gardener!   



Posts

: 7392


Join date

: 2010-02-26


Age

: 64


Location

: yelm, wa, usa



Thank you, Boffer!

I'd never heard the word "trug" before spotting it in the catalogue, either. I didn't realize I could go that light, with soda bottles and peanuts. Thanks for the tip!

St Louis is highly variable - two summers ago, we spent most of June and July around the 100 degree mark, with no rain. Last summer? Low to mid-90s. Perfect summer weather. Who knows what this year will bring?
Susan, Welcome 
  to the Forum!

Forum Moderator Certified SFG Teacher




Posts

: 13156


Join date

: 2013-04-21


Age

: 68


Location

: Fresno CA Zone 8-9



Thank you for the welcome, Sanderson!
Hi Susan.  Welcome to the party!  You'll find a LOT of great info here!  And some really nice folks.

Certified SFG Instructor




Posts

: 3997


Join date

: 2014-03-18


Age

: 53


Location

: Buford, GA - Zones 7B/8A



---
Permissions in this forum:
You
cannot
reply to topics in this forum