Page 2 of 2 •

1, 2
Well... yesterday.  We finished filling the boxes w/ MM.  Got about 1/2 of the string guidelines up.  Hooked up the other 330 gallon tank to the first one to collect rainwater.

It was a good day.  Today & tomorrow it's raining.  So that'll settle the MM.  Planning to plant on Sunday.

Certified SFG Instructor




Posts

: 4362


Join date

: 2014-03-18


Age

: 54


Location

: Buford, GA - Zones 7B/8A



My strings disintegrated over the winter, I need to replace them or consider lath.  The strings were too much work to last for only a single year.



Posts

: 1918


Join date

: 2012-12-07


Location

: Central Calif Mtns.



Yeah, I'm noticing one big drawback is that they sag during the rain and have to be readjusted.  This is surveyor's twine, so we'll see how it does.  It's this bright neon yellow/green.  It certainly stands out!  I'm thinking about using the neon pink to see how it looks.

I just didn't want to take up any more space w/ lathe.  AND we already had the twine...

Certified SFG Instructor




Posts

: 4362


Join date

: 2014-03-18


Age

: 54


Location

: Buford, GA - Zones 7B/8A



I planted three Tomatillos last year, my first year with veggies and ANSFG.... 300 plus little green devils from 3 plants.  Holy Guacamole, Batman.  I was giving them to every person I met, froze tons, and still left nearly 100 on the vine when frost hit.

Turns out I don't really care for them that much. 



Posts

: 210


Join date

: 2013-04-12


Location

: East Tennessee of course



Marie, To make a durable grid does not mean you are limited to wide lathe.  Mine are made of 1'2 flat pine (fir) wood trim that sit directly on the MM, or wood mulch as the weather warms.  I can lift the whole grid out when cleaning the beds, adding compost or more MM, working on the drip lines, etc.  What Mel doesn't want is for someone to use something that disintegrates quickly or won't stay in place in the wind, because human nature means they won't replace them.  The grids are important for plant spacing.  You can get creative with the material, color scheme, just make sure they are "durable."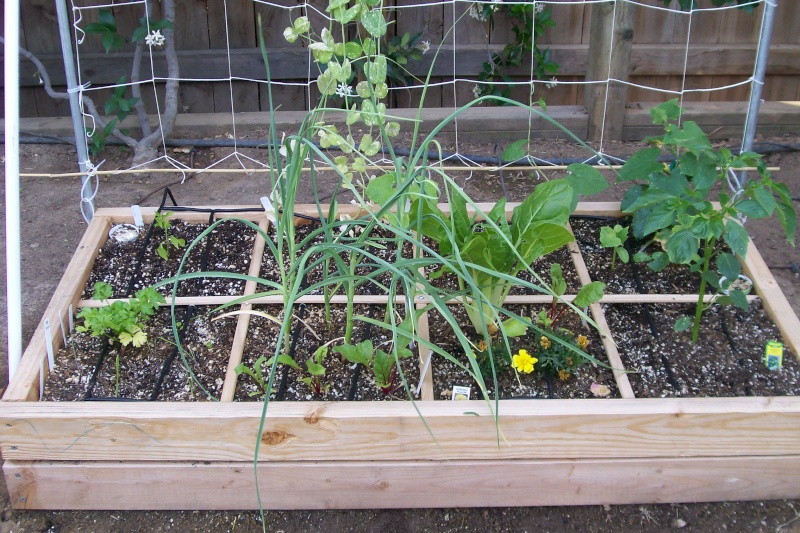 Forum Moderator Certified SFG Teacher




Posts

: 15080


Join date

: 2013-04-21


Age

: 69


Location

: Fresno CA Zone 8-9



If you don't like them in salsa, try adding them to or substituting them entirely for green tomatoes in a green tomato chutney. Great smeared on top of a pork chop, but everyone I give it to wants to eat it in much larger doses, like a side dish in itself, or as a sandwich or pie filling.



Posts

: 3638


Join date

: 2013-07-05


Age

: 56


Location

: SW Oregon



Thanks Sanderson.  Well, I know this stuff is durable.  And I can always change it out if I get tired of fooling with it.   


Certified SFG Instructor




Posts

: 4362


Join date

: 2014-03-18


Age

: 54


Location

: Buford, GA - Zones 7B/8A



Page 2 of 2 •

1, 2
---
Permissions in this forum:
You
cannot
reply to topics in this forum