I know there are probably as many different answers as there are gardeners but what is best to start seeds in?  I've been looking around here and can't find a "seed starting mix" and almost got an organic miracle grow potting soil but when looking at the content list it pretty much seemed like mels mix and fertilizer.  Can you use straight vermiculite? straight peat? I thought about using dirt straight from one of my beds but realized weeds would be an issue (would baking or microwaving kill weed seed?).  I'd like to stay with organic options but they are especially limited in my area.  I plan to use egg shells, cardboard egg cartons, and newspaper pots as my containers.



Posts

: 110


Join date

: 2010-03-21


Age

: 41


Location

: Lake Milton, OH (zone 6A)



Just to keep life simple, I use MM. I figure that since I direct seed in it outside, I can start seeds in it inside. I use 3 inch square pots to start seeds in, and I've had no problems using MM.

For starting seeds in smaller containers as you are planning, starting them in vermiculite might be the easiest way to go.







Posts

: 7392


Join date

: 2010-02-26


Age

: 64


Location

: yelm, wa, usa



One uses a commercial seed starting mix so they don't bring any diseases into their plants nor use soil too heavy that might slow down the germination process.
I've tried the dollar bags from places like Family Dollar and such and they have large chunks of wood in them and don't look too appetizing.
This year I found Ferry Morse organic starting mix at Walmart.  Terrific.  Nice soil, light and fluffy and no big chunks anywhere.  Four qts for two dollars in my neck of the woods.   I tried to remember how much it took to fill 72 cellpacks but I've forgotten.  I think it was about 6 qts (a bag and a half).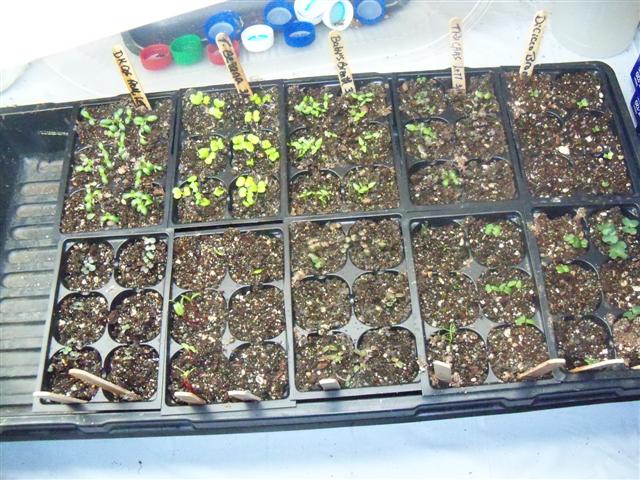 I went out yesterday to buy 4 more bags of it and their last 72-cellpack that I prefer.  I don't like the Jiffy pots nor the peat pots.  The 72 cellpack that can be separated easily into 6-packs is my preference.  With a small garden, I don't sow 72 cells of any one thing.
There's all kinds of mixes out there and many aren't worth half their cost so shop wisely.



Posts

: 4688


Join date

: 2010-03-21


Age

: 75


Location

: Southwestern Maine Zone 5A



I use used MM right out of the SFG.  I figure that seeds supply their own nourishment for the first few weeks so if the MM is depleted, that's OK.  Once they need a bit of food I add some to the water that I bottom water with.  What I add depends on the crop.
I usually start seeds in 6-cell packs but this year I'm trying this 200 cell pack thing: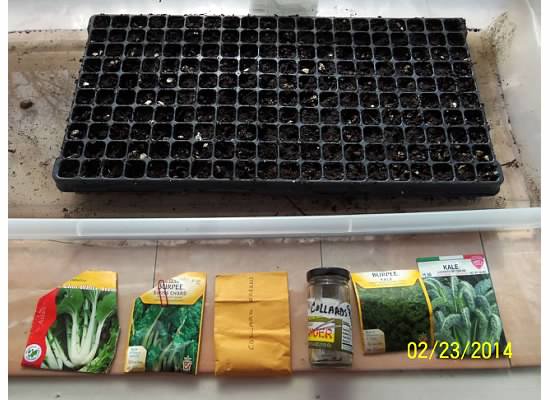 The used MM worked fine.  Not crazy about the 'new' cell pack though...everything is getting tangled but I probably should have up potted ages ago.  

CC



Posts

: 6315


Join date

: 2012-05-20


Age

: 61


Location

: elbow of the Cape, MA, Zone 6b/7a



I got the small Jiffy peat pots.  But I'm finding they're a bit of a hassle - things pop up and root very quickly and you have to take the netting off before planting, which means you could break some of the roots....  Sigh....

I'll probably just go forward w/ MM.

Certified SFG Instructor




Posts

: 4216


Join date

: 2014-03-18


Age

: 54


Location

: Buford, GA - Zones 7B/8A



---
Permissions in this forum:
You
cannot
reply to topics in this forum