I found a tip online about planting tomatoes, and tried it myself and it seems to work! These are my pics, and the "process" only took 24 hours!!
Tomatoes grow their roots along the edge of the stem  where the leaves are. So if you cut the leaves off up to the very top of the plant and bury the plant on its side you will get more with roots and a stronger plant. Sometimes when you lay it on side, and tried to force bend it up it will snap the neck off of the plant. I found this little tip online, lay the plant on the side for approximately 24 hours and the plant will automatically bend at a 90° angle, then when you plant the plant it's already facing the sky easy PEEZY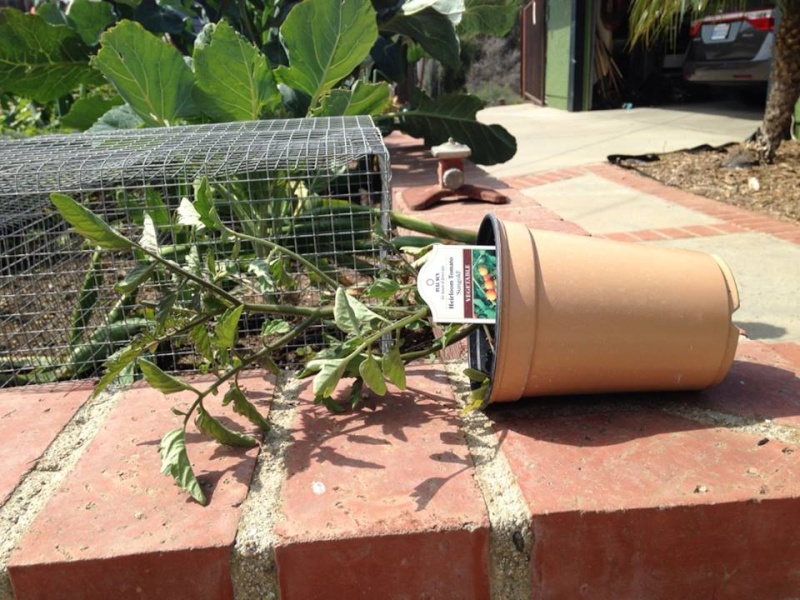 Posts

: 1887


Join date

: 2011-06-21


Age

: 36


Location

: california, zone 10a



That is a great tip!  I read about it at least 30 years ago but with a little difference.  With a plant about 12-14" tall, remove the lower leaves taking about half of the leaves on the plant.  Just pinch them off.  Then, instead of digging a 'hole' you dig a trench and lay most of the stem horizontal and cover it.  IIRC the depth was about 4".  The plant will automatically reach for the light - no bending required must as yours did when you tipped the pot over.  I've used that technique many times over the years.



Posts

: 293


Join date

: 2014-02-08


Location

: central TX USA Zone 8a



I was amazed that it "bent" in one day! I was thinking it would take a few days lol. I just set it out yesterday morning, and thought I'd try and do a picture day by day thing, and it was DONE today! haha!



Posts

: 1887


Join date

: 2011-06-21


Age

: 36


Location

: california, zone 10a



I've tried the technique of laying the pot on the side and have been amazed at the 24 hour turn. I've got some tomatoes planted in corners but the length of the lower stem is across the diagonal of the square. This is allowing me to plant with more "space" between each tomato plant.

Forum Moderator Certified SFG Teacher




Posts

: 14216


Join date

: 2013-04-21


Age

: 68


Location

: Fresno CA Zone 8-9



I tried this method with some of my tomatoes last season and it does indeed provide for a better root system.  I confounded my neighbor when he saw all kinds of potted tomatoe on their sides with the stems angling upward.  He did not expect much to come of them.  Well... he saw lots of gorgeous black krim tomatoes ripening on super strong vines all summer long!



Posts

: 1425


Join date

: 2013-02-26


Age

: 48


Location

: Fayetteville, GA - Zone 7B - 8A



Windmere,  Isn't it fun to silently   
  at nay-sayers?  My favorite stifled raspberry is at anyone who says MM won't work, and definitely when it's only 6" deep!  As I look up at my 8-10' tall Roma.

Forum Moderator Certified SFG Teacher




Posts

: 14216


Join date

: 2013-04-21


Age

: 68


Location

: Fresno CA Zone 8-9



---
Permissions in this forum:
You
cannot
reply to topics in this forum