I have several different types of tomatoes that I want to grow.  The book says only one type of plant per box. Does that mean I need 6 different boxes if I want to grow 6 types of tomatoes?



Posts

: 10


Join date

: 2013-02-14


Location

: Asheville



My recollection is that the ANSFG book and the ANSFG Answer Book say that there is great value in planting different crops in every square in every box. It confuses insect predators, balances nutrient depletion in soil, and makes it harder for viruses and bacteria to always find a nearby host, as well as to perfectly adapt to your conditions before they might have to go without their natural host(s) for a while and die out instead.

The main problem with tomatoes in an ordinary healthy environment is that they take up a lot of room. So Mel recommends not growing bush (determinate) tomatoes, since they can take over so many squares, and going for indeterminate vining tomatoes instead, training them up a trellis at the north side of the box. But if you want to grow two or three different kinds of indeterminate tomatoes in a single box -- whatever size your box will comfortably hold -- that's fine.




Posts

: 3638


Join date

: 2013-07-05


Age

: 55


Location

: SW Oregon



Marc, thank you for the information!



Posts

: 10


Join date

: 2013-02-14


Location

: Asheville



WifeMom, I plant 1 to 3 varieties per box. My back yard is so teeny that I grow both determinant and indeterminant tomatoes vertically. 3 tomatoes per 4' of trellis is comfortable. You can plant a few flowers, basil, leaf lettuce or radishes in some of the bare spots between the tomatoes.

Forum Moderator Certified SFG Teacher




Posts

: 14014


Join date

: 2013-04-21


Age

: 68


Location

: Fresno CA Zone 8-9



Some of my boxes had four different vining types like in this picture, these were thinned out a lot and I had to keep cutting off the 8 ft. tall tops. I didn't want to climb any higher.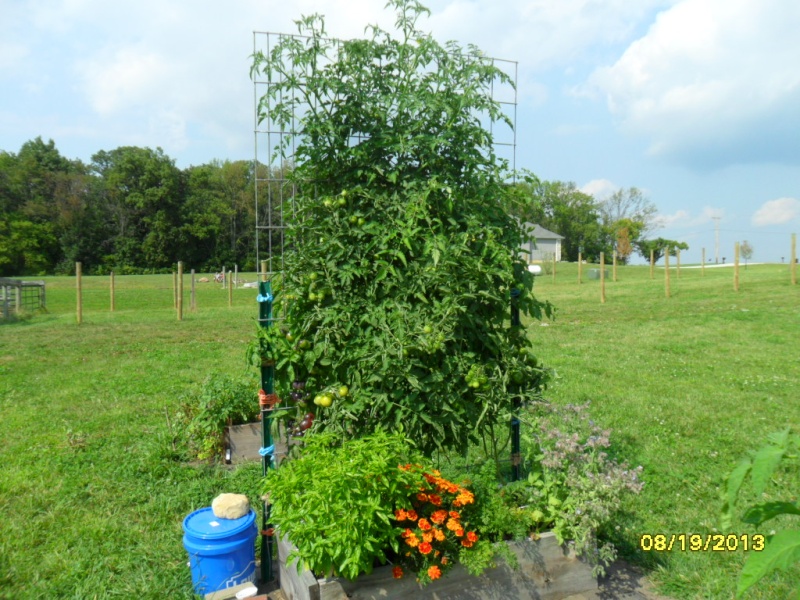 Certified SFG Instructor




Posts

: 4802


Join date

: 2010-08-20


Age

: 60


Location

: Central Ohio zone 6a



What a nice, big FLAT yard you have, Llama Mama...  (drool, drool).  I can just see all SORTS of boxes filled w/ lots of yummy things...

On the tomatoes - I know I should take out the side shoots that develop.  What about some of the lower leaf stems, etc.?

Certified SFG Instructor




Posts

: 4133


Join date

: 2014-03-18


Age

: 54


Location

: Buford, GA - Zones 7B/8A



Yes.  Its hard to see in the picture but the first foot or so of tomato branches were removed. The yard, well, we always dreamed of elbow room. Many addresses through the years so this should be it for quite awhile.

Certified SFG Instructor




Posts

: 4802


Join date

: 2010-08-20


Age

: 60


Location

: Central Ohio zone 6a



 Llama Mama (drool, drool) me too!! The box looks so rich and full. When I see pics like this I get so excited!! Last year was my first, so I got a taste of sfg. This year I'm planting so much more and am filling my small back yard with so many more plants. I'm adding a 4th box (4X6), planters with the hope of growing vining tomatoes and small cukes up a string. I'm learning by trial and error which areas has the best sun for growing, etc. My strawberries are doing well, I think I've figured out how to take better care of my avocado tree and many of my seeds are sprouting...so right now things are pretty well. I hope my boxes look as full as yours later in the spring/summer. Great job!!



Posts

: 255


Join date

: 2013-05-22


Location

: So Cal: Zone 10a



Thanks. I can hear your excitement, it's very rewarding to grow things successfully. Making more boxes becomes so addictive too.  I have to stop at 10 this year because there is just the two of us.  I produce all of my compost so I have to commit my energy to produce enough finished compost to get all the veggie boxes 'fed' for the whole season, plus feed other non-sfg flower bed areas.

Certified SFG Instructor




Posts

: 4802


Join date

: 2010-08-20


Age

: 60


Location

: Central Ohio zone 6a



---
Permissions in this forum:
You
cannot
reply to topics in this forum