Hello everyone. I am new to this site and new to SFG. I relocated to North MS from Charleston,SC about a year ago now. I just recently have finished building 2 raised beds for some minor gardening that i want to try. I have read the mel's mix composition and have a couple questions. Should i put down some sort of landscaping fabric underneath my garden box? I have read a lot of people posting that vermiculite in raised beds is not needed, is this true? It gets very warm here in MS during the summer, my worry is that the peat moss will become overly dried out short of drowning my box with water? I have helped my mother when i was much younger in her in ground garden and now that i am in my 30's i want to have a small garden but want it to be in a box. I plan on doing compost, peat moss and vermiculite (see above concern) as my mix should i add anything else to this or let it go as prescribed? I plan on planting peppers,tomatoes,cucumbers,broccoli, and herbs in my boxes. Any help or insight that you all may be able to provide is greatly appreciated.

Thanks In Advance



Posts

: 4


Join date

: 2014-04-02


Location

: Columbus,MS



Jymac,  Welcome to the Forum!   
Do you have a copy of All New Square Foot Gardening, 1st or 2nd Edition, by Mel Bartholomew?  It is invaluable for SFG.  If you follow the directions in the book, you will have very good results.  If you cut corners, you may be disappointed.  Place weed fabric under the box.  Make the Mel's Mix as directed.  Once the mix is in the box and the plants in place, make sure the Mix is wet and then place mulch on top to help it stay moist.  Mulch also helps keep the soil cool in the hot sun.
I want to ask what 5 composts you were able to find.  One of them should be a composted manure.  We are here to help you get off to a good start, so ask questions.  And again, welcome.

Forum Moderator Certified SFG Teacher




Posts

: 13784


Join date

: 2013-04-21


Age

: 68


Location

: Fresno CA Zone 8-9



Thanks for the welcome and the advice. I do not have a copy yet. We don't exactly have the greatest book store here where I am. Will be ordering it tonight though. As for the compost I don't recall the names however it is from lowes here and they have several which have manure. Should I get all with manure or should it be mixed?  As for the mulching, if I'm direct sowing some things should I wait to mulch once they sprout up a little bit and is there a certain kind of mulch I should use?



Posts

: 4


Join date

: 2014-04-02


Location

: Columbus,MS



JT,  I bought both the 1st and 2nd editions on line, eBay and Amazon.  The 2nd addition has some extra subjects, but the 1st edition is just fine.
It sounds like
you
may
be making the same mistake with your Mel's Mix that
I did
when I was getting starting.   

   Please list the brands and types you plan to use, before you buy them. Folks will help you sort them out.  

As far as adding mulch when seeding, some folks have good luck with the seeds coming through.  Me, I use 3/4" TP roll rings to hold the mulch back until the seeds are well underway: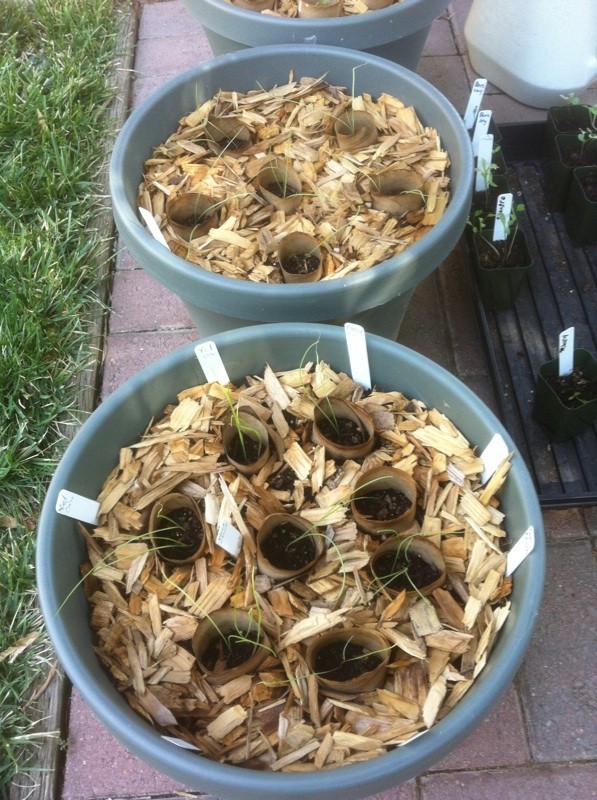 Forum Moderator Certified SFG Teacher




Posts

: 13784


Join date

: 2013-04-21


Age

: 68


Location

: Fresno CA Zone 8-9



---
Permissions in this forum:
You
cannot
reply to topics in this forum