I am wondering how you determine when a tomato plant needs to be up potted.
I have many planted and to experiment I have planted some in larger pots to begin with and thought I would transplant when the ones in bigger pots started getting bigger, However I do remember reading something some where that when the leaves go beyond the edges of container ... OR something like that
Anyones thoughts?  OR rules for up potting tomatoes. 

How large are your "larger pots" that you planted the seeds in?



Posts

: 3638


Join date

: 2013-07-05


Age

: 56


Location

: SW Oregon



The tomato plants I started as seeds in wet paper towel in baggie on hot water tank
When they sprouted I put them in 3 inch pots.  The problem is that I have an awful LOT OF them.... so want to get this totally right this year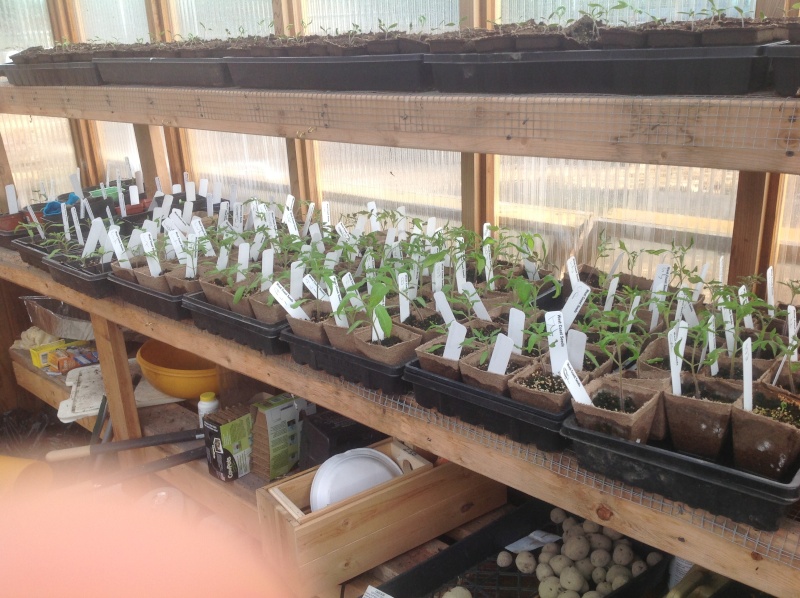 I up-pot when the roots are starting to show at the bottom of the pot.
Sometimes I do it if they are too lanky/leggy and I want to get them buried a bit deeper.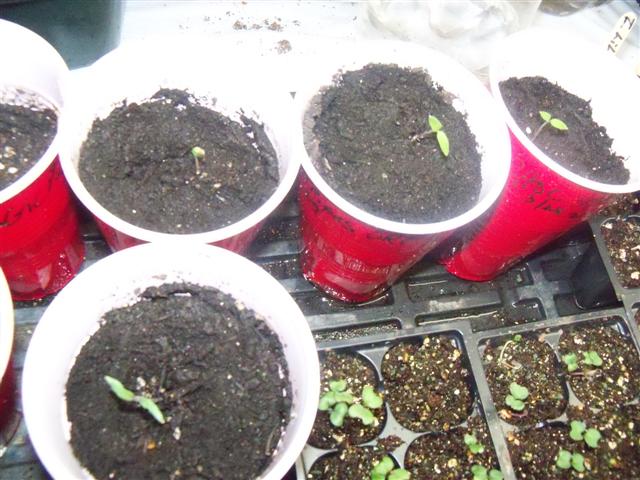 These toms got forgotten under a high light so I just up-potted from the cellpack to the 16-oz Solo cups so they could be buried deeper.  They look a bit pathetic here on the day, but have improved.
I didn't take a photo today, but they are all doing much better and growing well.



Posts

: 4682


Join date

: 2010-03-21


Age

: 75


Location

: Southwestern Maine Zone 5A



I just started my tomato seeds, only used 1/2 the container for my mix.
As the tomato grows I'll add more mix till it's at the top'
Saw this on youtube
https://www.youtube.com/watch?v=CDBYaDhoDZM&list=PLPm-Ci-3RGiEtBTaYqidY71vxrc67L23_
An interesting video from a very interesting cajun farmer..

Certified SFG Instructor




Posts

: 1912


Join date

: 2013-02-16


Age

: 81


Location

: Indiana PA....zone 5



I'm so glad this topic came up.  Couldn't remember how I did this last year when I first started things from seed.  Thanks everyone.  Mine need to be up potted, stat!

Certified SFG Instructor




Posts

: 4822


Join date

: 2010-08-20


Age

: 60


Location

: Central Ohio zone 6a



Jiimmiecee
I sort of did that same thing with the ones I planted in larger containers from the start.
I used medium yoghurt containers with only a few cm mix in the bottom, but have started to fill them in.

LM  I am sure you have lots of time.

I do remember from last year that my delay in up potting my pepper plants set them back a along ways.  So this year I plan to do it much sooner, they seem to be much more sensitive to the size of container.
My tomatoes are showing their first set of true leaves, but are a little leggy. I think I will get to the potting soon! I already potted up my peppers. This year I am growing  jalapenos and california wonder. They look pretty good, and I have more cal wonder to pot up, but the jalapenos have all been potted up and are looking fabulously perky!



Posts

: 64


Join date

: 2013-08-30


Age

: 49


Location

: Eskasoni, Nova Scotia, Canada



I don't know any rules other than Quiltbea & me making this guideline phrase last year:  taller than the cup, pot em up.
The best tomatoes I ever had were from a 6 pack of Sungolds I bought 2 yrs ago for a buck at a distress sale at the Job Lot.  They were SO tall, sparse and lanky that I didn't expect much, if anything. They turned into strong healthy plants about 12 ft tall that produce massive amounts of fruit!  The best cherries I ever tasted.  

  I saved seeds and have been planting them ever since repeating the tall lanky look before potting up.   
I've made every mistake possible with tomatoes and they still come through.  

  So my feeling is they are weeds.  

CC



Posts

: 6191


Join date

: 2012-05-20


Age

: 61


Location

: elbow of the Cape, MA, Zone 6b/7a



Jimmy, thanks for the video.

Forum Moderator Certified SFG Teacher




Posts

: 14199


Join date

: 2013-04-21


Age

: 68


Location

: Fresno CA Zone 8-9



CC you make me laugh. A lot. I'd have to agree they are like weeds, even the heirlooms.  Last year I had 4 left over half dead looking scraggly long really crappy looking heirloom toms.  I was going to toss into the trash.  Stuck them in buckets and they ended up climbing right up the trellis.  They produced ok amounts anyway even after my abuse and didn't go to waste.  If they show any sign of life I say plant them.

Certified SFG Instructor




Posts

: 4822


Join date

: 2010-08-20


Age

: 60


Location

: Central Ohio zone 6a



---
Permissions in this forum:
You
cannot
reply to topics in this forum