Latest topics
»
Bee 'Sleeping' in Cucumber Flower
by
hammock gal
Today at 7:10 am
»
Store Bought Compost
by
plantoid
Today at 6:58 am
»
Amaranth
by
AtlantaMarie
Today at 6:57 am
»
It's actually more like surviving.... these days...
by
AtlantaMarie
Today at 6:56 am
»
Water....
by
plantoid
Today at 6:44 am
»
CANADIAN REGION: What are you doing in August 2017? 2017
by
Kelejan
Today at 1:09 am
»
Mid-Atl - Aug 2017 - Planning/Planting Fall/Winter Garden
by
BeetlesPerSqFt
Yesterday at 11:22 pm
»
N & C Midwest: August is here!!! 2017
by
Scorpio Rising
Yesterday at 9:58 pm
»
Monarch Supporter
by
Scorpio Rising
Yesterday at 6:54 pm
»
Third Year SFG in Canada
by
trolleydriver
Yesterday at 6:00 pm
»
Top Dressing with Compost
by
donnainzone5
Yesterday at 3:59 pm
»
What do you know about making sauerkraut?
by
CapeCoddess
Yesterday at 3:55 pm
»
who has chickens
by
sanderson
Yesterday at 3:53 pm
»
Heat wave and shade screen
by
jimmy cee
Yesterday at 2:15 pm
»
Sweet Potatoes
by
countrynaturals
Yesterday at 1:33 pm
»
Newbie Oldbie
by
CapeCoddess
Yesterday at 1:02 pm
»
cherokee purple...seed to dish
by
CapeCoddess
Yesterday at 12:57 pm
»
I feel VERY fortunate!
by
AtlantaMarie
Yesterday at 8:28 am
»
Things You Never Knew Existed Until SFG...
by
llama momma
Yesterday at 6:47 am
»
Anyone want walking onions??
by
RoOsTeR
8/15/2017, 9:27 pm
»
What weed? is this? (with pic)
by
yolos
8/15/2017, 8:53 pm
»
Ground Cherries
by
Scorpio Rising
8/15/2017, 7:18 pm
»
What are you eating from your garden today?
by
Scorpio Rising
8/15/2017, 7:17 pm
»
What I've learned this year
by
countrynaturals
8/15/2017, 4:38 pm
»
Grow Produce from Produce!
by
CapeCoddess
8/15/2017, 4:09 pm
»
Zombie Gardening!
by
countrynaturals
8/15/2017, 4:01 pm
»
Butterfly Junction
by
countrynaturals
8/15/2017, 3:38 pm
»
Intro for this region...
by
Browndog
8/15/2017, 2:42 pm
»
Easy and Fabulous Crockpot Marinara
by
sanderson
8/15/2017, 1:37 pm
»
Huge Box of Seeds from 2003!
by
countrynaturals
8/15/2017, 12:56 pm
Okee dokee, we are a family of 3, two adults and a growing toddler who eats as much as I do! She LOVES cukes, as does my husband and I will be sharing left overs with my parents and our family BFF.
I have 5 vine varieties and one bush, mostly for snacking/eating, others for pickling later. Question is, how many of each variety should I plant? I'm going to be building and preparing my box in the next few weeks.
I was thinking either a 1x6 and spliting 1x5 with a trellis, or a 2x6 and splitting 2x5 with a trellis. If I do the 1x6, that will give me 2 of each cuke, total of 10 vining and 2 bush, if I do the 2x6 that gives me 20 vining and 4 bush. OR, throw out other ideas! HELP.
cucino-vine
double feature-vine
little dillicious-vine
mici hybrid-vine
white wonder-vine
little pickle-bush

Last edited by chocolatepop on 4/29/2010, 1:25 pm; edited 1 time in total (Reason for editing : evil cut and past)
ugg i thought i entered it correctly. Evil cut and paste...
Wow! I didn't even know there were that many cukes. Can't really advise you except to remind you that vining cukes are planted two per square. I've not had much success growing cukes on a trellis, but this wasn't in Mel's mix, so maybe it will make a difference. If you have room, perhaps two squares (four plants) of each? You can always pickle the extras if this is too much.



Posts

: 904


Join date

: 2010-03-03


Location

: USA



Well, I can tell you that with two squares (4 plants) of a vining cucumber variety that are in their prime right now (planted from seed outdoors in Feb) I'm starting to average 1 cucumber per day. For the past couple of weeks it's been 2-3 cucumbers per week, but they are really taking off now. Plants seem to be doing well, actually, they've been the most trouble-free thing in my garden. I grow them on a netting trellis hung from pvc pipe over 24 inch rebar pounded into the ground. The box is also against a fence.
Here's a picture from last week. They have reached the top of the 6 foot trellis now and I'm tying them to the side a bit to get them going that way.
Don't really know if my yields are "normal", but maybe that'll give you some idea.



Posts

: 842


Join date

: 2010-04-09


Age

: 41


Location

: southern tip of Texas zone 9



thanks for the responses and ideas! I planted cukes last year but they didnt do so well. I hadnt planted them before and they were "sharing" a trellis with pole beans

lesson learned. This year they will get their own box.
I have a 18"x5' box already built with trellis that was used last year for maters. This year it will either be for beans or cukes. I'm thinking cukes. This picture is from last year, and some things have changed but, I have room for an additional 5-7ft box (where the water hose is)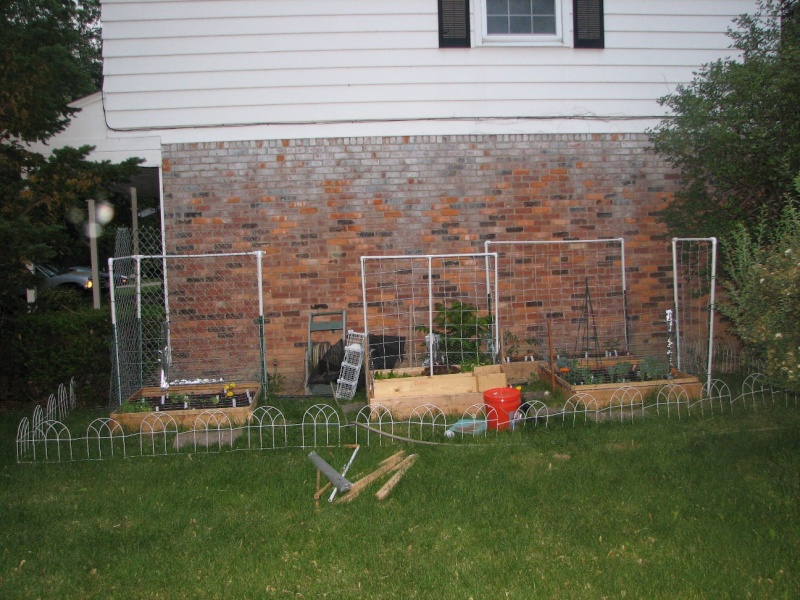 Hi there!

I planted pickling cuks last year; the smaller ones with few seeds. We didn't pickle them, just ate them as is.


I can't remember how many I planted but maybe it was 4-6 plants. I have a family of 7 (2 adults, four growing boys and one little girl) and we had a great supply of cuks! But I have to say, we could have easily eaten more

We had enough but I just think you can't ever have too many. My kids love them and eat them constantly.

If I were you, I'd plant 3 or 4. And if it's not enough, plant more next year!




Posts

: 248


Join date

: 2010-04-06


Age

: 46


Location

: Fort Wayne, IN - Zone 5B



thanks Jenny! so maybe just the smaller box? I would really like more than enough to cukes because we pickle. last year i had to purchase bushels to pickle because I didn't get ecen 100th of enough

---
Permissions in this forum:
You
cannot
reply to topics in this forum