Page 2 of 2 •

1, 2
I built a couple new boxes over the weekend...they are in the foreground uncovered.  The first box was out of lightweight cedar fence pickets for around $8.  The second box was actually a rebuild of a 4x8 box made from 2x12's...way too heavy to move around (thus wanting to go light and cheap on the first one). Both boxes are deep so looking to do some carrots for sure (kuroda and nantes).

I tried a new grid type on the second box...single string pulled through a series of staples on the edge...fast and cheap, but not instantly removable.  The string was the free tie-down material found at Home Depot exits. I get a bit more planting room as my other grids are made from 1x2 battens.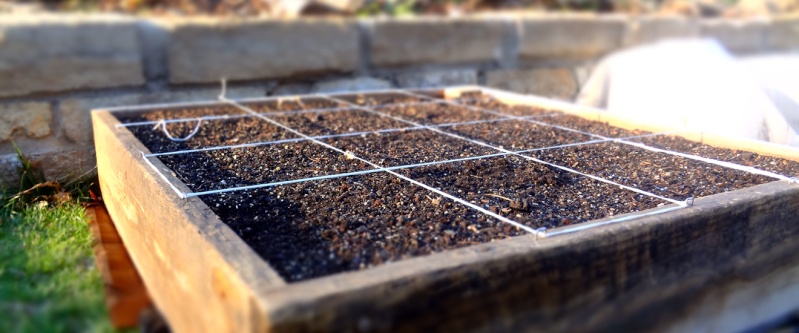 Posts

: 1142


Join date

: 2012-01-22


Location

: kansas city



GWN ,

I had a dream last night , you were using the root ball and a couple of inches of the stems of the frosted tomatoes to try and graft a sliver of the good living tomatoes on and you had a fantastic crops .

 Do you still have the plants and do you fancy trying it .
 
If so a simple diagonal slice of cutting & stem with a razor sharp blade  should be OK , tie them together with an inch wide strip of Ceram ( sp )  ( cling film ) about 10 inches ( 250 mm long .
You'll know with a few days if they have taken .



Posts

: 3696


Join date

: 2011-11-09


Age

: 66



Plantoid
, it is SARAN WRAP over here in Canada.  




Posts

: 4884


Join date

: 2011-04-24


Age

: 82


Location

: Castlegar, British Columbia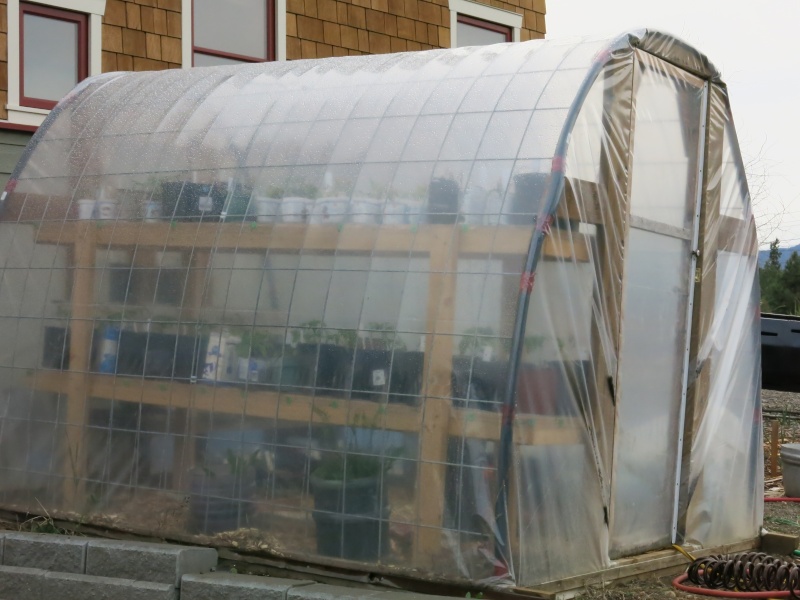 pictures are always fun, thought I would show my hoop house, it sits roughly over our septic tank, which should be worth SOME warmth, but  I guess because of the size it does cool off quickly.  Through replanting etc, I am back on track, I had so many extras.   AND the first farmers market is not until May 18th so LOTS of time..  I have tried on previous years to get things planted about now, with cloches over them, I have many glass cloches as well as..... 5 gallon water jugs ( I have a neighbour who works at the bottle depot and for some reason the tourists here drop off those very large water jugs that people usually get refilled. We  cut the tops off and use them as cloches. However I have found over the past few years that the tomato plants that I plant before mid May just do not do well, and in fact takes weeks to catch up to the ones I plant Mid May. So this year I have decided not to plant them in garden until at least the 15th of May
The cloches keep them alive, but they really do not thrive until it is truly warm out
plantoid.... wow I am flattered you would dream of my tomato dilemma, sounds like a great idea, but with the volume I have a lot of work
However, I have to say you were right with regards to some of the plants... I just left them, watered them well and EVEN remembered to put the heat on at night and VIOLA.... they survived.
@landarch

wrote:I'm covering peas (up about 2"), beets (up about 1/2")...garlic and onions are under there as well.  I have two new beds that haven't been planted yet...waiting on the freeze to pass.
I have had my artichoke seedlings in the ground for 6 weeks now despite MANY MANY frosts.... and they are thriving
I planted peas about 3 weeks ago and they are up and I do not worry about them, they can handle the frost.  I have also planted my onions and they seem to ignore the frosts and the cilantro grew under plastic all winter...despite temps down to -20 (-4 F)
@GWN

wrote:...The cloches keep them alive, but they really do not thrive until it is truly warm out
So very true, yet
so
hard to accept!



Posts

: 7392


Join date

: 2010-02-26


Age

: 64


Location

: yelm, wa, usa



I'm glad you had so many extras in reserve so you weren't wiped out.  Lucky you.  It always helps to be prepared against Mother Nature taking her last surprise.



Posts

: 4674


Join date

: 2010-03-21


Age

: 75


Location

: Southwestern Maine Zone 5A



NICE hoop house, GWN.
There are so many things I want to do....  That honey-do list for Mike just keeps getting longer...

Certified SFG Instructor




Posts

: 4134


Join date

: 2014-03-18


Age

: 54


Location

: Buford, GA - Zones 7B/8A



AM wrote:NICE hoop house, GWN.
Hey this cost us 200 dollars to make, we followed a video on youtube and it would cost MUCH LESS In the  US because cattle panels cost 2-3 x more here than there
OUCH...!  That would hurt!  YouTube is a wonderful thing...!

Certified SFG Instructor




Posts

: 4134


Join date

: 2014-03-18


Age

: 54


Location

: Buford, GA - Zones 7B/8A



Page 2 of 2 •

1, 2
---
Permissions in this forum:
You
cannot
reply to topics in this forum