I put together this frame, added a frost protection material on the top and down the sides.
Rain will not go through it,
I thought it would and neglected to check on these young seedlings, hopefully I saved them.
I want to permanently add a bug barrier to the top section, it will not be removed.
The lower section I will add, however it needs to be lowered and raised in order for me to work the beds.
I tore down everything I attached to the frame, and starting from scratch.
I have a bad bug problem, for all crops occurring all season, I am considering thulle for the top with it being sewed onto the white pvc,.
At this time I'm not overly concerned about frost
Any other ideas ?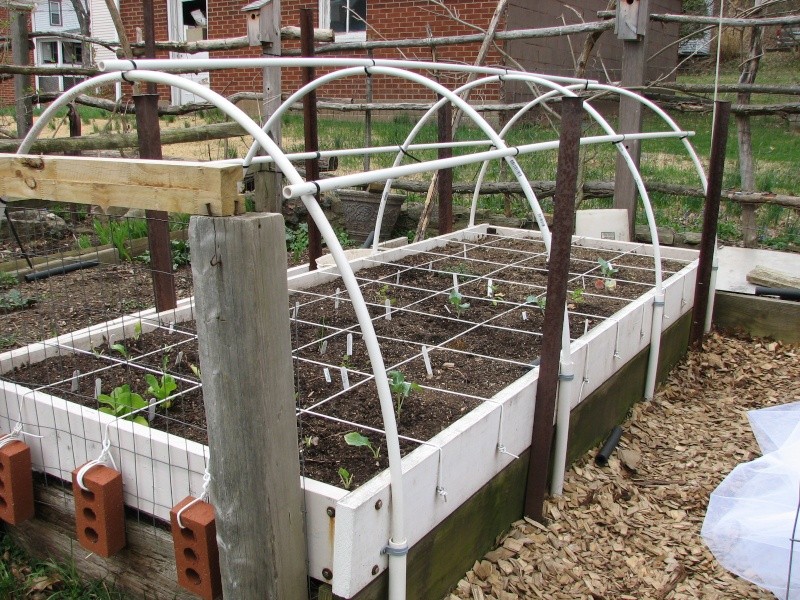 Certified SFG Instructor




Posts

: 1912


Join date

: 2013-02-16


Age

: 81


Location

: Indiana PA....zone 5



I've used tulle for the last  3 years and as long as it is kept closed with no bug entrances, it works great.  But the fabric only lasts one season.  Do a search on light weight agrabon.  It is supposed to last longer and provides more shade.

Kay
____________________________
A WEED IS A FLOWER GROWING IN THE WRONG PLACE
Elizabeth City, NC
Click for weather forecast

Certified SFG Instructor




Posts

: 4352


Join date

: 2010-10-17


Age

: 74


Location

: wilmington, nc zone 8



Unlike JimmyC, gardeners who buy their transplants may still want to insure their plants by treat ing with bT.  Those little eggs could already be on the plants before they come to your house.  Tulle or agribon would not help existing trouble.  Or don't treat with bT but still keep an eye out for worms, then treat w/bT

Certified SFG Instructor




Posts

: 4822


Join date

: 2010-08-20


Age

: 60


Location

: Central Ohio zone 6a



I also use tulle for the brassicas.  I have one 3 x 8 bed of broccoli, kale and brussel sprouts.  No damage at all.  I like the tulle because you can see thru it.  I like to walk around my garden and look at all the stuff growing.  It gives me a sense of pride to see the ones that are doing great.  (of course I close my eyes midseason as I walk near the diseased tomatoes and cucumbers).



Posts

: 3238


Join date

: 2011-11-20


Age

: 67


Location

: Brooks, Ga Zone 7B/8A



---
Permissions in this forum:
You
cannot
reply to topics in this forum