So the idea of white row cover material is to warm up the area underneath and increase humidity higher than the surrounding environment.  You extend the growing seasons a little bit each direction.  I'm using row cover material flat and loosely held to the ground (as recommended on the package) to help seed germination.  It increases temps and moisture and seems to work REALLY well for my leafy salad greens, my beans as they get started anyway, and my various roots and bulbs (beets, carrots, parsnips, turnips, kohlrabi, etc.)

Without thinking it through, I covered my early salad greens bed and my early Chinese cabbage bed (which are both WELL established now) with 2' tall pvc and bird mesh frames.  On top of THAT, I covered the flat top section with garden blanket as shade cloth to help LOWER the temperature a bit.  The sides are wide open.

Is this completely misguided?  The same material increases heat and humidity when flat over the plants.  With the 2-foot tall sides wide open for breezes and heat escape, is this the WRONG material for shading?

Thoughts?



Posts

: 210


Join date

: 2013-04-12


Location

: East Tennessee of course



I wouldn't use heat blankets to cover crops as shade devices.  Too hot.  There is light-weight insect barrier that would work well for shade cloth.  But so will cheesecloth or old lace curtains pinned over the crops.  You want to shade the crops from the sun, not cover them.  Stick some bamboo stakes between the crops you want to shade and pin something to them.  I use spring-type clothes pins and office supply binder clips.
In the south when I lived there (Fla) they often used old window screens for shading.  Works well, too.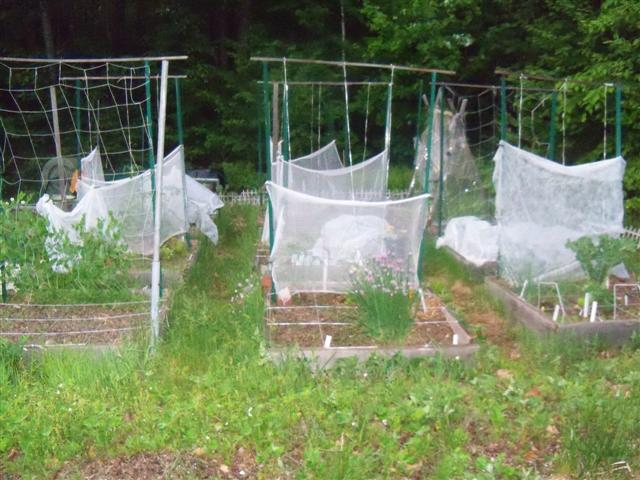 Above:  Here are several sheets of insect barrier between the sun and my tomatoes last year in early spring when we had the heatwave in the 90s which is too hot for my Maine area.  It saved my crop.
Here's cheesecloth pinned on wire coat hangers to keep the sun off my lettuces to get a longer harvest. That, too, worked well.
You want air circulation around your plants so don't cover them tightly.



Posts

: 4646


Join date

: 2010-03-21


Age

: 75


Location

: Southwestern Maine Zone 5A



Thank you!  I knew something felt wrong about the blanket idea.  And turns out I have 2 porches worth of screening because a friend cut it out and replaced with windows.  Now I know what I need to do with it.



Posts

: 210


Join date

: 2013-04-12


Location

: East Tennessee of course



Found some orange curtain  sheers and wondering if they will work as row covers or if the orange color will mess things up



Posts

: 1


Join date

: 2013-01-11


Location

: north central nebraska



Sheers are great for covering plants! I don't know how color affects plants, probably  darker they are the more heat that would be retained, but I would use orange ones regardless.
CC



Posts

: 5925


Join date

: 2012-05-20


Age

: 61


Location

: elbow of the Cape, MA, Zone 6b/7a



They should be okay.  I have some light green ones I use on certain trellises.  I have a 12' and 16' shade cloth set up over many of the table tops.

Edit: 12' x 16'

Forum Moderator Certified SFG Teacher




Posts

: 13759


Join date

: 2013-04-21


Age

: 68


Location

: Fresno CA Zone 8-9



---
Permissions in this forum:
You
cannot
reply to topics in this forum