Hi everyone!
I've had several gardens over the years, most of them variations of SFGs. However, this is the first year I've gone with the full method: raised 4x4 boxes, SFG soil mix, and.... Well, I haven't got grids yet. I can't find a cost effective solution that I like, so for now, no grids.
I have four 4x4 boxes and
love
them. Creating Mel's Mix was very time consuming but I am hopeful it'll pay off. The soil is so airy and rich; I love it! I am looking forward to learning from you all. Thanks for having me!  

Christopher  




Posts

: 2


Join date

: 2014-04-23


Age

: 44


Location

: Central North Carolina, USA



  Christopher!  Glad to have you!
Lots of good info and great folks here.
I'm about 40 miles north of the ATL, so not
too
far from you...

Certified SFG Instructor




Posts

: 4207


Join date

: 2014-03-18


Age

: 54


Location

: Buford, GA - Zones 7B/8A



Welcome.  I'm back after a year off due to relocation.  I'm now in Concord by the speedway.  SFG is no joke it works awesomely.

For my grids I measure 1' on the boarders and drill screws in with about 1/4" still exposed.  Then I tie string for my grids.  Its easy and you can remove it to turn the MM after the growing season.



Posts

: 66


Join date

: 2012-02-27


Age

: 38


Location

: Concord, NC



May I offer a reasonable suggestion for grids ?
Plastic clothesline, fastened on one end, the other end tied to a brick or other weight to keep line tight.
Works for me fine.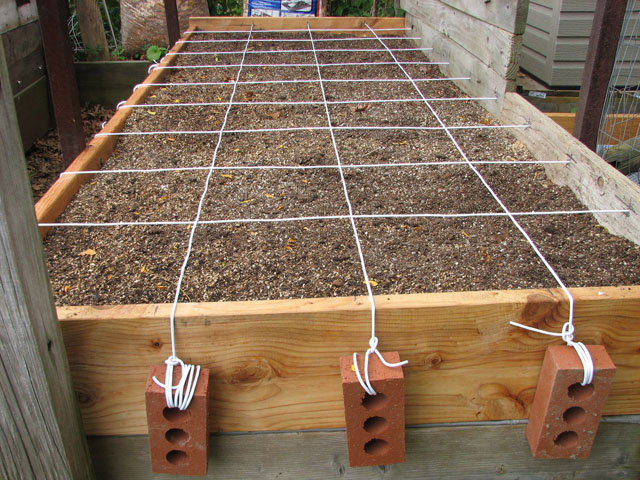 Certified SFG Instructor




Posts

: 1917


Join date

: 2013-02-16


Age

: 81


Location

: Indiana PA....zone 5



Christopher, Welcome to the Forum!  

Forum Moderator Certified SFG Teacher




Posts

: 14375


Join date

: 2013-04-21


Age

: 68


Location

: Fresno CA Zone 8-9



Welcome! MM soil is beyond great, and it will pay off as well as anything ever could. They always say "Feed the soil, not the plants," and with MM you're already starting OUT with fantastic soil, so how can you beat that?



Posts

: 3638


Join date

: 2013-07-05


Age

: 56


Location

: SW Oregon



Howdy, Christopher!
I spent the first 50 years of my life in Wake County - Raleigh to be exact - and got my degree from UNC-CH; so "Welcome" from a Tar Heel in Texas!
This is a good bunch of folks.  You'll like 'em and I'm pretty sure they'll like you! 



Posts

: 293


Join date

: 2014-02-08


Location

: central TX USA Zone 8a



Hi there Christopher!

I'm a newbie to SFG-ing and was actually going to splurge on a couple of sets of the grid, but changed my mind when I saw how long it was going to take to receive them. I ended up doing the same "screw & twine" thing Gilly mentioned to make my own. It took about 10 minutes and cost less than $5. I'm very pleased with it as it was a much more economical solution and gave me instant gratification.  

Cathy



Posts

: 49


Join date

: 2014-04-11


Age

: 54


Location

: Alabama - Zone 7B



Thanks for the warm welcome and suggestions. I'm looking forward to getting to know you all.




Posts

: 2


Join date

: 2014-04-23


Age

: 44


Location

: Central North Carolina, USA



 whoischristopher (Chris?)  Lots to learn, and before you know it you will be gving information to newer newbies.
I did too, and was soon corrected in a kindly way, when I gave wrong information. Even That is a form of learning.  

  Oh, and there is no such thing as a dumb question, we only ask that you try the Search option at the top left-hand corner of the page to see if anything comes up. The Search feature is a mine of information. You will probably spend more time reading than gardening IMO.



Posts

: 4931


Join date

: 2011-04-24


Age

: 82


Location

: Castlegar, British Columbia



---
Permissions in this forum:
You
cannot
reply to topics in this forum