Latest topics
»
who has chickens
by
llama momma
Today at 1:40 pm
»
Third Year SFG in Canada
by
trolleydriver
Today at 1:36 pm
»
CANADIAN REGION: What are you doing in August 2017? 2017
by
Kelejan
Today at 1:34 pm
»
Tips for compost tumbler
by
trolleydriver
Today at 12:10 pm
»
What are you eating from your garden today?
by
trolleydriver
Today at 11:58 am
»
How's the Weather Where You're At?
by
BeetlesPerSqFt
Today at 10:26 am
»
Franken-mato!!!
by
hammock gal
Today at 7:48 am
»
Mid-Atl - Aug 2017 - Planning/Planting Fall/Winter Garden
by
BeetlesPerSqFt
Yesterday at 11:05 pm
»
Amaranth
by
Scorpio Rising
Yesterday at 9:53 pm
»
Newbie Oldbie
by
yolos
Yesterday at 8:17 pm
»
It's actually more like surviving.... these days...
by
RoOsTeR
Yesterday at 3:14 pm
»
Northern California & Coastal Valleys - What are you doing this month?
by
countrynaturals
Yesterday at 2:40 pm
»
Heat wave and shade screen
by
sanderson
Yesterday at 1:17 pm
»
Sweet Potatoes
by
sanderson
Yesterday at 1:04 pm
»
Grow Produce from Produce!
by
countrynaturals
Yesterday at 11:18 am
»
Huge Box of Seeds from 2003!
by
countrynaturals
Yesterday at 11:12 am
»
Water....
by
BeetlesPerSqFt
Yesterday at 8:45 am
»
Bee 'Sleeping' in Cucumber Flower
by
hammock gal
Yesterday at 7:10 am
»
Store Bought Compost
by
plantoid
Yesterday at 6:58 am
»
N & C Midwest: August is here!!! 2017
by
Scorpio Rising
8/16/2017, 9:58 pm
»
Monarch Supporter
by
Scorpio Rising
8/16/2017, 6:54 pm
»
Top Dressing with Compost
by
donnainzone5
8/16/2017, 3:59 pm
»
What do you know about making sauerkraut?
by
CapeCoddess
8/16/2017, 3:55 pm
»
cherokee purple...seed to dish
by
CapeCoddess
8/16/2017, 12:57 pm
»
I feel VERY fortunate!
by
AtlantaMarie
8/16/2017, 8:28 am
»
Things You Never Knew Existed Until SFG...
by
llama momma
8/16/2017, 6:47 am
»
Anyone want walking onions??
by
RoOsTeR
8/15/2017, 9:27 pm
»
What weed? is this? (with pic)
by
yolos
8/15/2017, 8:53 pm
»
Ground Cherries
by
Scorpio Rising
8/15/2017, 7:18 pm
»
What I've learned this year
by
countrynaturals
8/15/2017, 4:38 pm
I found these wooden crates at Habitat for Humanity Resale Store.  They contained auto parts going to the local assembly plant. Large, very thick, plastic bags were still lining the crates, so I don't think anything would have gotten on the crates. They were shipped from Oman, Jordan, so I was worried about that, but read if they are treated by heat instead of pesticides, they were ok for gardens.  I checked and they all had the "HT" marking for heat treated, so they should be free of pesticides.  So at $7.50 each, I bought 7 of them and am making 7 more SFG beds out of them.  They are 28 inches by 41 inches and about 3 feet high. 
I am trying to come up with ideas to fill up the bottoms, about half way, before I put the Mel's Mix in.  I found free fill dirt and rocks, but neither my husband nor myself are able to load that much and then unload it.  I have some rocks and busted blocks, but not enough for all 7.  I have saved tons of Gatorade containers, with plans to make them into a greenhouse.  So I thought about using those to take up some of the space.  My husband suggested filling them with water, to help prevent them from being crushed by the weight.
So what do you all think?  Would that work?
Madge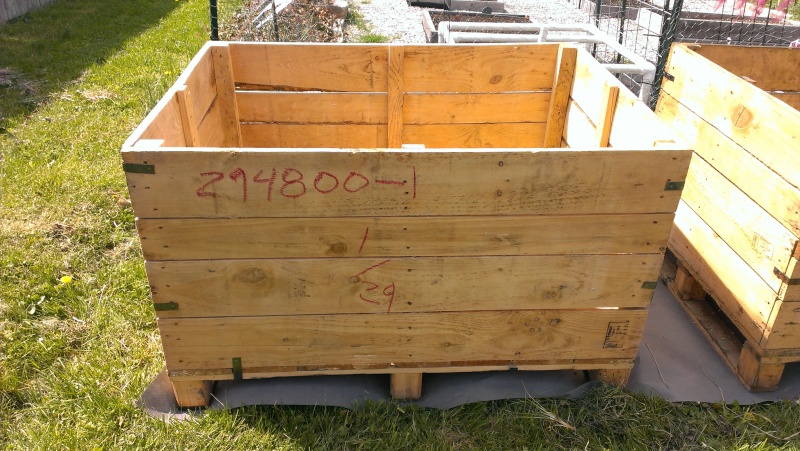 OH!. Those are neat! Can you remove the top couple or three boards and bring the beds down to a more manageable size? Then maybe you wouldn't have to fill them with anything. you'd also have some left over boards to make more beds later. Yuk yuk yuk... 




Posts

: 6300


Join date

: 2012-05-20


Age

: 61


Location

: elbow of the Cape, MA, Zone 6b/7a



Empty soda bottles, milk jugs, juice jugs, packing peanuts, large pieces of styrofoam packing from around electronics, broken  block/brick, topped with enough clean fill dirt, sand or partly finished compost to level off.  Then a nice 6-7"  layer of MM.  You can put a barrier of weedblock between the MM and the filler, but it it is clean I wouldn't bother. 
No need to fill with water.
 I've saved and used packing peanuts in my really deep flower pots for years.

But I like the idea of taking off the top layers of wood and making more boxes even better

Kay
____________________________
A WEED IS A FLOWER GROWING IN THE WRONG PLACE
Elizabeth City, NC
Click for weather forecast

Certified SFG Instructor




Posts

: 4354


Join date

: 2010-10-17


Age

: 74


Location

: wilmington, nc zone 8



Thanks, CapeCoddess, that would be a good idea, but I want to make these higher, like table top beds.  I have a bad back, shoulder and neck.
Walshevak, that is some great ideas.  I do have some packing peanuts and I just saw someone on Craigslist that had a lot of shipping supplies for free!  I will check that out.
Well I lined one of the crates with landscape fabric, after drilling drainage holes.  And put two of my tall garbage bags full of the Gatorade bottles, filled with water in.  It looks like it will take about 77 bottles to make one layer.  Guess I could put in the packing peanuts around them and then put a small layer of fill dirt.
I want these to be deep beds, for potatoes and Carrots. There is about 14 inches now above the Gatorade bottles.  I wanted about 12 inches of Mels Mix.
Madge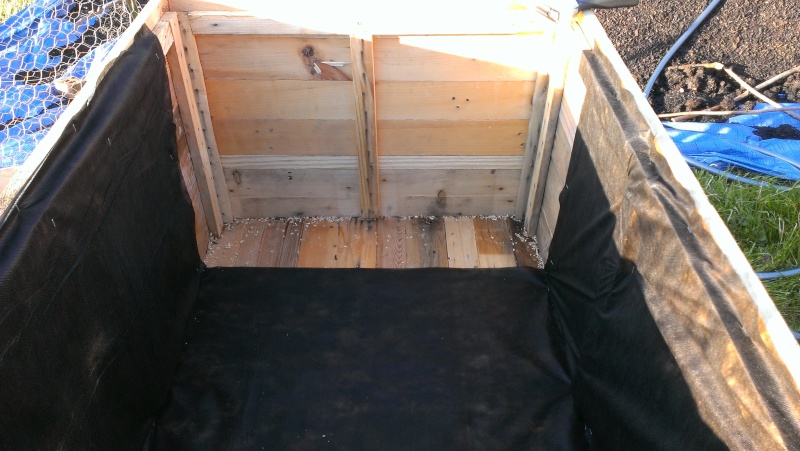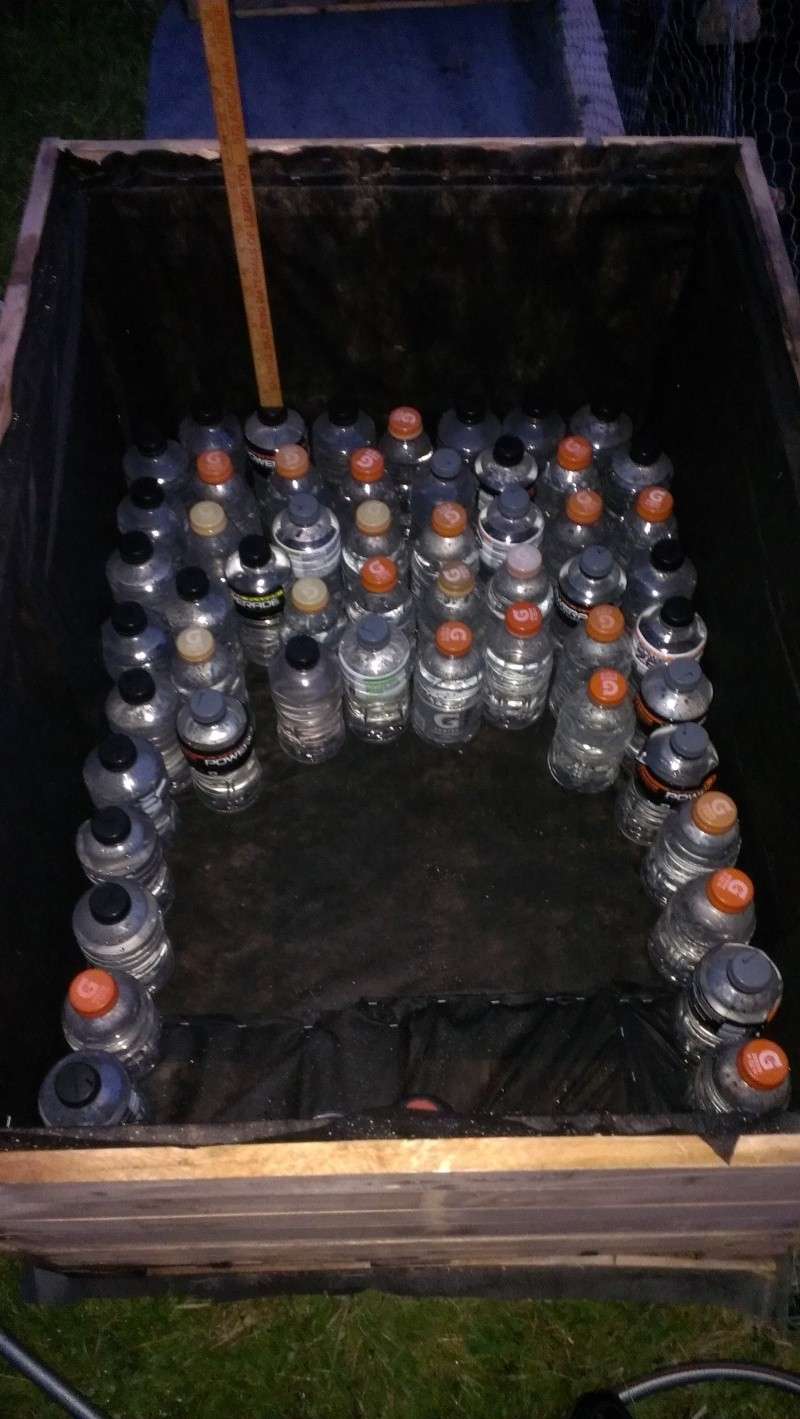 I guess you wouldn't want to simply build a second "story/floor" a couple of feet off the ground with one of the pallets? Even right on top of what you've already got?



Posts

: 3638


Join date

: 2013-07-05


Age

: 56


Location

: SW Oregon



woodchips, grass clippings, cardboard, news paper these items would break down over time  

happy gardening
rose



Posts

: 2424


Join date

: 2011-05-10


Location

: Western WA



Twelve inches of MM would be a tad expensive, I think.



Posts

: 4934


Join date

: 2011-04-24


Age

: 82


Location

: Castlegar, British Columbia



Think of them as deluxe penthouse Top Hats!

Forum Moderator Certified SFG Teacher




Posts

: 14380


Join date

: 2013-04-21


Age

: 68


Location

: Fresno CA Zone 8-9



Marc and sanderson, that might be an idea.  There were actually lids that came with each crate.  I had thought of cutting them off to fit inside, but it would be a lot of work for us old folks.  The lids are made with nails that are each bent over, so it would be hard to dismantle them.  But maybe it would not be any harder than the other possibilities.

Thank you all, you are great!
Madge
I would cut the crates horizontally and get two boxes out of each.
____________________________
41 years a gardener and going strong with SFG.
http://squarefoot.creatingforum.com/t3574-the-end-of-july-7-weeks-until-frost
There are certain pursuits which, if not wholly poetic and true, do at least suggest a nobler and finer relation to nature than we know. The keeping of bees, for instance. ~ Henry David Thoreau
http://squarefoot.creatingforum.com/t1306-other-gardening-books

Forum Moderator Certified SFG Teacher




Posts

: 14165


Join date

: 2010-03-06


Age

: 54


Location

: Keene, NH, USA ~ Zone 5a



---
Permissions in this forum:
You
cannot
reply to topics in this forum