Hi there!  My name is Jules.  I'm from Macomb, MI which is in the Metro Detroit area.  We are a family of 5 - 3 children ages 9, 6, and 4.  This will be my third year Square Foot Gardening and boy have a learned a lot in that time!  We currently have two 4x4's, one 4x8, and a 2x3.  So far my biggest obstacle has been with bugs - more specifically CUCUMBER BEETLES and one year we had vine borer issues.  But other than that - our garden flourishes and at times we can barely keep up with the plants!
I also volunteer my time with a local non-profit called "Raising Rochester."  We use SFG all over the Rochester community to grow organic produce that we donate to the local food pantry, as well as sell at our local farmer's market to raise money that goes into making more beds.  We work off the support of local business and homeowners who host the beds, as well as the time and hands of anyone who is willing to volunteer their time. 
I'm also registered to take the online SFG teaching certification that begins in a week.  With my certification I really look forward to working with the community.  Ideally I'd like to be able to speak in schools and work with children, but also donate my time to teaching smaller groups of people who are really interested in this method of gardening.  I'm a senior at Wayne State University majoring in nutrition and food science, and look forward to obtaining my masters and becoming a registered dietitian.  I'd like to be able to incorporate my knowledge of nutrition with the methods of SFG.
I don't know if I have a better photo, but this shows two of my SFG's around the end of may/beginning of June.  Nothing really climbing the trellis at that point.  Ill see if I can find a more established garden!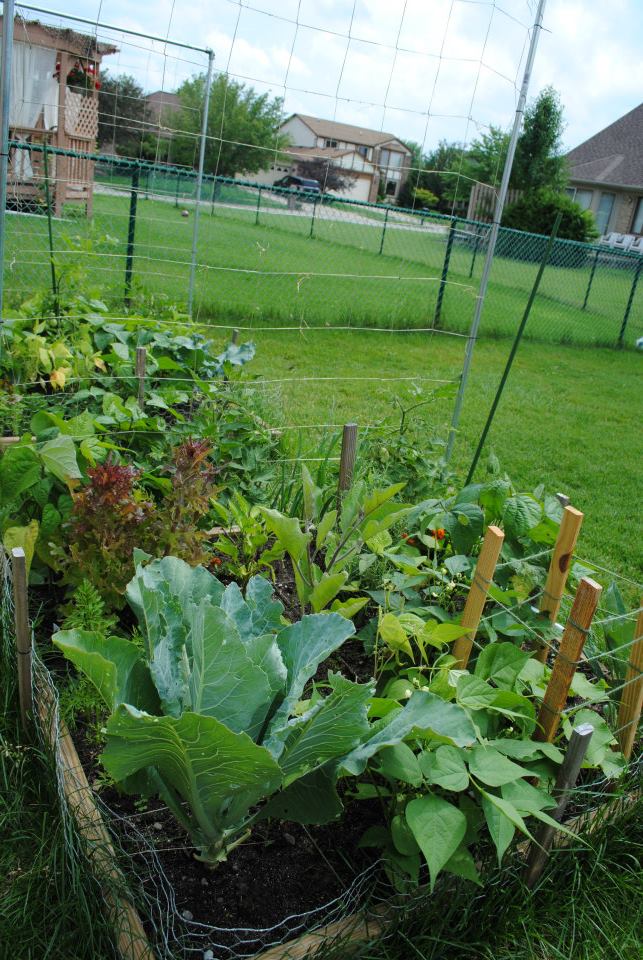 Posts

: 2


Join date

: 2014-04-29


Location

: Macomb, MI



Looks great, Jules!  And welcome to the forum!

You'll enjoy the class.  I just finished up a few days ago.

Certified SFG Instructor




Posts

: 4085


Join date

: 2014-03-18


Age

: 54


Location

: Buford, GA - Zones 7B/8A



Welcome Jules  
The garden looks so green and lush...nice! Love the plan you have going on, working with local businesses and homeowners to provide healthy food for the local food pantry. Good luck with school. I wish for you a new cutting edge idea for combining diet/nutrition and gardening that positively impacts your community/the world.    



Posts

: 255


Join date

: 2013-05-22


Location

: So Cal: Zone 10a



Jules,  Welcome to the Forum!   
   Your veggies look very healthy so you must be doing things right.  You have an impressive background with your formal studies, community involvement and SFG experience.  


Forum Moderator Certified SFG Teacher




Posts

: 13790


Join date

: 2013-04-21


Age

: 68


Location

: Fresno CA Zone 8-9



---
Permissions in this forum:
You
cannot
reply to topics in this forum