Yes.... PITT MOSS
I visited one of our lovely newer nurseries today  Two Lick Nursery, here in Indiana PA.
After picking up some herbs and strawberry plants I got to chatting with the young man who owns the nursery.
Of course I had to talk about the SFG method, and  proudly show him photographs I carry with me in the car all the time...8 x 10s in H.D.
He liked what he saw, after I explained the M.M. to him he took me to the back area of his building and showed me a 50 cubic foot bag of Pitt Moss.
This material is made to be a replacement for peat moss.
He has around 5 bags of this material a company in Pittsburgh PA. gave to him to experiment with.
This stuff looks marvelous, all ground up newspaper.
He offered to let me try  some and I told him I would love to, so I will get four 5 gallon buckets and make a bunch of M.M. up using this Pitt Moss..
This will be a work in progress, I plan on using this in flowering hanging baskets and a few 8 - 10 gallon containers. for veggies,
This is going to be so interesting for me anyway...as I love experimenting.
here is a pic and a link to the manufacturers web site.
http://www.pittmoss.com/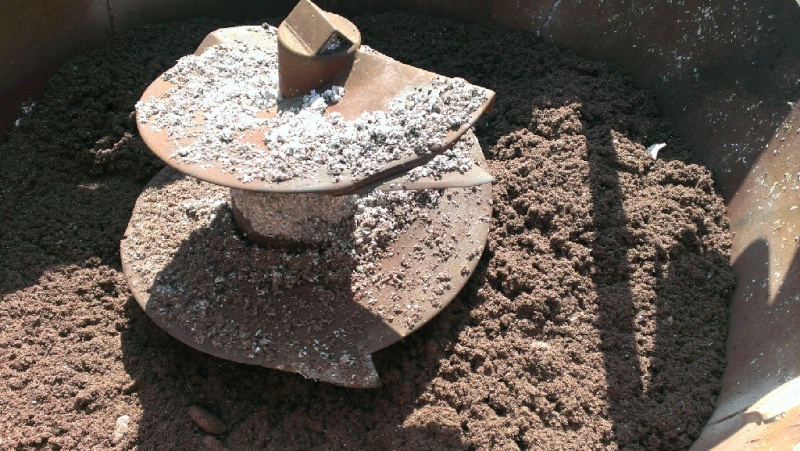 Certified SFG Instructor




Posts

: 1917


Join date

: 2013-02-16


Age

: 81


Location

: Indiana PA....zone 5



Oooh Something Different.  Very interesting Jimmy!   The web page you offered says it is made from paper and organic additives.  Organic Additives, wonder what that could be.  Anyway, it'll be fun to see what you think of the product.

Certified SFG Instructor




Posts

: 4838


Join date

: 2010-08-20


Age

: 60


Location

: Central Ohio zone 6a



I picked up a few buckets of this Pitt Moss today, also sent a message to the company.
A reply was sent to me and listed below, I know absolutely nothing about this material, however I am going to give it a try...I was given permission to use this message.
Hello Jim,
 So glad to hear Justin shared some PittMoss® with you and you are willing to give it a try.  I hold the formula for PittMoss® as a trade secret so I can't disclose the ingredients to you but will share some information.  PittMoss® will never likely achieve "organic" status due to our use of recycled paper in our product.  When paper is recycled it can be cleaned of inks with various types of soaps.  Not knowing precisely what soaps were used in all the various paper mills, where our paper originates eliminates our ability to claim PittMoss as "organic".  However, my goal was to only use organic additives, like bone meal, which I mentioned in our patent.  We use it not as a nutrient in the product but as an abrasive to grind down the cellulose fibers in the paper.
Your concerns, were my first concerns as well.  Since you are familiar with our website, if you look at page two you can find my initial research, conducted at Purdue University.  In that research we wanted to determine elemental composition of not just the medium but the plant tissue grown in it.  You can see that all of the ec of the tomato plants we grew is well within range of normal levels.  Our earliest concerns was the inks used in the recycled newspapers.  We continue to test tissue to this day and have never had any levels of concern in our product or resulting plant tissue.
Thanks for writing about us and our product.  I'd love to share more but we are trying to build a company before one of the big guys tries to duplicate what we are doing.  A few tips;


The product holds more moisture than peat so water less often

PittMoss® is already pH neutral so hold off on the lime. 

Sincere regards,
Mont
Here's a pic of a few buckets full.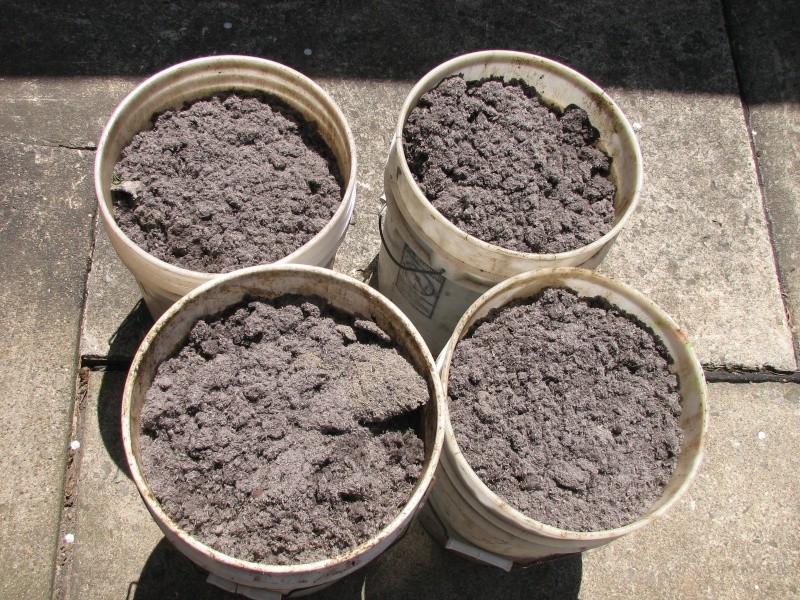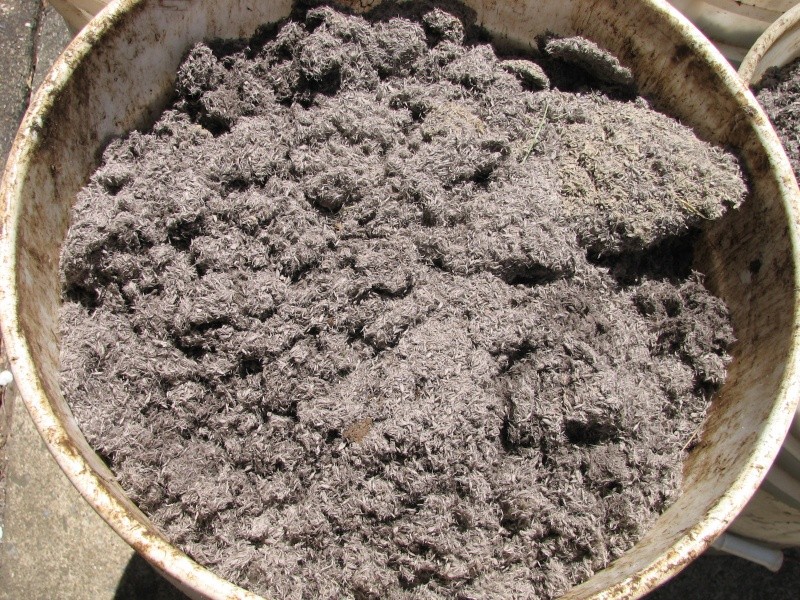 Certified SFG Instructor




Posts

: 1917


Join date

: 2013-02-16


Age

: 81


Location

: Indiana PA....zone 5



Since this product is to be used as a peat substitute I'm curious not only how well it works for the plants but how well it competes in price too.  The developer has certainly put in many years and personal expense to get this to market. He sure seems extremely thoughtful and conscientious too. Please check your pm Jimmy.

Certified SFG Instructor




Posts

: 4838


Join date

: 2010-08-20


Age

: 60


Location

: Central Ohio zone 6a



It looks like the fibre pulp used in many of our vast ( hoop house ) poly tunnel farms that produce crops of strawberries etc.  all year round,  they drip feed nutrients on to it .
It should be an interesting execise Jimmy .  You can always make papemache fire pit blocks , Halloween masks & hand made plant pots with it if it is no good  

 T'would be interesting to see the nitrogen requirement to break it down as it rots away .
 I haven't lok at the link ..have to go out in a few seconds ..will look later .



Posts

: 3718


Join date

: 2011-11-09


Age

: 66



Note from PapaVino (retired "papermaker"):  most newspapers here in Oregon are printed with soy-based inks, so ink residue would not cause me as much concern as some of the chemicals used in the paper-making process: chlorine added in the "bleach plant" and biocides added to the "white water" paper slurry before it's squirted out on felt-covered rolls to begin drying into paper.  Depending on the kind of paper being made, other chemicals and compounds may be used.   
Having said that, Nonna uses sheets of The Oregonian newspaper under wood chips in the garden without discernible harm, but then we've only been gardening 45 years.



Posts

: 1437


Join date

: 2011-02-07


Location

: In hills west of St. Helens, OR



Looks very interesting, Jimmy.  Please keep us updated on it.

Certified SFG Instructor




Posts

: 4207


Join date

: 2014-03-18


Age

: 54


Location

: Buford, GA - Zones 7B/8A



I wonder if it rots/composts has reached a stable status like peat has.  As a peat moss substitute I would have guessed that state would be prime importance, at least as a peat substitute in MM.  I am looking forward to the updates on jimmy's experiments.



Posts

: 2269


Join date

: 2012-03-29


Location

: Gallatin Valley, Montana, Intermountain zone 4



I'll surely keep everyone updated, however all of my beds have been already made with the peat.
I will be using this material in my hanging baskets, along with all veggie pots, I'll not have anything till  around end of summer maybe.
Possibly flowers will be sooner..gonna try some strawberries with it also..
Should be interesting.

Certified SFG Instructor




Posts

: 1917


Join date

: 2013-02-16


Age

: 81


Location

: Indiana PA....zone 5



---
Permissions in this forum:
You
cannot
reply to topics in this forum