If you have these very tough survivors in your sfg beds you can get them out of there and free up  space for other plants.   Last year I moved some to a spot on the hard clay ground where some compost briefly cured. Didn't baby them at all.  Despite a horrible cold and windy winter these things returned very strong this spring and grew faster than the surrounding weeds.  Someone on the forum warned me they will grow anywhere and multiply. Now I'm a believer and glad to free up more space in the sfg bed.

Certified SFG Instructor




Posts

: 4778


Join date

: 2010-08-20


Age

: 60


Location

: Central Ohio zone 6a



I originally planted mine in their own box next to one of my permanent beds.  A few weeks ago I decided to turn them loose and removed the box.  You can see from the picture how well these guys are doing and getting ready to start walking.  A very hardy plant like Gina said, they survived one of the coldest winters on record in my area.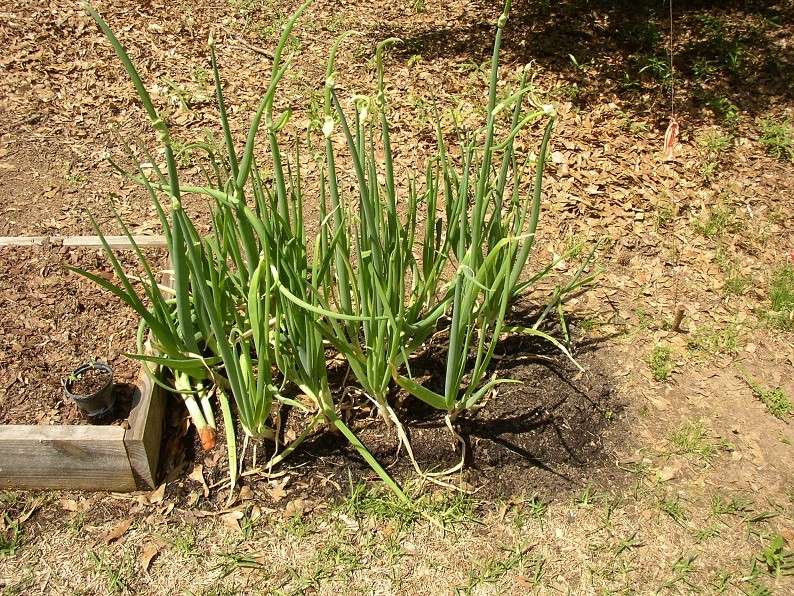 Posts

: 804


Join date

: 2012-08-16


Location

: North GA Mountains Zone 7A



I started mine in a box last year.  then I saw a garden where the guy was growing some and threw the heads over the fence into a crummy old field. They grew forever, as far as I could see. So I took them out of the box last fall  and moved them to a crummy sandy rocky area where I grew to my tomatillos last year to make them think it was Texas. The onions are now growing like crazy now!  They is the darndest things, aren't they?



Posts

: 5922


Join date

: 2012-05-20


Age

: 61


Location

: elbow of the Cape, MA, Zone 6b/7a



Those are looking great Bob!  I don't have any top sets developing yet like yours.

They are the darndest things CC!

Certified SFG Instructor




Posts

: 4778


Join date

: 2010-08-20


Age

: 60


Location

: Central Ohio zone 6a



They do look great, Bob!

How do they taste?  Say, compared to a Vidalia?

Certified SFG Instructor




Posts

: 4078


Join date

: 2014-03-18


Age

: 54


Location

: Buford, GA - Zones 7B/8A



I love my Walking Onions! They have thrived wherever I have moved or thrown them. I built (sort of) them their own box so they wouldn't feel like outsiders in the garden, but really it was just some extra boards I have propped up around their area in an attempt to contain them. Working pretty well, but I still have some escapees growing in my walkway wood chips, on top of weed cloth.

GG



Posts

: 3411


Join date

: 2011-02-16


Age

: 52


Location

: Zone 4A - NE SD



I love mine, they are the first stuff we get from the garden in the spring.
I just use them as green onions as my bulbs do not get all that big.  I have some popping up in various beds.  The only thing I have found to kill them is not enough drainage in the winter.  They died when the down spout started draining onto them, freezing them under a puddle.  Everywhere else they do great.



Posts

: 2138


Join date

: 2012-03-29


Location

: Gallatin Valley, Montana, Intermountain zone 4



Atlanta Marie,
This info from Territorial Seeds talks about the taste you were asking about. This co. is charging 18 dollars for an ounce of bulblets.  That's some mark up for growing these easy perennials!  If you noticed where the responding posters live these plants thrive from the West to the northeast and in the south.


Egyptian Walking Onions
Home / Egyptian Walking Onions
TOPSETTING ONIONS
Egyptian onions, also known as tree or walking onions, are very hardy perennials. These fascinating onions form several small bulbs underground, plus they produce clusters of reddish hazelnut-sized bulblets that form at the top of each seed stalk. Normal flowers do not occur.
CULTURE: Plant bulblets 5–6 inches apart, 1 inch deep, in rows spaced 12 inches apart. Once Egyptian onions have established themselves, you can harvest and cook with the bulbs at the base of the plant and replant the bulblets gathered from the top of the stems. If left untended, you will understand the term 'walking onion', as the onion stalks will bend down to the ground and take root all by themselves.
HARVEST: From late summer through early fall, use a garden fork to lift the clumps and separate the onions. In more severe microclimates, bulbs should be stored and planted in the spring. The underground bulbs have a very strong flavor and can be used in a wide variety of your favorite recipes. The stalk bulblets are somewhat spicy and are delicious pickled. They can also be used when pickling other garden vegetables. Be sure to replant some of the bulblets to keep your walking onion patch going.

Certified SFG Instructor




Posts

: 4778


Join date

: 2010-08-20


Age

: 60


Location

: Central Ohio zone 6a



Thanks LM.  I had looked at a website dedicated to them, but didn't find taste info...

We like sweet onions, so not sure if these are for us.  But we had a good laugh about them walking when up at my mom's yesterday.

Certified SFG Instructor




Posts

: 4078


Join date

: 2014-03-18


Age

: 54


Location

: Buford, GA - Zones 7B/8A



You know in the beginning of the thread I was saying how E. Onions grow so well outside the sfg bed?  My DH is very familiar where I put them even as he zips around high speed on the riding mower without damaging them.  Except yesterday when he zipped right over them.  Not all of them but maybe half of them.  Now there is a little plastic white picket fence to prevent future mishaps.  I stood them back up with their little raggedly torn up shredded tops.  It rained hard last night and this morning they are looking like they survived a battle and thriving anyway. 


Certified SFG Instructor




Posts

: 4778


Join date

: 2010-08-20


Age

: 60


Location

: Central Ohio zone 6a



---
Permissions in this forum:
You
cannot
reply to topics in this forum