Hi,
I'm just setting up my watering system for my 6 raised beds.  Which would be best...to use a sprinkler setup which would water the entire bed or a drip system which would only water the areas in the bed where the plants are?  I'm concerned about water conservation.  So from that viewpoint the drip system would be best.  But it is also my understanding that it is important to keep MM constantly watered.  It is good for the mix.  So a sprinkling system that would sprinkle the entire bed daily might be best for the MM.  Or is there another answer?
Thanks,
Mazzy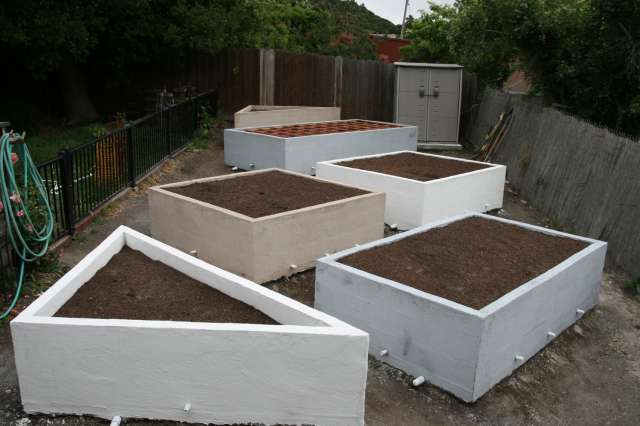 Posts

: 69


Join date

: 2014-05-08


Age

: 67


Location

: San Francisco Bay Area



A drip system will keep the water on the ground and not the plant foliage. This will do a few things, use the water where is most needed, at the roots. Also, it will keep water sprayed on plants at a minimum. Water in the foliage may lead to conditions that are perfect for fungal and other disease breeding  and infection.
____________________________
41 years a gardener and going strong with SFG.
http://squarefoot.creatingforum.com/t3574-the-end-of-july-7-weeks-until-frost
There are certain pursuits which, if not wholly poetic and true, do at least suggest a nobler and finer relation to nature than we know. The keeping of bees, for instance. ~ Henry David Thoreau
http://squarefoot.creatingforum.com/t1306-other-gardening-books

Forum Moderator Certified SFG Teacher




Posts

: 14165


Join date

: 2010-03-06


Age

: 54


Location

: Keene, NH, USA ~ Zone 5a



Drip lines with a mulch covering will keep the MM cool and wet during the summer.  There's a local (Willits) business where several folks (including me) order their drip line supplies.  They have all kinds of neat fittings, filters, kits, ideas.  Unlike Home Depot, etc., they have driplines with built-in emitters every 6".

http://www.dripworks.com

Forum Moderator Certified SFG Teacher




Posts

: 13980


Join date

: 2013-04-21


Age

: 68


Location

: Fresno CA Zone 8-9



Sanderson,

Thanks for the DripWorks lead.  I looked over their website and talked to one of the technicians.  A couple questions:  do the emitters plug up?  Also...I used to use a similar style emitter (Rainbird) but the emitters constantly leaked where they were plugged into the drip lines.  Also, in the hot sun the drip lines would loosen up and blow off the barbed fittings.  Additionally, it seemed like the lines didn't last that long.  Every year I had to replace them.  How does DripWorks drip system fair with these problems?

Mazzy



Posts

: 69


Join date

: 2014-05-08


Age

: 67


Location

: San Francisco Bay Area



Mazzy, since you're on a learning journey check out http://www.intelligentirrigationllc.com/. The watering system is called Aquajet. You can call Rob if you have questions. Very nice guy. The YouTube videos are even better than the web site in my opinion.



Posts

: 10


Join date

: 2014-04-05


Location

: Red Oak/Ellis Co, TX - Zone 8A - Lower South



Mazzy, There are no barbs in my DripWorks system unless you mean the connectors. They have barbs to connect pieces of tubing together.. I use their driplines with built-in emitters. (they look like a snake with a mouse in it's body) So far I am very happy with the this emitter tubing. For all of the connectors (elbows, tees) I cut straight across the tubing and make sure the tubing is pushed on as far as it will go.

I used Laser tubing by Rainbird or some another brand 19 years ago and most of the holes have clogged. I'm replacing these with DripWorks tubing.

Hope this helps.

Forum Moderator Certified SFG Teacher




Posts

: 13980


Join date

: 2013-04-21


Age

: 68


Location

: Fresno CA Zone 8-9



I'll take the devils advocate on this one just to give balance (  



 ) .
How does nature water plants ..usually from the sky ????
A spray washes the leaves of dust , plants also take up some nutrients from rain on their leaves.
 unlike a dripper the spray puts water over a larger area so you don't get the nutrient washed out spots you get with drippers running water through the same spot for days on end .
 My micro spray /fine misting heads can put up to 55 litres an hour through them if needed depending on the water pressure feeding them & the position of the on/off tap which is also used as a flow regulator .
 That must be around 10 us gallons max per hour per head ??? 
My spray heads can cover a circle of up to two metres 6 foot 6 inches approx. depending on how high they are on the mounting  stalks/ rods  and again the water pressure .
I can individually turn my nozzles on and of in a fraction of a second & put them back in use at the original usage rate in the same time .  Drippers take a lot of fiddling with .
 I rarely see my watering system in action for it is timed to come on at 03.30 hrs  when it is cool , this lets the plants breath easier rehydrates/ feeds  the leaves  and also soaks into the MM exceedingly  well in time before for the heat of the day arrives . Cut off time is usually a time clock set to 3/4 of an hour or so later but can be increased/ shortened  or stopped according to the dictates of the weather.
 My spray /misting nozzles don't suffer from slime production  in the supply pipes as much as my dripper system did ( it blocked several nozzles over time ) ... most likely to do with the increased volumes & higher pressure of water passing through the pipes & dispensers . .



Posts

: 3696


Join date

: 2011-11-09


Age

: 66



---
Permissions in this forum:
You
cannot
reply to topics in this forum