Hi, all!
This is my first garden and I am VERY nervous.  This is my outline.  I am doing it in cinder blocks this year and will build a box next year if I am successful.  The four corners will have dwarf marigolds in the cinder block holes for pest control.  Sun goes East to West with trees on the East and my house on the West.  Starred plants I will buy the first week of June.  Everything else I will buy this weekend (after all this rain lets up).  I have indicated if I will buy it as a small starter or a seed.  This is 4' X 8'.  Any ideas?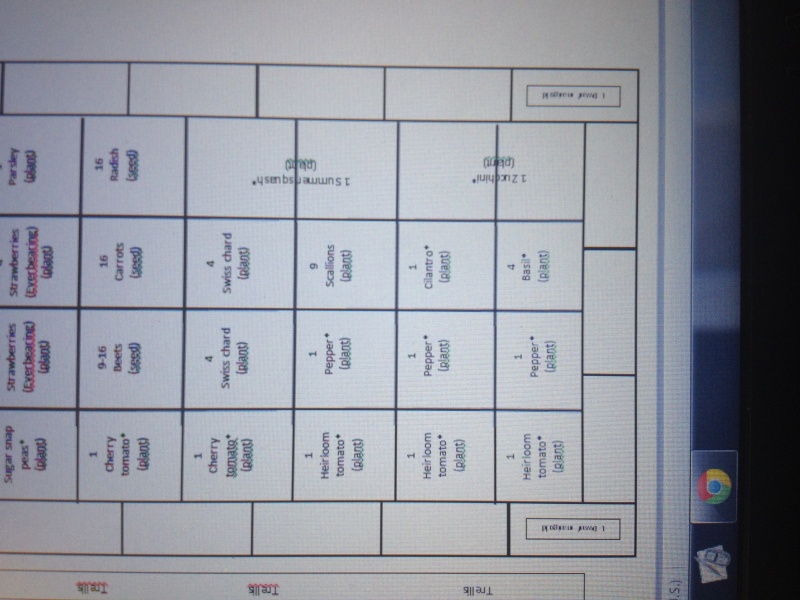 Posts

: 1


Join date

: 2014-05-14


Location

: 6a, MI, United States



Asheldon,  Welcome to the Forum!   
It looks like you have been reading All New Square Foot Gardening plus watching this Forum.  Your plans are very clear and even my older eyes can read it!  Thank you.
I will let others comment on your planting arrangement.  I would say it's pretty good for a beginner!  


Forum Moderator Certified SFG Teacher




Posts

: 14772


Join date

: 2013-04-21


Age

: 68


Location

: Fresno CA Zone 8-9



Hi Asheldon!  Welcome!

Looks very nice!  I've seen lots of folks use cinderblock and plant the holes in them with herbs, etc.  I believe Brainchasm does that...  You might look thru the gallery for his pix.

Have fun!  You'll be fine!

Certified SFG Instructor




Posts

: 4273


Join date

: 2014-03-18


Age

: 54


Location

: Buford, GA - Zones 7B/8A



Looks like a good start. It was trial and error for me, trying to figure out how much to plant of each item.  After the first year I immediately added a box. I suspect you will do the same.



Posts

: 91


Join date

: 2012-01-28


Location

: Darlington SC



---
Permissions in this forum:
You
cannot
reply to topics in this forum