Hi there!
Sanderson said you guys like pictures, so here is my beginning.
I was feeling really frantic and thought I was behind.  I went to my local nursery today to get some tomatoes, peppers, parsley and basil because I was to late to start those, and she said to hold off a week and assured me that the stuff I've planted will be fine.
So here she is, small but mine: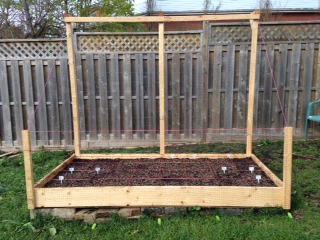 I got the bed built and filled with mel's mix last week, and have been watering it since.  My cats, as I suspected, thought it was a fantastic new litter box.  To keep them out, I attached some dollar store trellises to the sides so I could open and close them to get in, and keep them out.  That took a while to get right.  So I planted my first seeds at ten that night by flashlight, because it was finally ready and I was super keen. I went to bed happy.
I woke up defeated.  Turns out the squirrels also think its a great place to dig and they had no trouble squeaking in the trellis netting on the back that the cats wouldn't fit through.  Thankfully they only disturbed one planted square. 
So, new mission: Squirrel defense.
I bought some bird netting and decided to go big or go home (I read the thread about how much everyone hates this stuff
after
I bought it

).  I carried on with my plan, and though it was tedious at times, managed to wrangle it and sew it up with fishing line into a cage to surround the entire garden.  Rigged up some more of my favourite pink mason's twine to hold it in place and provide something to clip the netting to for me to get in.  My carpenter husband (who did all the sawing, nailing and screwing) added the top pieces at the back to keep the netting away from the trellised plants.  The netting is pulled taught around the bottom and held in place with the bright green pegs shoved into the ground.
So along the back right are beans, peas and snap peas.  Front right is carrots, left is lettuce. The rest of the front squares are for more carrots and lettuce in succession.  There will be four pepper plants (red, orange, yellow and green) in the four middle squares of the second row to the back, with basil, parsley, and something else flanking them. Along the back left will be two squares each tomatoes and cucumbers.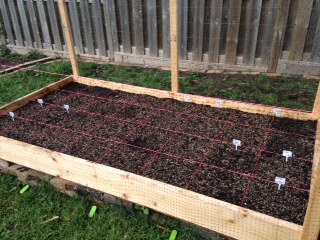 So that's it!  I'm pretty happy with it.  I welcome any suggestions or if you see something that sends up a red flag, please let me know!



Posts

: 24


Join date

: 2014-03-28


Age

: 37


Location

: Huron county, Ontario



Bravo!  Well done.  

Forum Moderator Certified SFG Teacher




Posts

: 14375


Join date

: 2013-04-21


Age

: 68


Location

: Fresno CA Zone 8-9



Looks really nice, 66Stitches!

Certified SFG Instructor




Posts

: 4207


Join date

: 2014-03-18


Age

: 54


Location

: Buford, GA - Zones 7B/8A



I have the same problem with squirrels. 

   I also use the bird netting and find it works well till my plants get well established.  Then I can remove it without the squirrels doing too much damage.



Posts

: 324


Join date

: 2011-05-31


Age

: 62


Location

: Southeast Michigan



Thanks!
Denese: I'm glad to hear it works for you and that you can take it off later. I'm a little concerned about the peas grabbing it and then not being able to remove it, so hopefully I'll get it off before that happens




Posts

: 24


Join date

: 2014-03-28


Age

: 37


Location

: Huron county, Ontario



---
Permissions in this forum:
You
cannot
reply to topics in this forum