Latest topics
»
Today's Harvest
by
sanderson
Today at 3:26 am
»
Any Strange and Wonderful Visitors? Photos please!
by
sanderson
Today at 3:25 am
»
Hello from NE OHIO
by
sanderson
Today at 3:14 am
»
What are you eating from your garden today?
by
sanderson
Today at 3:08 am
»
Compost Heaps
by
sanderson
Today at 3:00 am
»
Carrot Week 2017!
by
BeetlesPerSqFt
Yesterday at 10:19 pm
»
Third Year SFG in Canada
by
trolleydriver
Yesterday at 11:26 am
»
Happy Autumn Equinox
by
brianj555
Yesterday at 11:24 am
»
How's the Weather Where You're At?
by
AtlantaMarie
Yesterday at 8:46 am
»
Amaranth
by
AtlantaMarie
Yesterday at 8:44 am
»
Northern California & Coastal Valleys - What are you doing this month?
by
trolleydriver
Yesterday at 7:25 am
»
Cucumber Plants on the Ground! :-(
by
brianj555
9/21/2017, 9:27 pm
»
New England September 2017
by
Scorpio Rising
9/21/2017, 7:59 pm
»
N&C Midwest - September 2017
by
Scorpio Rising
9/21/2017, 7:56 pm
»
Spotted Lanternfly: invasive pest "new" to the US
by
sanderson
9/21/2017, 1:41 pm
»
First red kidney bean harvest....now what?
by
AtlantaMarie
9/21/2017, 6:28 am
»
Fall Garden?
by
sanderson
9/21/2017, 3:28 am
»
Bug/Pest Identification....Help!
by
Scorpio Rising
9/20/2017, 7:12 pm
»
question about Garlic and winter
by
Scorpio Rising
9/20/2017, 6:38 pm
»
Ginger
by
has55
9/20/2017, 2:38 pm
»
CANADIAN REGION: What are you doing in September 2017
by
Kelejan
9/20/2017, 2:29 pm
»
Senseless Banter...
by
AtlantaMarie
9/20/2017, 9:08 am
»
harvesting wood chips
by
Kelejan
9/19/2017, 9:55 pm
»
Tomato Tuesday 2017
by
brianj555
9/19/2017, 7:18 pm
»
leeks again
by
donnainzone5
9/19/2017, 12:17 pm
»
WANTED: Pictures of Compost Bins
by
has55
9/19/2017, 9:03 am
»
My SFG Journey:Returning to the Original Square Foot Garden Method
by
has55
9/19/2017, 3:05 am
»
Monarch Supporter
by
CitizenKate
9/19/2017, 1:43 am
»
Birds of the Garden
by
countrynaturals
9/18/2017, 11:29 am
»
Tomatoes in New England
by
Scorpio Rising
9/17/2017, 9:02 pm
Page 2 of 2 •

1, 2
Marc Iverson wrote:Now that I've taken up gardening, it's hard not to look at grass as the devil!  But I know, I know ... I should keep an open mind ...

Turns out some people actually like their lawns.  Can you imagine????
I love my grass.  It is quite uplifting to drive up to the house in the middle of winter and see nice green fescue grass in the front of the house and everywhere else everything is brown and gray and depressing.  And in the summer, the Bermuda grass around the sides and back of the house and pool is so green and soft.  I get the greatest satisfaction out of mowing (making short ones out of long ones).



Posts

: 3254


Join date

: 2011-11-20


Age

: 67


Location

: Brooks, Ga Zone 7B/8A



It's always been an unpleasant chore for me. Where I grew up, in the tropics, summer was very hot and humid and full of mosquitoes and the grass grew like crazy even over rocks. An unpleasant chore that never ended. I agree lawns can be beautiful, but I'm happier without one and really don't miss it. The ground cover on our hilly lot in front, and the natural forest behind, are even prettier and take very little work and virtually no water. Now when it's 90 and 100 degrees and too hot to sit out on a lawn anyway, I get to stay indoors and don't have to fuss about outside.

Too each their own, though. When I was growing up, I was very much in line with the contemporary school of thought that a lawn was both the most beautiful landscaping alternative and what respectable people were expected to keep and keep perfectly maintained. It only took me three decades to change my mind. But now I have.



Posts

: 3638


Join date

: 2013-07-05


Age

: 56


Location

: SW Oregon



Coming once again with hat in hand to ask about hoops.

For anyone who has actually made hoops - full half circle bends - in 1/2" EMT conduit, how did you do it?  Did you use a conduit bender and make a series of bends to get your radius right?  Or, did you make a wooden jig around which to bend your hoops?

I abandoned my plan to use the gray PVC because it is too flexible.  I found that I could not tie Florida weave on it that would work.  Although the primary purpose of hoops will be to hold bird netting and row cover, there will be times when I might want to weave along or across the bed.  This needs sturdier stuff than the gray PVC conduit.

I experimented a little with 90° elbows and connectors making 5 lengths of pipe and 4 connectors, but this is expensive for the fiddly parts and netting WILL SNAG on it.  DAMHIKT!

So . . .   now the plan it to make hoops.  Three of my beds are nominally 4' across.  With mounting brackets that hold the EMT firmly attached on opposite sides, I come to a radius of about 24-3/4".  By my calculations (which are always questionable unless I counted fingers and toes to cipher the solution), the 120" pieces will handle the radius and leave ~16" on both ends for attaching to the 2x8 TT sides.  Before attempting to do the cipherin' and the bendin', I thought I should draw on the experience of those who have traveled this road before me if possible.

Conduit bender?  or jig made from scrap wood/plywood?

TIA
Hi rabbithutch,
I make emt hoops using a 4 foot hoop bender from Johnny's Select Seed.  It bends 10' lengths of 1/2" emt into perfect hoops 4' wide.  http://www.johnnyseeds.com/p-7708-quick-hoops-low-tunnel-bender-4-w-x-4-h.aspx#   With this bender you leave 16" on both ends of the 10' emt pipe unbent. 
Before I used the emt hoops I used white schedule 40 pvc that I simply slipped over 2' lengths of re-bar pounded into the ground on each side of the bed. This is a side view of the peas and carrots from 2011 with the pea nets attached to the pvc.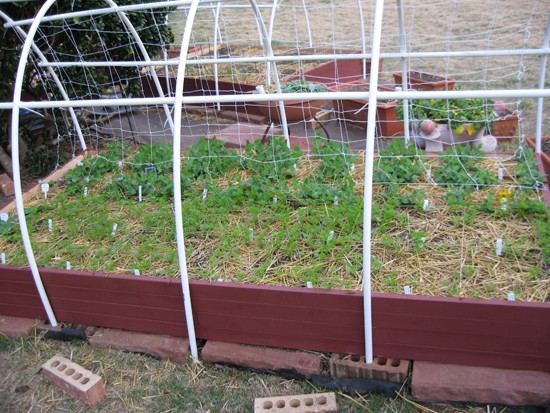 For me, the problem with pvc pipe is that it's flexible, and my 90-year old mother uses the hoops to hold onto when she's in the garden.  Emt hoops are much stronger and the cost of the hoop bender was good insurance against her falling.



Posts

: 435


Join date

: 2010-03-15


Location

: Double Oak, TX Zone 8a



Thanks, Gloria!

I was thinking about making something like that using several layers of particle board with some pipe strapping on one edge.  That bender from Johnny's is a bit too spendy for me.

Thanks, again!
I've used a gizmo like Gloria's, and it's slick.
I've trellised using PVC.  One horizontal ridge tube seemed to give it enough stability for me.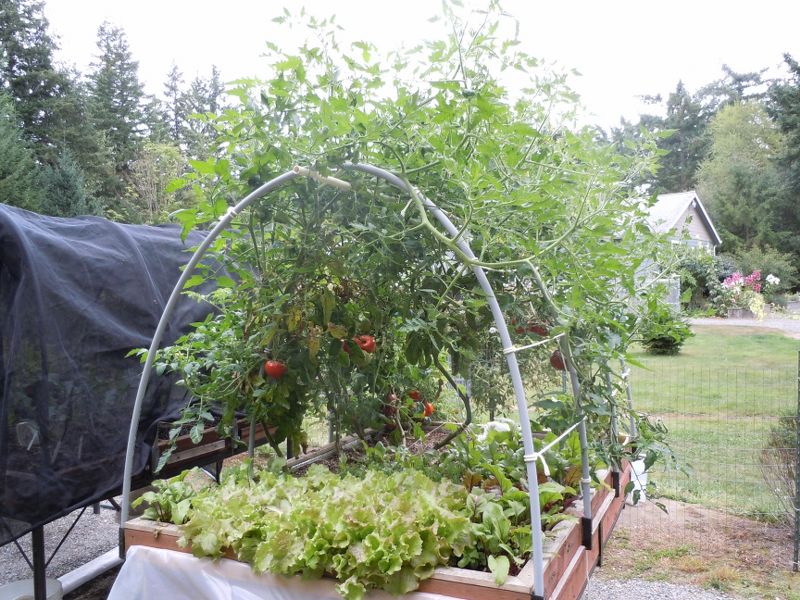 I've never bent EMT to a 12 inch radius, but I just happen to have a jig from another project that is 13 inch radius, so just for grins, I gave it a try.  Easy peasy.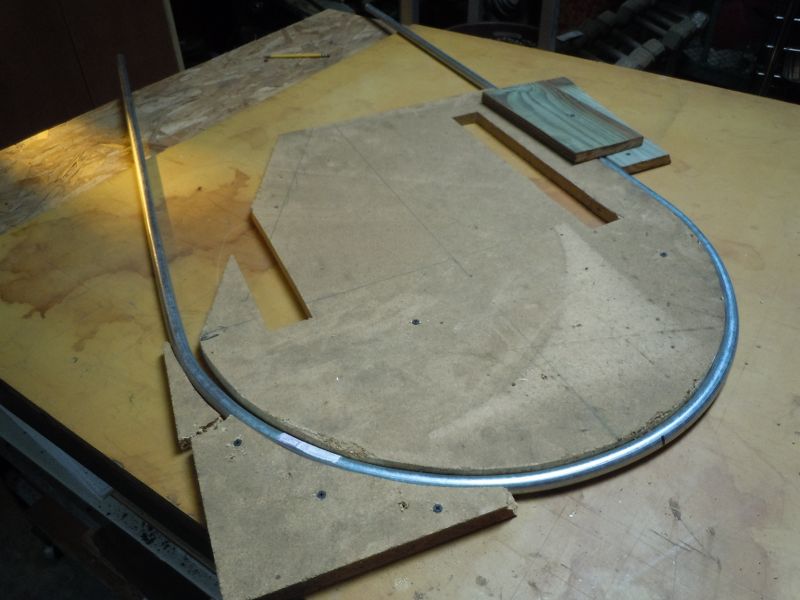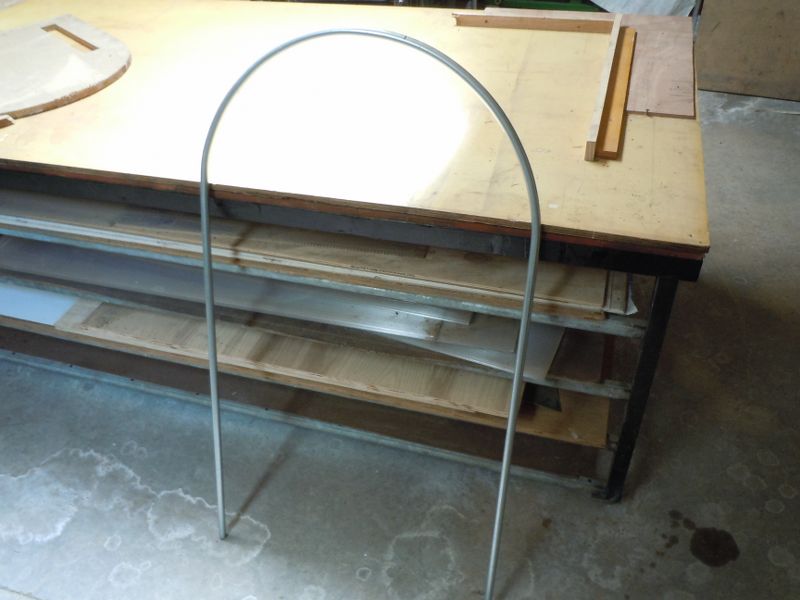 I've never had any luck getting a smooth curve that big with a conduit bender, and   I know I couldn't make repeatable bends so the hoops are identical.
Now, I wonder what I can do with one hoop!



Posts

: 7392


Join date

: 2010-02-26


Age

: 64


Location

: yelm, wa, usa



Add some cross pieces and it's a trellis for sweet peas.  Nonna



Posts

: 1437


Join date

: 2011-02-07


Location

: In hills west of St. Helens, OR



Thanks, boffer!
That is exactly what I need.  I guess that I'll try a little jig bending before I shell out for a conduit bender.
That's great work.  Can you shrink that 12" radius bend down to nano size and mail it to me?   

Good idea, Nonna! One baby, portable trellis.  
I had such poor pea seed germination outside this year, that for next year, I thought I would get them started in the greenhouse and then move them outside.   This will be perfect for that.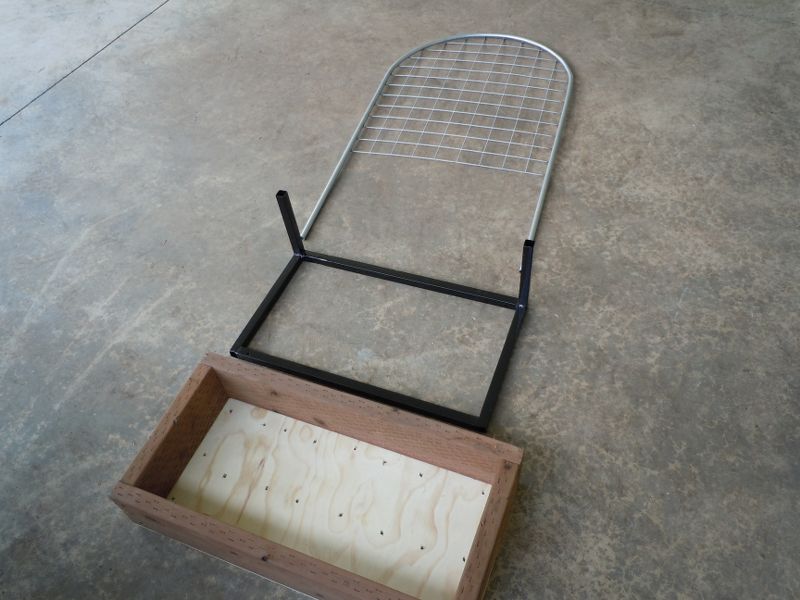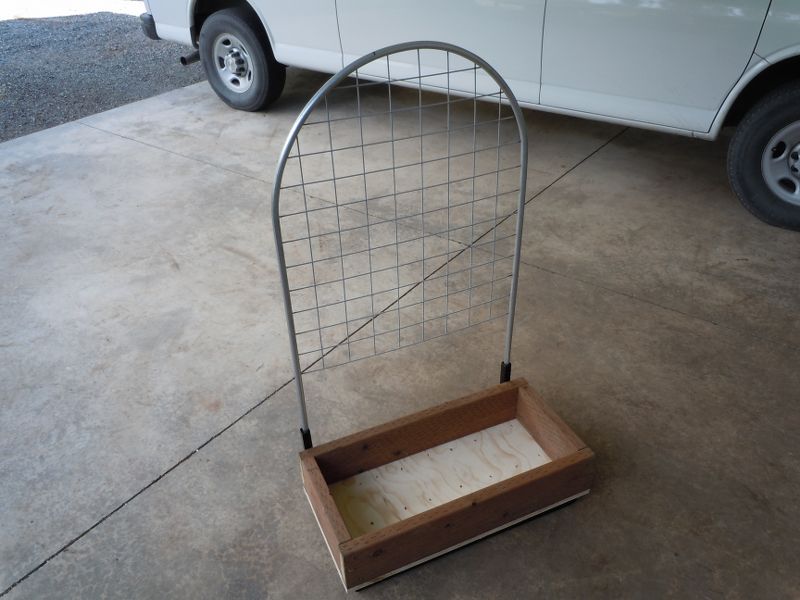 Posts

: 7392


Join date

: 2010-02-26


Age

: 64


Location

: yelm, wa, usa



You certainly do beautiful work, boffer!!
That is a sweet little trellis.
While we're hoopin' and hollerin' . . .
. . .   how does this look for a bending jig for 1/2" EMT?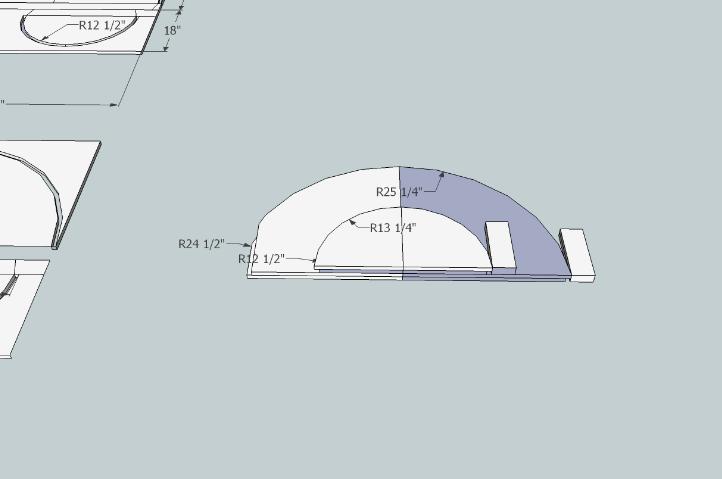 That is 4 layers of 3/4" plywood.  The top layer is larger than the 2nd layer by a 3/4" longer radius, and the 3rd layer is larger than the 4th layer by the same dimension.  This allows the upper piece to keep the tube from rising off the actual jig.
As you can see, the lower (larger) one is for my larger beds with a 24.5" radius.  The top (smaller) one if for my herb bed with a 12.5" radius. 
I will tack this to a piece of sheet goods and place a piece against the jig at the right side then slide the tube through and bend until I get a half-circle.  I have calculated the leg length and will mark that on the pipe and clamp the pipe with the mark just on the diameter.  The left side of the larger jig is not a complete half-circle because standard sheets of plywood don't allow me to get the full dimensions.
I'd appreciate everyone's critique of this idea.
TIA  
Page 2 of 2 •

1, 2
---
Permissions in this forum:
You
cannot
reply to topics in this forum