Latest topics
»
Mary Mary quite contrary, how does your garlic grow?
by
sanderson
Today at 2:57 am
»
Carrot Week 2017!
by
sanderson
Today at 2:46 am
»
What are you eating from your garden today?
by
sanderson
Today at 2:27 am
»
Ground Cherries
by
sanderson
Today at 2:20 am
»
Anyone in SE Idaho or near by?
by
sanderson
Today at 2:13 am
»
N & C Midwest: March 2017 Brink of Spring
by
CitizenKate
Yesterday at 10:11 pm
»
Terrible News: Bumblebees In Trouble
by
audrey.jeanne.roberts
Yesterday at 9:41 pm
»
CANADIAN REGION: What are you doing in March 2017
by
Scorpio Rising
Yesterday at 9:37 pm
»
New from OK City
by
Scorpio Rising
Yesterday at 9:34 pm
»
New England March 2017
by
Scorpio Rising
Yesterday at 9:31 pm
»
Hello from Southern Illinois
by
Scorpio Rising
Yesterday at 9:19 pm
»
Squares under siege... by grass!
by
Scorpio Rising
Yesterday at 9:14 pm
»
Butterfly Junction
by
countrynaturals
Yesterday at 11:56 am
»
Tomato Mystery Mix
by
Avinash
Yesterday at 12:06 am
»
How's the Weather Where You're At?
by
TCgardening
3/22/2017, 9:46 pm
»
New to SFG!
by
TCgardening
3/22/2017, 9:39 pm
»
North Texas - Square Foot Garden
by
Scorpio Rising
3/22/2017, 8:34 pm
»
How can we save this tree?
by
countrynaturals
3/22/2017, 2:30 pm
»
Ontario - trying out SFG
by
Kelejan
3/22/2017, 12:39 pm
»
List of Forum Members with Blogs
by
Cajun Cappy
3/22/2017, 12:31 pm
»
SUGA 2017
by
SQWIB
3/22/2017, 9:26 am
»
Happy Birthday!!
by
AtlantaMarie
3/22/2017, 8:42 am
»
who has chickens
by
sanderson
3/21/2017, 3:00 pm
»
Rolling Boxes
by
sanderson
3/21/2017, 2:50 pm
»
Bok Choy
by
Scorpio Rising
3/20/2017, 7:16 pm
»
2017 SFG in Brooks, Ga
by
countrynaturals
3/20/2017, 11:53 am
»
Need Plant Chart for Nighttime Lows
by
Judy McConnell
3/20/2017, 10:55 am
»
Collecting Rain Water - Come on Rain!
by
newbeone
3/20/2017, 3:39 am
»
Did I kill my strawberry plants
by
bigdogrock
3/19/2017, 8:45 pm
»
Gift Amaryllis
by
countrynaturals
3/19/2017, 12:48 pm
Hey all,
I've run into a bit of an interesting situation regarding placement of trellising.
In the All New SFG Book, you see that Mel sits his trellising up flush against the north wall of his beds. Now in his case, it's easy to do as the boards that he uses are pretty much 2x6s.
My bed walls/sides are much wider, and so instead of there being a 2" distance from the trellis, to the beginning of the soil, its more like a 5" or 6" distance. In thinking about having to train the trellised plants diagonal/horizontal 6" inches or so before even entering a square in my trellising, I was thinking about changing the placement of the trellising.
Rather than even having the trellis sit on the outside of the bed, I was thinking about doing it how I've seen it done here: http://www.mysquarefootgarden.net/growing-vertical/
In this situation, the trellises seem like they would make the plants feel less awkward/manipulated and keep them less stressed out (which would hopefully lead to better productivity.
How do you all feel about this? I'm so ready to relocate them from being butted up against the north wall, to placing them more central of the squares themselves.



Posts

: 76


Join date

: 2013-12-11


Location

: Baltimore



You can put your trellis wherever you think you need it as long as it allows sunlight where needed.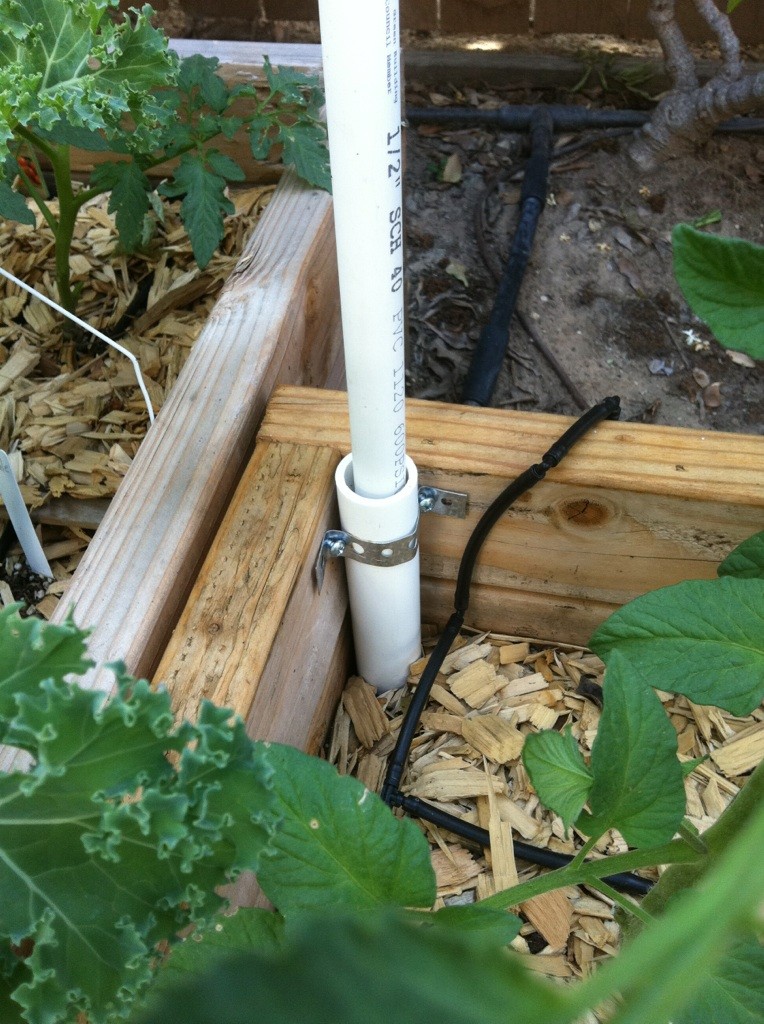 Forum Moderator Certified SFG Teacher




Posts

: 13135


Join date

: 2013-04-21


Age

: 68


Location

: Fresno CA Zone 8-9



I was wondering about this as well.  I don't have the distance problem that 
Tumtumsback
 does, but I am sorely needing more vertical space.  With a couple of squash and a cantaloupe, my two 4x4 boxes with their 8 feet of trellis space went quick.  I am hoping to run a trellis north to south, one square from the west side of the box.  I am filling the boxes with mix, and should get the trellis up in the near future.  Nothing but the box location is set in stone.

North is to the left.  I have read somewhere here on the forums that using both sides of a trellis does not give as much extra space as I would think, but I was hoping that since I am pairing my two squash (is it squashes?) across the trellis from each other, that crowding won't be a big problem.  I also tried to plan it so that the taller or more light obstructing plants were on the north end of the trellis.
I also just realized there might be some shade issues with this layout.  The east side (top of the picture) has a tall treeline (30 feet) located about 10 feet away from the box, so I should receive limited morning sun.  I'll check tomorrow for how much/long that shade is.  On the west side is a house, about 30 feet away.  I noticed today that my box is shaded from the west sometime around 6pm.  If I place vertical squash on the west side, will I be limiting my limited sunlight too much?  Also keep in mind that where I live near Dallas, in a month or two, some of those plants on the east side of the trellis might enjoy the early reprieve from the hot Texas sun.  If the early shade is a problem, would it be better to put the trellis on the east side of the box in a mirror of what I was thinking (one square in from the east)?  The treeline to my east is fairly solid and tall, so it should provide shade until later morning.  I'm thinking that extra shade in the morning from the trellis plants won't even be noticed due to the shade from the trees.
Sorry to ramble, but I hope my thoughts on this make sense.  Any suggestions?



Posts

: 7


Join date

: 2014-05-14


Location

: Rice Texas, Lower South Zone 8A



Clayton, generally the trellis goes on the north side of the bed. The way you have it the plants on the west side of the trellis will be shaded by the plants on the east side in the mornings and vice versa in the afternoon. So, depending on your specific situation they may not get enough sun during the day. The plants need at least 6 hours of sunlight if possible. I would put the trellis on the north side of the bed and put a tomato in each corner with the beans in between. It would make it easier to reach the tomato plants so that you can keep their growth under control and contained. 

I personally wouldn't put the summer squash on the trellis. I tried it last year at the beginning of the season and didn't like it. They are bush plants not vines and although they can be trained to grow vertically to me it's harder on a trellis. I ended up switching from the trellis to training them to a stake with much better success. Vertically Training Squash to a Stake go to about 5:30 in to see the zucchini. They have really large leaves and hollow stems so they are easy to break when trying to trellis them. I would either put those in buckets/pots outside of your SFG beds or put them in outside squares so you can stake them and train their growth over the side of the box so it doesn't crowd your other squares as much. And you won't be able to put 2 zucchini in one square, they get just as large as the yellow squash. It's pushing it to put one squash per one square Mel suggests 1 per 9 but there is no way I would give up that much room in my box for one plant. I think most do 1 squash per two squares on the outside edge/corner of the box. But if you stay on top of pruning and staking it you might maintain it in one square. I give mine a little extra room though and plant 3 squash per 4 squares (so about 16" apart) and stake them.

The marigolds can be planted in pots and set around your garden if you don't want to use squares for it. And if you are growing the onions to be used as green onions you can plant those in the edges of your squares around the other plants or your radishes could go around the base of your tomatoes, either one would free up enough space to place the other zucchini in their own squares.

So, something like this:

Tomato  Squash  Squash  Squash                                       E
Pinto      Corn     Corn      Onions or Radishes                    N    S
Pinto      Pepper  Pepper   Lettuce                                      W
Tomato   Squash Squash  Squash

And if you have room in your other bed or can move something around I would probably put a couple of the squash plants in the other bed and move something smaller into this one in their place so it wouldn't be so crowded. But that is what I would do without knowing what you have planned for your other bed. You have to find out what works for you and your growing conditions. So, just jump in, try it and if something doesn't work then consider it a learning experience and do it different next time. There is no right or wrong per say...it's different for every person/garden site.



Posts

: 199


Join date

: 2013-05-27


Age

: 49


Location

: Texas 9A



---
Permissions in this forum:
You
cannot
reply to topics in this forum