This place seems to have become dead.  What are you using to keep bids out of your garden.  Thrashers seem to like my tomatoes and I cannot find anything suitable at the home improvement stores.  I thought they used to carry bird netting.



Posts

: 32


Join date

: 2010-06-04


Location

: Glendale, AZ Sunset zone 13, USDA zone 9b, AHS zone 11



I start the earliest tomato fruits off by putting knee highs over them once they start blushing.  After a few of those the birds leave the rest alone. If you're not crazy about that idea, which I doubt many are, I guess you could go to the fabric store and buy a few yards of tulle to throw over your tomato plants. I wonder if baggies would work instead of knee highs? Or maybe pieces of those bags of netting that oranges and such come in from the grocery store.

I'm leary of bird netting. I have a friend / Gardner who had a bird gets stuck in hers once and she said it was the dickens to get that bird out and it didn't survive. I have a small piece of bird netting that I throw over my strawberries on the ground but that's about it.

My mother had a piece hung up on the oak tree outside so the morning glories could climb up it. The other day I found my cat tangled up in it. She must have climbed the tree, got tangled up in it and fallen to the ground.  Fortunately she was sitting very still when I found her and could cut it off. Very scary stuff.

I just talked myself out of the bird netting. I think I'll throw it out and use tulle on my strawberries this year.

CC



Posts

: 6294


Join date

: 2012-05-20


Age

: 61


Location

: elbow of the Cape, MA, Zone 6b/7a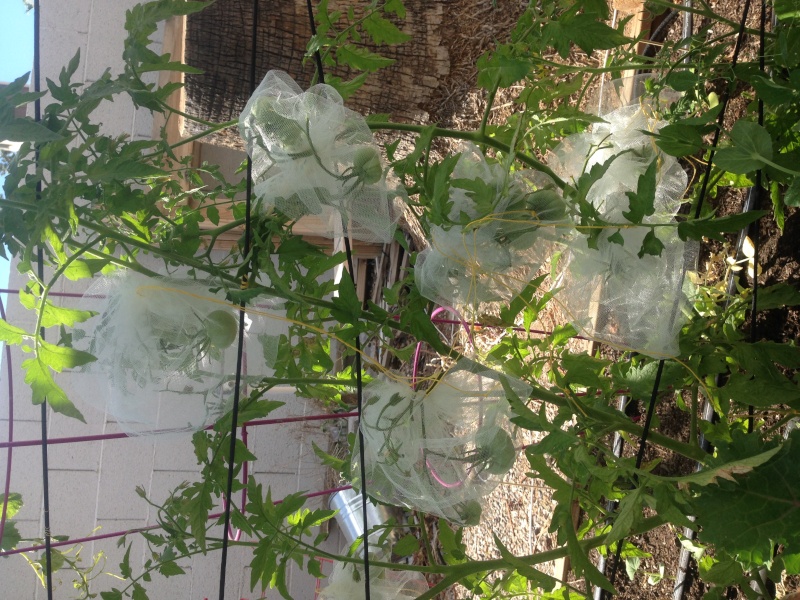 I just took tulle material and made a little bag out of it. I put it on as soon as the fruit developed, because in my yard the birds have gone for them when they were still green. So far this has worked very well. Sorry for the sideways picture.. I'm not sure how to fix it and dont want to spend the time to figure it out tonight!



Posts

: 378


Join date

: 2010-03-04


Age

: 36


Location

: Glendale,AZ



---
Permissions in this forum:
You
cannot
reply to topics in this forum