Rather than pulling up all of the mini-maple trees (2-leaf seedlings, as [fuzzily] shown below: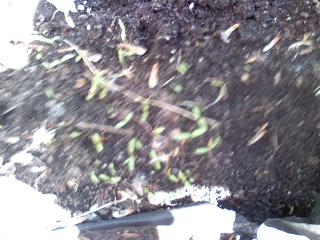 After I've gotten too much sun and "exercise" today, from sifting the compost  to put in with my seedlings (it really needed it-many sticks & un-composted wood shavings), and starting to weed (yes, in a SFG! too many things blow in),  I am looking for a way to just cover & smother 'em.      I wonder if just putting cardboard down would work (I have some boxes left over from helping someone move; they got rained on and collapsed), or the wet newspaper trick I've heard that some people use. I did want to use some of the leftover weed cloth I thought I had in the cellar, but it seems I used it last year to re-do my boxes.
       Please help me figure out what to do--I've already waited too long to get these transplants into their squares. Thanks.



Posts

: 210


Join date

: 2010-05-19


Location

: Central CT Zone 6a



I know it seems like a lot of little maple seedlings, but they really are super easy to pull out of MM.  I have them every year.  Just pull 1 square at a time, and before you know it, they're all gone.  Then, go ahead and plant.  Every day, just pull any new ones that sprout.  Otherwise, the card board should work to kill them off, but it will take a couple  or three days, at least.  Otherwise, they'll just perk back up, once they start getting sun again.



Posts

: 324


Join date

: 2011-05-31


Age

: 62


Location

: Southeast Michigan



---
Permissions in this forum:
You
cannot
reply to topics in this forum