Hi-
This is the first time I've grown zucchini.  I've already picked three good zucchini, and more are coming, but the leaves look weird.  You can see the strange coloring on the leaves.  Anyone know what's wrong?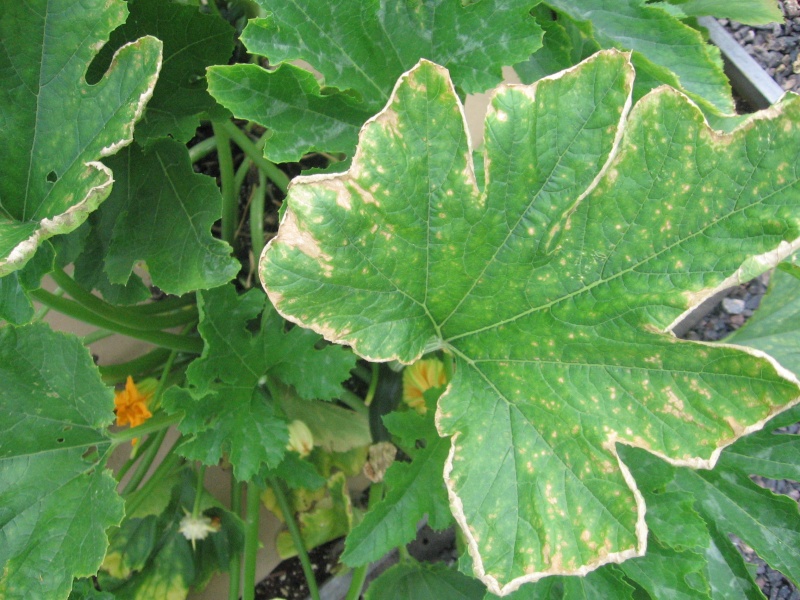 Posts

: 15


Join date

: 2013-04-02


Location

: illinois



It looks like powdery mildew to me. I use a weekly application on Neem oil as a preventive. Search this site for powdery mildew for other ways to control it.



Posts

: 109


Join date

: 2011-11-20


Location

: Loveland, Colorado zone 5a



No, that does not look like powdery mildew to me.  More like downy mildew but I am not positive.  My cucumbers just started to get the same coloring along the edges.  They had a problem with downy mildew earlier in the year.  I treated them with copper fungicide but maybe it came back again.  I am not positive the coloring/pattern around the edges indicates downy mildew.  Mine usually get spots in the middle of the leaf.  It looks like yours might be getting spots on the entire leaf but it is hard to tell if those spots are consistent with downy mildew.

Maybe someone else has a different diagnosis.



Posts

: 3194


Join date

: 2011-11-20


Age

: 67


Location

: Brooks, Ga Zone 7B/8A



looks more like a "burn" to me??? maybe did the leaves get wet during the day? I dont think over fertilizing, because the other leaves look ok.....



Posts

: 1887


Join date

: 2011-06-21


Age

: 36


Location

: california, zone 10a



There could be a variety of reasons they look like that. Just prune the affected leaves off. The plant will look 100x better and will make more foliage. If the problem persists, please post another photo.
____________________________
41 years a gardener and going strong with SFG.
http://squarefoot.creatingforum.com/t3574-the-end-of-july-7-weeks-until-frost
There are certain pursuits which, if not wholly poetic and true, do at least suggest a nobler and finer relation to nature than we know. The keeping of bees, for instance. ~ Henry David Thoreau
http://squarefoot.creatingforum.com/t1306-other-gardening-books

Forum Moderator Certified SFG Teacher




Posts

: 14165


Join date

: 2010-03-06


Age

: 54


Location

: Keene, NH, USA ~ Zone 5a



---
Permissions in this forum:
You
cannot
reply to topics in this forum