Latest topics
»
How's the Weather Where You're At?
by
trolleydriver
Today at 9:02 am
»
What are you eating from your garden today?
by
trolleydriver
Today at 8:58 am
»
Roasted butternut squash soup
by
trolleydriver
Today at 8:49 am
»
Bug/Pest Identification....Help!
by
brianj555
Today at 8:40 am
»
Flavor bomb cubes for veggies and...
by
sanderson
Yesterday at 10:53 pm
»
Carrot Week 2017!
by
sanderson
Yesterday at 10:50 pm
»
Frankensquash
by
trolleydriver
Yesterday at 10:20 pm
»
What I learned this year
by
countrynaturals
Yesterday at 7:41 pm
»
Compost Heaps
by
brianj555
Yesterday at 5:09 pm
»
Fall Garden?
by
sanderson
Yesterday at 4:46 pm
»
Cucumber Plants on the Ground! :-(
by
brianj555
Yesterday at 4:40 pm
»
Hello from NE OHIO
by
Scorpio Rising
Yesterday at 3:19 pm
»
Any Strange and Wonderful Visitors? Photos please!
by
hammock gal
Yesterday at 8:59 am
»
Today's Harvest
by
sanderson
Yesterday at 3:26 am
»
Third Year SFG in Canada
by
trolleydriver
9/23/2017, 11:26 am
»
Happy Autumn Equinox
by
brianj555
9/23/2017, 11:24 am
»
Amaranth
by
AtlantaMarie
9/23/2017, 8:44 am
»
Northern California & Coastal Valleys - What are you doing this month?
by
trolleydriver
9/23/2017, 7:25 am
»
New England September 2017
by
Scorpio Rising
9/21/2017, 7:59 pm
»
N&C Midwest - September 2017
by
Scorpio Rising
9/21/2017, 7:56 pm
»
Spotted Lanternfly: invasive pest "new" to the US
by
sanderson
9/21/2017, 1:41 pm
»
First red kidney bean harvest....now what?
by
AtlantaMarie
9/21/2017, 6:28 am
»
question about Garlic and winter
by
Scorpio Rising
9/20/2017, 6:38 pm
»
Ginger
by
has55
9/20/2017, 2:38 pm
»
CANADIAN REGION: What are you doing in September 2017
by
Kelejan
9/20/2017, 2:29 pm
»
Senseless Banter...
by
AtlantaMarie
9/20/2017, 9:08 am
»
harvesting wood chips
by
Kelejan
9/19/2017, 9:55 pm
»
Tomato Tuesday 2017
by
brianj555
9/19/2017, 7:18 pm
»
leeks again
by
donnainzone5
9/19/2017, 12:17 pm
»
WANTED: Pictures of Compost Bins
by
has55
9/19/2017, 9:03 am
Although I was advised not to do so, I purchased several of the 10' by 1/2" gray, plastic electrical conduit pieces.  I have a bed only 2' wide that I wanted to be able to cover with bird netting and later with row cover on cold nights. I also thought that I would be able to use it to Florida weave a trellis for tomatoes.  The pipe is very flexible but not quite flexible enough to make a bend with a 1' radius, so I bought some  of the 90° elbows and some connectors and some conduit angles made for the pipe.  The results were not good.  The conduit would be adequate to support netting or row cover, but it is too flexible for trellising.  I found it impossible to achieve equal tension on the tiers of twine.  The result was that lower tiers loosened as I tied the upper tiers.  I could solve the problem by drilling holes through the conduit and passing the twine through and wrapping several times.  This works but the sagging twine looks so sloppy that I gave up.
I'm using the 2x7 herb bed table top (TT) bed  as my guinea pig for trellising; so I then went back to Lowe's and got some 1/2" EMT 10' sections.  Of course, the elbows and connectors  are not interchangeable between EMT and the gray PVC; so I bought metal elbows and connectors.  I'm not satisfied with this for several reasons.  First, the connectors and elbows add expense while requiring extra work.  You must cut lengths to cross the top at the correct length while allowing excess for the depth of the connectors.  Getting a series of them just right is tedious.  Another issue is that netting, particularly, snags on the slightest protuberance, eg, the connectors.  
The next issue is in affixing them to the sides of the beds.  The conduit hanging straps are too loose to hold the conduit by friction; so I have to have the conduit rest on the ground.  With TTs that are almost 40" above ground, I have to 'waste' 3 feet for each post.  On this bed, there are 4 pairs of posts which means that I have to buy an extra 24' of conduit.  That offends my Scottish ancestry and my cheap ways.  I really wanted to be able to slide these fixtures up or down as needs dictate based on the height of plants in the bed.  With the PVC conduit, the hanging straps allowed me to do this, but the EMT conduit straps are not nearly adequate for this; thus raising the question, "How can I mount the EMT conduit  and maintain the flexibility of raising or lowering the structure?"  I really need to solve this problem because I have 3 more beds that will have trellises across at least one side for vining plants.  I would also like to have the ability to support netting and row covers without spending unnecessarily for EMT.
I'm looking at buying an inexpensive 3/4" EMT bending tool.  I can get one for just over $30.  It will allow me to bend both 1/2" and 3/4" EMT conduit, but nothing of greater diameter.  With this tool, which will probably be about what I'd spend for elbows and extra connectors, I should be able to do the double stub bend to give a U-shape without any problems.  I've watched several YouTube vids that explain the process in detail including the concepts of loss and gain.  I hope to find one that will show me how to bend a loop, as that would be the ideal for supporting netting and row cover.
I hope that by sharing my freshman year SFG experience, I will help someone else who is going through this planning and execution (ergo my long-winded post).
If anyone has solved the issue of connecting 1/2" EMT conduit snugly to the side of the bed, I'd be much obliged to know the solution.  My beds are made with 2x8s, and I plan to use 2 anchors at each end for sturdiness and plumb; but the anchors have to grip tightly and hang on.  I used the search feature but this topic has garnered a lot of posts.  I'm yet to cull out that one post that will tell me how to solve this.
Thanks for sticking with the post this far. 
What exactly are you trying to cover?
____________________________
41 years a gardener and going strong with SFG.
http://squarefoot.creatingforum.com/t3574-the-end-of-july-7-weeks-until-frost
There are certain pursuits which, if not wholly poetic and true, do at least suggest a nobler and finer relation to nature than we know. The keeping of bees, for instance. ~ Henry David Thoreau
http://squarefoot.creatingforum.com/t1306-other-gardening-books

Forum Moderator Certified SFG Teacher




Posts

: 14165


Join date

: 2010-03-06


Age

: 55


Location

: Keene, NH, USA ~ Zone 5a



camprn wrote:What exactly are you trying to cover?
I have 2 objectives for using EMT (metal) conduit:
1)  To make stretchers for trellising.  I will use the nylon mesh Mel recommends.  Temporarily - because I planted tomatoes in a 2x7 TT bed, I will use Florida weave for the remainder of the plants' lives to support tomatoes in this bed. 
2)  I want to be able to have a snag-free or relatively snag-free frame for bird netting and for row cover.
I have 4 beds:  2'x7' TT 40" above ground level that will ultimately be used only for herbs; two 4'x4' TTs 40" above ground level; and one 4'x10' TT 40" above ground level.
The 2'x7' herb bed will need to have bird netting sometimes and row cover when cooler weather comes.  It will not ordinarily be trellised but I want to have the option of using Florida weave should the need arise.
All the other beds will have a trellis on the North side for use with taller plants and vining plants to support their growth.  I will use nylon netting per 2nd ed. ANSFG for the trellising in all these beds.  I am almost certain to need to cover these beds with bird netting or row cover from time to time, too.  I thought that I could add conduit supports opposite the trellises for the netting or row cover to rest on as needed.
Here's a picture of the 2'x7' herb bed taken last week.  You can see the PVC conduit and the bird netting.  You can also see that I planted toms and peppers and lemon grass in this bed along with basil, parsley, chives, and carrots.  There is also a citronella plant in a plastic pot resting within the MM.  I do not plan to plant such tall growing plants in this bed in the future but will grow them in the other beds not pictured here.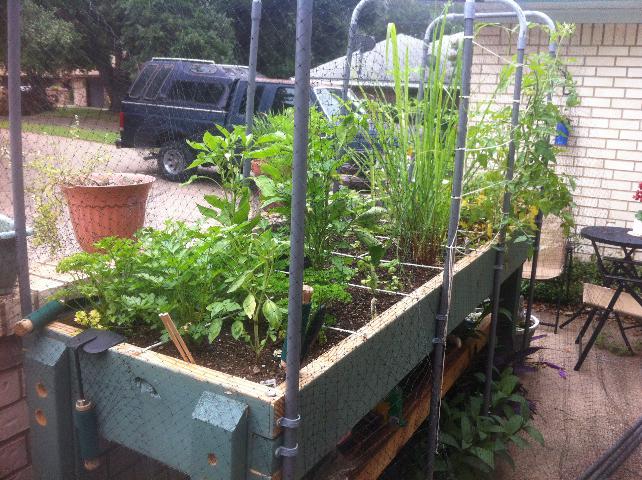 Although the pic shows the PVC conduit resting on the ground, if discovered that I could slide them up and down in the hangers and they would hold their vertical position because there is a very good friction fit.  I have since place 1/2" EMT conduit beside the PVC as a trial and eventual replacement for the PVC.  The metal strap hangers do not provide a firm grip.  The metal conduit slips freely through the hangers; it does not grip it at all.  I want the metal for sturdiness for Florida weave.  The other supports bird netting, for now, and will support row cover when the cooler weather arrives.
Does this help explain what I'm doing?
I found this type of hanger online but do not know if it will do what I want.  Lowe's does not carry a hanger like this, to my knowledge.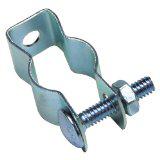 I know that some professional electricians are on the forum.  I hope that one of them can tell me what product I need to attach the 1/2" EMT to the sides of my beds.
You probably need Boffer to answer this series of questions.  But, are you aware that the straps to hold EMT and the straps to hold PVC are slightly different sizes and maybe you do not have the correct size.  For instance, if I need a strap to hold PVC, it is best to buy the strap that fits the PVC rather than the EMT.  The EMT strap is slightly smaller than the PVC strap. 

Also, how about a pin that goes thru the strap and into a hole drilled into the EMT pole.  With holes in the pole at appropriate places, you could pull out the pin, move the EMT up or down and then reinsert the Pin.

????????????????????????

Just saw your above image and I don't see why that would not work.  But we should let the electricians among us respond.



Posts

: 3254


Join date

: 2011-11-20


Age

: 67


Location

: Brooks, Ga Zone 7B/8A



All purpose plumber's tape in a pinch:
http://www.homedepot.com/p/Oatey-3-4-in-x-25-ft-Galvanized-Steel-Hanger-Strap-339292/100344678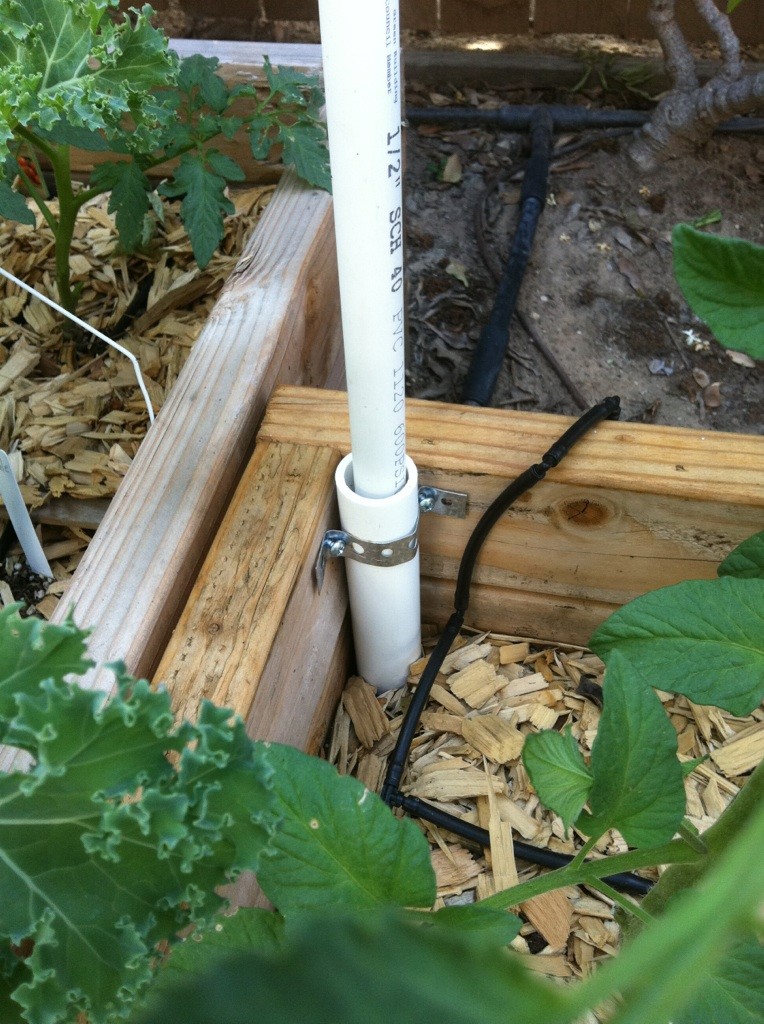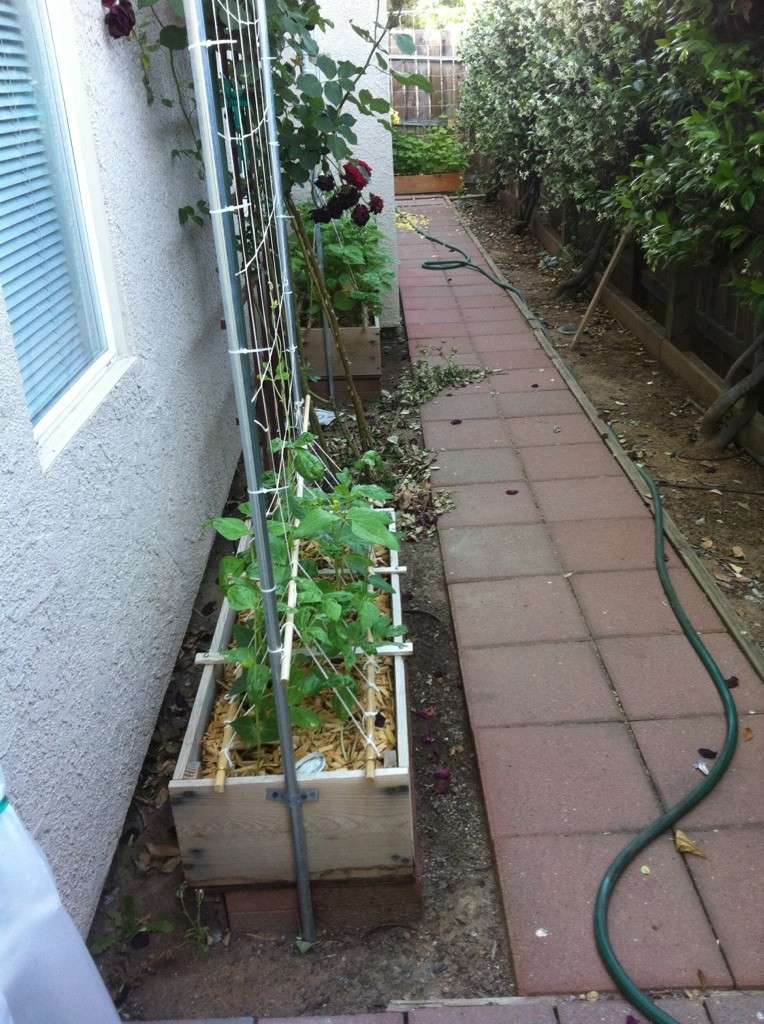 Forum Moderator Certified SFG Teacher




Posts

: 14604


Join date

: 2013-04-21


Age

: 68


Location

: Fresno CA Zone 8-9



Just got back from a trip to a local electrical supply house.  I found the hanger depicted in my post, above.  I put it on the conduit and tightened down very securely.  This is my answer.  It protrudes a bit more from the side of the bed - and I'm sure to tear a shirt or something on it at least once - but it's the best I could do.  I'm also likely to cuss it when the wire netting or row cover snags on it, but it is not a perfect world, eh?

Yes, I'm aware of the differences in the PVC hangers and the EMT hangers and the fact that you must buy the hanger for the size conduit you will use.  With this type of hanger, size 0 fits 1/2" EMT.
---
Permissions in this forum:
You
cannot
reply to topics in this forum