Latest topics
»
How much room for Tromboncino zucchini?
by
sanderson
Today at 3:38 am
»
TrolleyDriver's Compost Thermometer
by
sanderson
Today at 3:36 am
»
Monarch Supporter
by
BeetlesPerSqFt
Yesterday at 11:04 pm
»
Please Share Your Knowledge with a Newbie!
by
brianj555
Yesterday at 10:26 pm
»
Total lunar / solar eclipse
by
sanderson
Yesterday at 10:03 pm
»
CANADIAN REGION: What are you doing in August 2017? 2017
by
Mimi2
Yesterday at 9:27 pm
»
New England August 2017
by
sanderson
Yesterday at 9:12 pm
»
What to do with fallen unripe tomatoes?
by
sanderson
Yesterday at 9:07 pm
»
Do you fertilize? If so, what do you use?
by
Scorpio Rising
Yesterday at 9:01 pm
»
Plumeria ?
by
sanderson
Yesterday at 8:52 pm
»
Time flies when you are having fun
by
sanderson
Yesterday at 8:42 pm
»
Northern California & Coastal Valleys - What are you doing this month?
by
sanderson
Yesterday at 8:23 pm
»
Eggplant - (Japanese) Millionaire
by
Scorpio Rising
Yesterday at 7:17 pm
»
Experiment - Amended Soil and MM
by
Turan
Yesterday at 4:41 pm
»
Aug 2017 lower south - better late than never
by
brianj555
Yesterday at 4:19 pm
»
Sweet Potato "Toast" -- MIND BLOWN!
by
CapeCoddess
Yesterday at 2:56 pm
»
Third Year SFG in Canada
by
CapeCoddess
Yesterday at 2:52 pm
»
What are you eating from your garden today?
by
sanderson
Yesterday at 12:46 pm
»
Beets; Don't be intimidated!
by
BeetlesPerSqFt
Yesterday at 10:25 am
»
Caterpillar - Good or Bad?
by
BeetlesPerSqFt
Yesterday at 8:15 am
»
2017 corn pictures
by
Fiz
Yesterday at 7:51 am
»
Avocado toast with garden tomato
by
sanderson
Yesterday at 2:13 am
»
Any Strange and Wonderful Visitors? Photos please!
by
sanderson
Yesterday at 1:01 am
»
AUGUST 23, 2017, 6:00 PM EASTERN -- LIVE STREAM
by
sfg4uKim
8/22/2017, 9:38 pm
»
How's the Weather Where You're At?
by
countrynaturals
8/22/2017, 7:22 pm
»
Happy Birthday!!
by
CapeCoddess
8/22/2017, 4:42 pm
»
Newbie Oldbie
by
dixie
8/22/2017, 10:47 am
»
Anyone growing fall peas in zone 7 TN
by
dixie
8/22/2017, 9:50 am
»
Cutting back on my SFG about 75%
by
Kelejan
8/22/2017, 12:35 am
»
N & C Midwest: August is here!!! 2017
by
Scorpio Rising
8/21/2017, 9:17 pm
Even here we should start having some exciting pictures of our gardens. Post your pictures here my Pacific North West friends.
May 2: In my opinion we have had a very cold start to May and looks to stay that way for a week or so. I took a wild chance and put in a square of beans but nothing has happened so far. Often I can get away with a small early planting of beans, but not this year (at least, not in Everett). The weather report indicates that a cold rain will last for another week or so. That will keep our soil temperature cool. More patience is required. Wait a couple more weeks for early beans.

This time of year I am getting tired of having pots in the house and running them in and out as part of my daily routine. But the nights are still getting down to the mid 40's here. Even though there is not much chance of frost. It is still a too cold for my tomatoes to start camping outside after sunset. If you have a cold-frame (I do not) then you could start leaving your tomatoes out at night. If the cold-frame is on your SFG you might get away with planting your home grown, hardened tomatoes out and get a jump on the rest of us. I recently repotted all of my tomatoes into larger pots with fresh mel's mix. They all look so much happier.

After washing them, the little yoghurt cups my tomatoes started life in are ready for basil. If you have not already started your first basil inside, you should do so now. You basil will be garden ready when the nights and soil warms up. Direct sown seeds need to wait for warmer nights. Better seed racks have a plethora of choices of varieties for you to choose from this time of year. It might be fun to get an exchange going if we were to choose a rest stop (and a Saturday) along I-5 in southern Washington. It could be a long drive for most of us, but I think we might have a fun time of exchanging information and basil (or……).

Bulb onions can go in the soil now, but they like warmth early in their life. Again, if you are able to grow them under a protected cover, put some in. If you cannot, wait a week and see if our nights are going to warm up.

Salad greens. Either start some now or when the moon is right but get more salad going! I have been growing salad since Early March. It is not bothered by the cold or the rain. I should mention that I have kept a floating plastic cover (meaning the plastic was set over the wire frame, not sealed like a cold frame would be) over the box the salad was in. But my salad grew on the edge of the box and got plenty of cold wet without a setback.

Carrots do not like to tread water. At the end of the week (or if rain is not forecast for your town) put in the bulk of your carrot crop. You do not need a cold frame or hoop house for carrots. Cold is not the issue. If you are simply able to cover the row to protect it from excessive rain they should be fine. Otherwise, wait a week.

My broccoli is just in the baby stage, but I still saw what looked like those white moths that leave the green worms in Broccoli dancing over my broccoli bed. It is not too early to protect your broccoli from that nasty little worm.

Deborah ....now get out and get dirty!
Debbie Teashon, one of the original authors of "The Rainy Side" blog for Maritime Northwest gardens wrote of her slug repellent experiment in her new blog, Muck About

Popular PNW subjects, slugs and coffee come happily together.
Great info, Deb, thanks. I will post pictures whenever....
Spoiler:



Posts

: 7392


Join date

: 2010-02-26


Age

: 64


Location

: yelm, wa, usa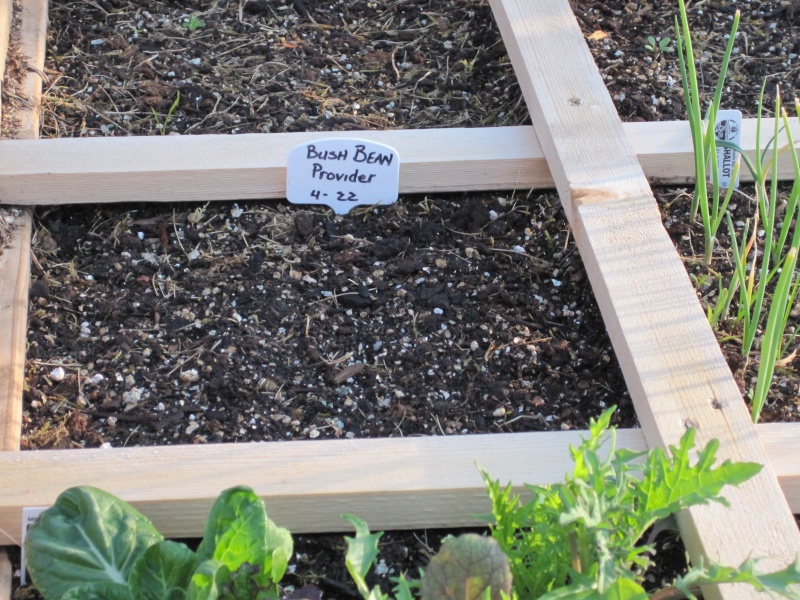 This was a loosing gamble. It was just so warm and pretty that day. I've never pushed the season into April....not even with cold season beans, because, really, what does cold season mean when talking about beans? Besides, you are not supposed to make beans and any of the onion family become neighbors.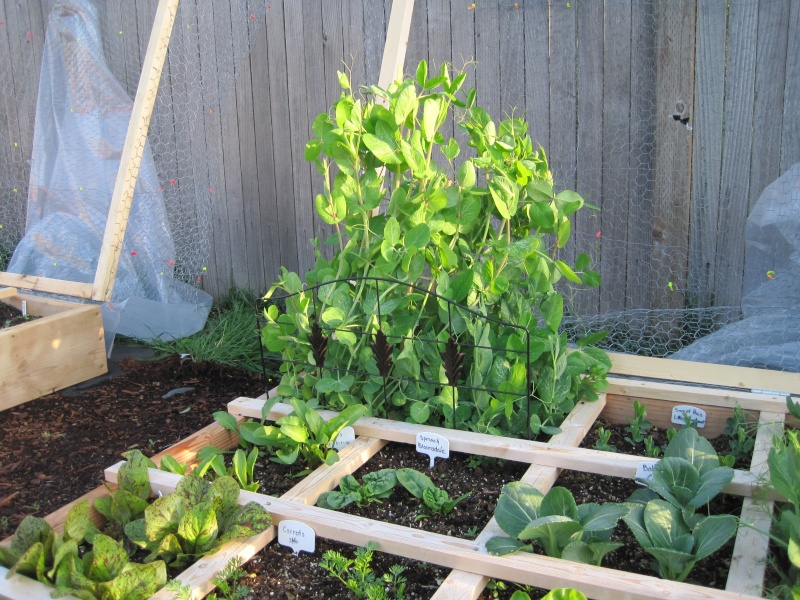 Peas are cool, beans are stupid......or something like that.
Perfect popovers with Chives,
Chicken noodle soup (broth made with garden herbs thyme, oregano, English thyme, orange-balsam thyme, parsley and a pinch of rosemary). A mixture of greens, beet thinnings, bok choi, spinach and chard were julienned and dropped into the simmering soup at the last minute.
Salad greens and radishes from the toy box. (a nice Snoqualmie white for desert)

Yum yum!
Both AccuWeather.com AND Weather Underground are predicting night time temperatures above 45 degrees F for the rest of the week. That is what we should have been waiting for (Me) to start early beans. Hold off on your main crop of beans until after Memorial Day. BUT if you have a variety that has been described as an "early cool season" bean (like Provider), put in a couple of squares this weekend.

As soon as night time temps start hovering around 50 I am going to start letting my tomatoes camp outside too.

Deborah ....with a whole big empty box just waiting for tomatoes and beans!
---
Permissions in this forum:
You
cannot
reply to topics in this forum