I have a table top with bird netting around it. Everything in the bed was destroys. Carrot tops, a squash, and some cauliflower. Leaves eaten and also weird growth. I have not found any bugs, worms, or eggs and I don't think squirrels could get in and out of the tight netting without some sign. The only thing I have ever seen is ants. No aphids. Just ants. Could they do that?



Posts

: 2467


Join date

: 2010-05-05


Age

: 62


Location

: Warner Springs, CA USDA Zone 8a, Sunset Zone 7 (I think)



Bugs, worms, and eggs can all be very hard to spot. Sometimes they only feed at times you wouldn't be likely to spot them. So it's hard to write them off without being sure. Did you spot any poop -- usually tiny black spots, sometimes a bit bigger -- on any part of the plants at any time?

Also, what do you mean by "weird growth"?



Posts

: 3638


Join date

: 2013-07-05


Age

: 55


Location

: SW Oregon



No poop.No eggs under the leaves. I have dug through the soil looking for anomalies and have seen nothing. 
Here is a picture of the once beautiful cauliflower. I thought it was mammals but there has been continued damage even after shring-wrapping it. (hyperbole)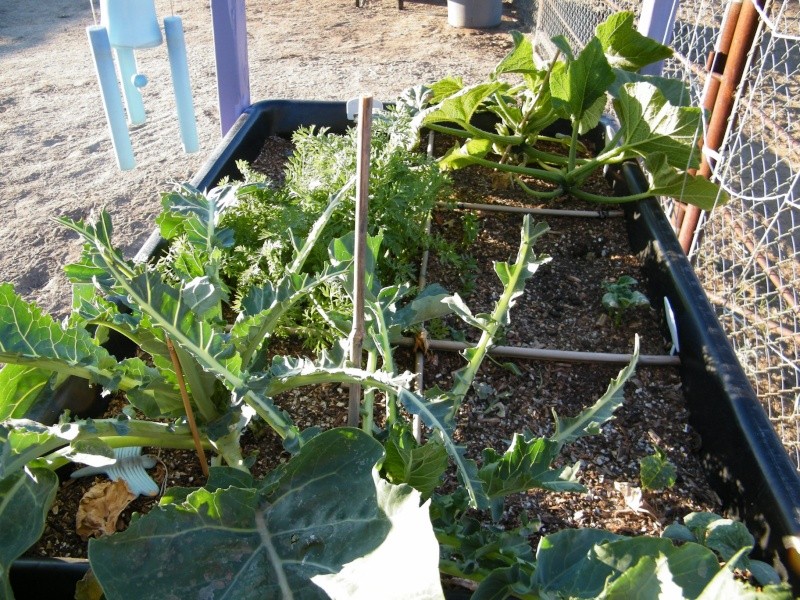 Since this picture the squash has been eaten and the leaves are curling oddly and the carrot tops are mostly eaten off.



Posts

: 2467


Join date

: 2010-05-05


Age

: 62


Location

: Warner Springs, CA USDA Zone 8a, Sunset Zone 7 (I think)



sure looks like bird damage....you say you have bird netting over this? I don't see any? Is it possible they're getting in somewhere? that's some terrible damage for sure



Posts

: 1887


Join date

: 2011-06-21


Age

: 36


Location

: california, zone 10a



I can understand several pests eating the cauliflower and carrot leaves.  But, what will eat prickly squash leaves in any amount?   In this older photo it looks like big bites. At this point I'm thinking grasshoppers.  They can really strip a plant down.

My thoughts: Check carefully for grasshoppers. Then totally enclose with tulle bridal fabric, sealing tight, and see if the damage stops. The area around the TT looks dry and barren, and your lush garden may be too tempting to resist.

Forum Moderator Certified SFG Teacher




Posts

: 13985


Join date

: 2013-04-21


Age

: 68


Location

: Fresno CA Zone 8-9



If it is indeed birds, you might want to try what I'm trying this year, if you don't have something equivalent going for your local birds anyway. I'm leaving bowls of water out for them. I've read that sometimes birds and other creatures attack veggies purely for the water content. That's probably not the entirety of what's happening to your plants, but if it's any part of what might be attracting birds or other critters to your veggies, it might be worth leaving out some available water very close by, maybe in more than one location.

P.S.: Put something like a big rock or branch segment in there so if bees come in to get some water, they don't drown.



Posts

: 3638


Join date

: 2013-07-05


Age

: 55


Location

: SW Oregon



---
Permissions in this forum:
You
cannot
reply to topics in this forum