I thought that headline might get your attention.  Forgive the mildly inappropriate line.   

Anyway, this is a Red Russian kale that fell prey to caterpillars.  You can see the distinct difference in the leaves from when I began using BT Thuricide on it: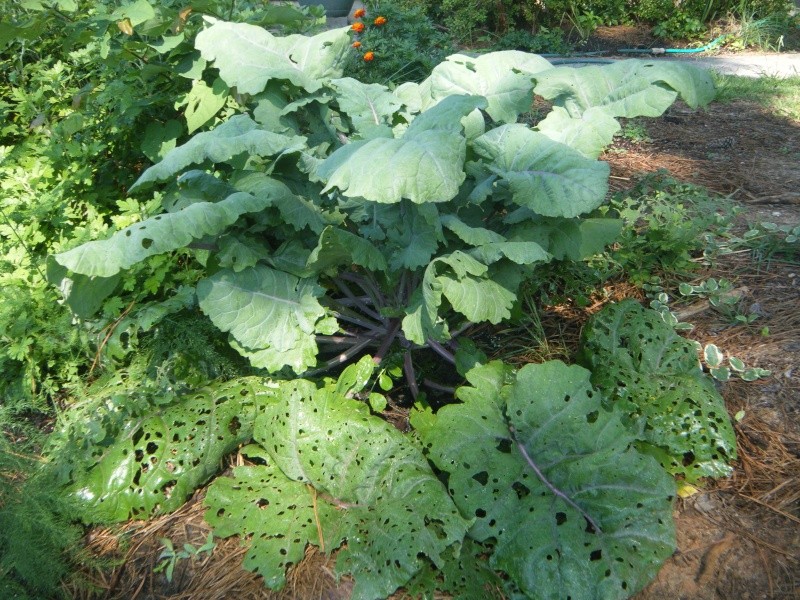 At the beginning of summer, this was in one of my raised beds (which was in full sun).  I stripped all the leaves off to use for a soup.  Well, I left the stump in the raised bed and it began to sprout some more leaves.  I almost threw it out, but I ended up moving it to this semi-shady area.  It still gets some VERY hot late afternoon sun as the sun moves across the sky.  It wilts, but never dies.  It is still planted in MM.  I excavated my Georgia red clay and replaced that spot with MM.
I expected this kale to give out as soon as summer got in full swing because I thought this cool weather variety would succumb to the heat.  I planted this FALL 2013, and it keeps going strong.



Posts

: 1425


Join date

: 2013-02-26


Age

: 49


Location

: Fayetteville, GA - Zone 7B - 8A



Crud, I just posted a reply to your post but forgot to hit send. Oh well, so here goes again.

Wow - what big leaves those are.  You look like you beat the heat by moving it into a partially shaded area.

I have some Winterbor Kale that I cut back to about 3 inches tall.  I did not pull it because I did not want to disturb the plants on either sides of the kale. The plants are between my Pink Eye Purple Hull peas and my Egg Plants and get only a little filtered shade. It just started to leaf out again.  Of course the caterpillars just found the plants.  I will have to mix up a small batch of BT and get after them.



Posts

: 3352


Join date

: 2011-11-19


Age

: 68


Location

: Brooks, Ga Zone 7B/8A



My dwarf blue kale did nothing for me last year, but this year I'm seeing kale thrive in the school I volunteer with, and the lone straggler I have from the DBK I planted last year just got completely stripped of its leaves by caterpillars and is coming back again. All three types of kale are doing fine in the prolonged summer heat. I've totally changed my mind on kale and now am going to keep trying to find the right way to grow it. An all-seasons green is invaluable!



Posts

: 3638


Join date

: 2013-07-05


Age

: 56


Location

: SW Oregon




---
Permissions in this forum:
You
cannot
reply to topics in this forum