Latest topics
»
Path Width
by
donnainzone5
Yesterday at 11:20 pm
»
Hi Everyone
by
BeetlesPerSqFt
Yesterday at 10:23 pm
»
Northern California & Coastal Valleys - What are you doing this month?
by
sanderson
Yesterday at 9:41 pm
»
parsnips in square foot garden?
by
Turan
Yesterday at 8:38 pm
»
Horsetail weed
by
Kate888
Yesterday at 8:32 pm
»
N&C Midwest: When are your starting seeds?
by
aliceingardenland
Yesterday at 7:35 pm
»
How's the Weather Where You're At?
by
donnainzone5
Yesterday at 7:05 pm
»
A new SFG fan from Texas
by
sanderson
Yesterday at 6:02 pm
»
Your favorite blackberries or raspberries?
by
Mikesgardn
Yesterday at 5:51 pm
»
SUGA 2018
by
SQWIB
Yesterday at 2:02 pm
»
MD Home & Garden Ticket Drawing (until 2/24/18)
by
sfg4uKim
Yesterday at 8:41 am
»
Happy Birthday!!
by
AtlantaMarie
Yesterday at 4:16 am
»
Mid-Atl - Feb 2018 - Anyone starting seed indoors yet?
by
BeetlesPerSqFt
Yesterday at 12:22 am
»
Hello from Northern Ontario Eh!
by
skidmoca
2/22/2018, 9:04 pm
»
Eggplant - (Japanese) Millionaire
by
Scorpio Rising
2/22/2018, 8:57 pm
»
Floating Away and New Seeds!
by
Scorpio Rising
2/22/2018, 8:55 pm
»
ahoy mateys from Arkansas
by
Scorpio Rising
2/22/2018, 8:45 pm
»
N&C Midwest: February 2018 !
by
Scorpio Rising
2/22/2018, 8:37 pm
»
Sowing Experiment! Anyone Tried This?
by
Scorpio Rising
2/21/2018, 8:49 pm
»
Fourth Year SFG in Canada
by
trolleydriver
2/21/2018, 5:13 pm
»
Aerogrow by Miracle Grow
by
AtlantaMarie
2/21/2018, 7:05 am
»
Seed Organizing Ideas
by
AtlantaMarie
2/21/2018, 7:04 am
»
Areogardening
by
BeetlesPerSqFt
2/20/2018, 9:54 pm
»
2018 SFG in Brooks, GA
by
Scorpio Rising
2/20/2018, 9:39 pm
»
has55's R & D Journey
by
sanderson
2/20/2018, 1:55 am
»
WANTED: Pictures of Compost Bins
by
bigdogrock
2/19/2018, 10:28 pm
»
The New Square Foot Gardening Foundation page is now online!
by
sanderson
2/19/2018, 6:40 pm
»
February: What to plant in Northern California and Central Valley areas
by
sanderson
2/19/2018, 6:31 pm
»
Invasive Tree Roots - Very important topic for newbies.
by
sanderson
2/19/2018, 6:23 pm
»
excited to be here!
by
Kate888
2/19/2018, 2:57 pm

So this year, we backed off doing a bunch of gardening and concentrated on the concept of a self-watering SFG box that also would not require weeding. Here are some pics of what we came up with. To date, this box has not been watered for over 4 months. We are on a well that can't hold up to watering every day by hand. This seems to be working quite well. And, there are NO WEEDS!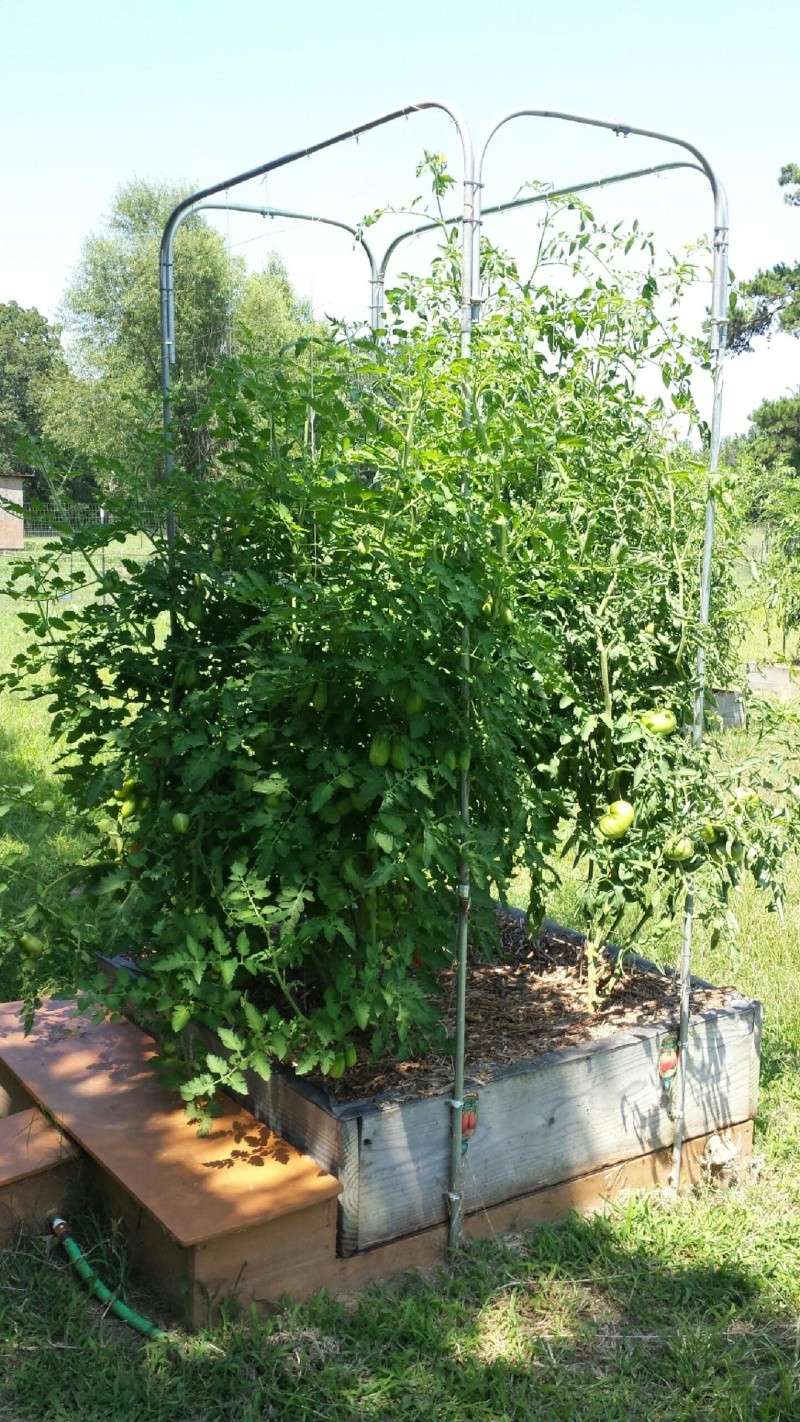 Posts

: 91


Join date

: 2012-02-08


Location

: SE OK



Looks great!!  

 Details please!



Posts

: 324


Join date

: 2011-05-31


Age

: 63


Location

: Southeast Michigan



Hubby is a YouTube junkie. He watched hours of videos on self-watering garden boxes and then came up with his own plan.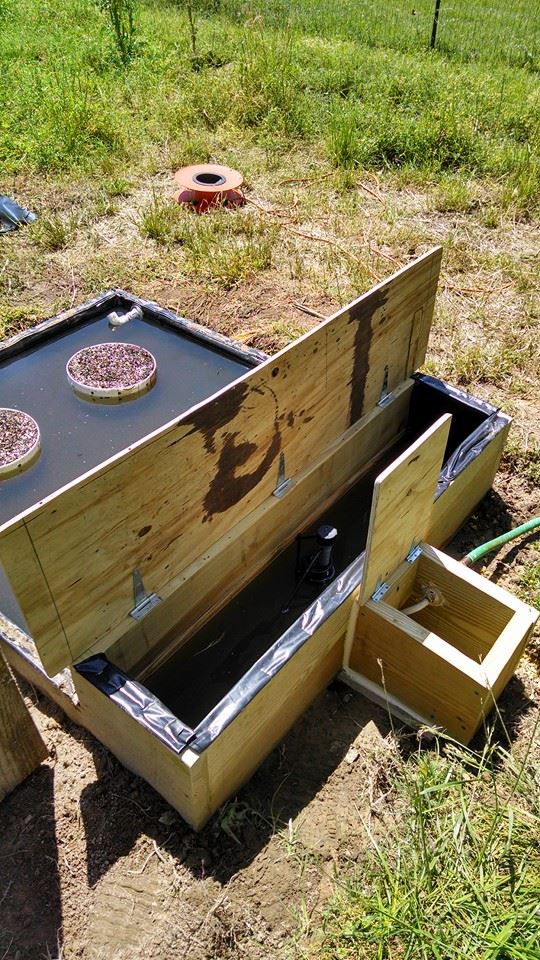 We used one of our original SFG boxes for the top piece. He built the bottom box to go underneath it to be the water reservoir box. We lined it with 6 mil plastic. There are 4 wicking buckets in the reservoir box, all filled with MM. He used a toilet bowl float in the front section of the box to regulate the water level.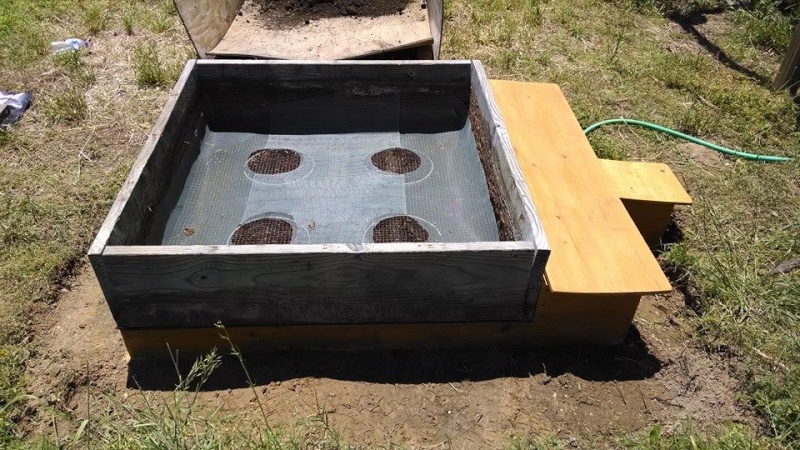 The growing box has hardware cloth on the bottom then a layer of window screen on top of that with holes cut out of the screen for the tops of the wicking buckets. Only the buckets and their MM touch the top box. The water level doesn't reach that high. I mounded the MM in the wicks up above the edge so that it would be in direct contact with the MM in the growing box.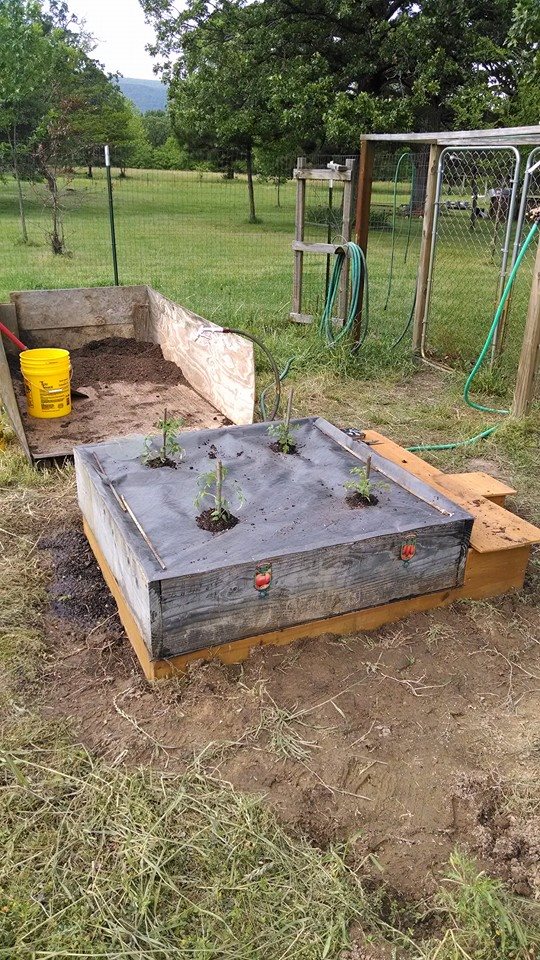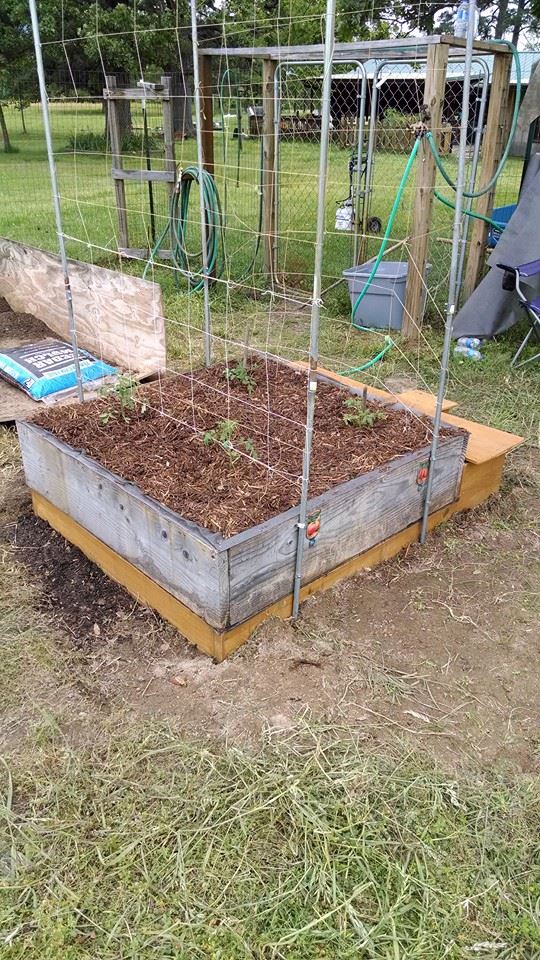 Once the growing box was filled with MM and thoroughly watered, we covered it with two layers of weed barrier. We cut X's in the weed barrier where we wanted to place our tomato seedlings. We planted the seedlings in the Xs and covered the surface of the weed barrier with mulch. I decided to go ahead and put the trellises up right then because we had to leave out and wouldn't be back for 6 weeks. 
That was all done in the third week of May. The box hasn't had any watering or weeding done by anyone except the good Lord. Hubby did go out last time home and try to trim it up a little. Can't do much trimming now! Too much fruit! This is what it looks like now: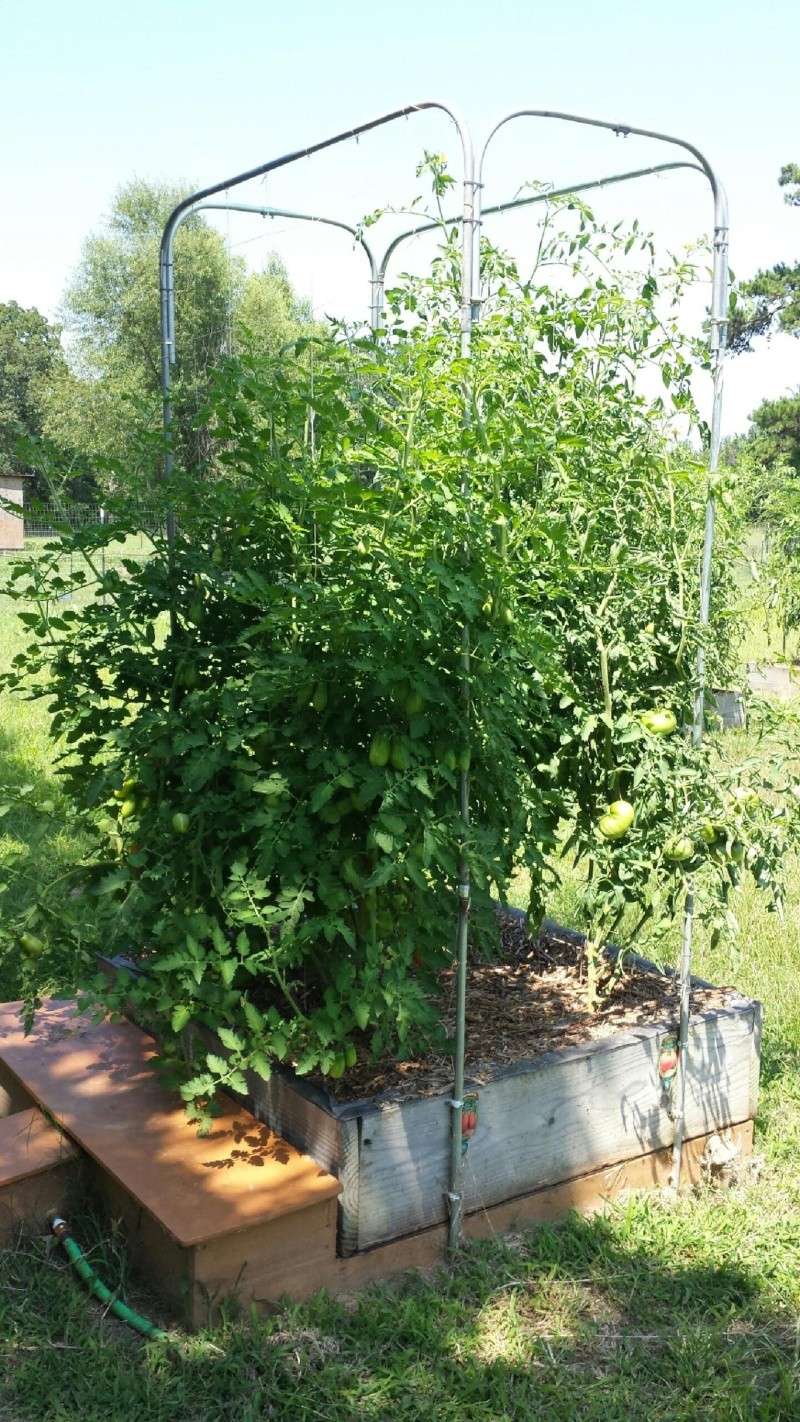 FYI, those trellises are double stacked so are about 8 ft from the ground to the top. They were a little shaky so hubby used another one across the top to stabilize it. Worked awesome! We're going to try to do a long box next year, using our ten 4' x 4' SFG butted up to one another so our row will be approximately 40 ft long x 4 ft wide. The water reservoir box will be one long continuous box with at least 4 wicking buckets for each of the ten boxes. The trick is to get it all nice and level. All in all, we're pleased with the results from the small experimental box. If the long one works as well as this one, our whole garden will be done this way. Wish us luck!
Last edited by kat51415 on 8/4/2014, 7:19 pm; edited 1 time in total (Reason for editing : Added from the "FYI" down as an afterthought. I have alot of those!)



Posts

: 91


Join date

: 2012-02-08


Location

: SE OK



I've found the self-wicking beds  produce well with minimal watering.  We didn't plant ours this year because with the new baby my DIL knew she would not have time for a garden this summer.  Covered them over with clear plastic for a solarization this summer.  Will uncover in Feb and replant next spring.


Kay
____________________________
A WEED IS A FLOWER GROWING IN THE WRONG PLACE
Elizabeth City, NC
Click for weather forecast

Certified SFG Instructor




Posts

: 4364


Join date

: 2010-10-17


Age

: 75


Location

: wilmington, nc zone 8



Interesting....!  I like the concept!

Certified SFG Instructor




Posts

: 4436


Join date

: 2014-03-18


Age

: 54


Location

: Buford, GA - Zones 7B/8A




---
Permissions in this forum:
You
cannot
reply to topics in this forum