Latest topics
»
SW Ohio (Cincinnati Area)
by
yolos
Today at 7:12 pm
»
Hello from Houston
by
sanderson
Today at 6:52 pm
»
N&C Midwest—March and Spring is Here!
by
Scorpio Rising
Today at 6:23 pm
»
Coco coir... How often to replenish?
by
plantoid
Today at 5:53 pm
»
SUGA 2018
by
SQWIB
Today at 8:26 am
»
CANADIAN REGION: What are you doing in March 2018
by
sanderson
Today at 2:33 am
»
Fourth Year SFG in Canada
by
sanderson
Yesterday at 6:28 pm
»
Happy Birthday!!
by
sanderson
Yesterday at 2:09 pm
»
Do You Get The SFG Newsletter?
by
sfg4uKim
Yesterday at 8:36 am
»
First day of spring
by
AtlantaMarie
Yesterday at 7:54 am
»
Garden Tower Project
by
sanderson
Yesterday at 2:14 am
»
Any suggestions on the stump grinding sawdust plus soil?
by
sanderson
3/20/2018, 6:55 pm
»
How much time for gardening?
by
sanderson
3/20/2018, 6:42 pm
»
Sanderson's Urban SFG in Fresno, California
by
sanderson
3/20/2018, 4:03 pm
»
Northern California & Coastal Valleys - What are you doing this month?
by
trolleydriver
3/20/2018, 1:13 pm
»
New England Mar 2018
by
CapeCoddess
3/20/2018, 10:45 am
»
What are you eating from your garden today?
by
Scorpio Rising
3/19/2018, 6:36 pm
»
Trellis mod
by
SQWIB
3/19/2018, 8:39 am
»
How's the Weather Where You're At?
by
Scorpio Rising
3/18/2018, 6:38 pm
»
Powdery Mildew and SoCal Fall Planting
by
countrynaturals
3/18/2018, 12:34 pm
»
Boat Gardening
by
AtlantaMarie
3/18/2018, 6:51 am
»
How many green beans per square foot?
by
Scorpio Rising
3/17/2018, 9:27 pm
»
2018 SFG in Brooks, GA
by
yolos
3/17/2018, 8:34 pm
»
Comfrey
by
sanderson
3/17/2018, 8:21 pm
»
Hello from Hagerstown MD
by
sanderson
3/17/2018, 6:10 pm
»
Horsetail weed
by
Kate888
3/17/2018, 3:02 pm
»
A new SFG fan from Texas
by
AtlantaMarie
3/17/2018, 7:17 am
»
Potatoes: Yes or No?
by
AtlantaMarie
3/17/2018, 7:13 am
»
Modesto, Central Valley, CA...
by
AtlantaMarie
3/17/2018, 7:03 am
»
has55's R & D Journey
by
sanderson
3/16/2018, 3:28 pm

Last edited by Windmere on 8/6/2014, 10:30 am; edited 1 time in total (Reason for editing : added some text)
I've heard that fennel can be a problem, what exactly does it do that doesn't "play well with others?!"

I had two beautiful fennel growing early this summer and a gopher took them both - POOF!  GONE.
Hi Audrey.  Hope you are well. 

I actually have a question pending with Cooks asking specifically what you've asked.  I can tell you that this variety produces quite large bulbs.
Take a look at this image that is from Burpee: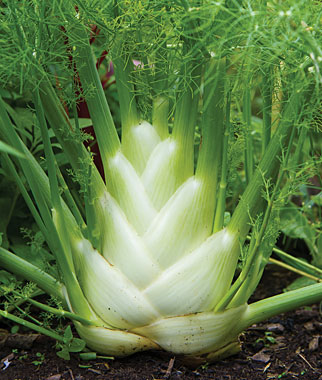 Regardless of the answer to your question.... I am going to plant this variety.  Even if I end up needing to create a "private patch," I think my family will get much use from harvests.
I'll look forward to hearing their reply.  I love using fennel in juicing.  I haven't tried it in anything else.  I may plant it in a large pot to get past the gopher/vole issue.  That would also take care of the other issues - same as my mint which are in 18" pots.
Audrey, my wife has a marvelous recipe that she got form Cooking Light magazine.  It is a fish dish (using any firm white fish) and fennel veggie combo.  It's sort of like a stir fry, but it really isn't Asian in any way.  It's cooked with olive oil and has more of an Italian flair.

If you are interested, I will ask my wife about her recipe post it.
I have cut and pasted Cooks response regarding "Finally, a fennel that plays well with others:"
This fennel is shorter so it doesn't shade out the rest of the garden. It also tends not to be so invasive, it is a good little compact plant.

Regards,

Customer Service
www.cooksgarden.com
1-800-457-9703
Thank you, I would love the recipe and thanks for posting their info as well.  Good to know.
My daughter bought the book from which this recipe came as an anniversary gift (for mommy) several years ago.  It was an offering at her school book fair.

The name of the book is, Cooking Light - Fresh Food Fast - 5 Ingredient 15 minute recipes.

PAN-SEARED SNAPPER WITH FENNEL-OLIVE TOPPING

I'll begin by saying that this recipe works well with any firm white fish.  We have used cod and swai and tilapia.  Tilapia breaks easily though and I personally do not like the flavor of tilapia.

INGREDIENTS:

4 (6 oz) red snapper or other firm white fish fillets
1/2 teaspoon salt
1/4 teaspoon freshly ground black pepper
Cooking spray (or olive oil)
1 fennel bulb, thinly sliced (about 3 1/2 cups)
1/2 cup thinly sliced onion
1 large tomato
3 tablespoons refrigerated olive tapenade (I recommend a green olive based tapanade, but any you can find will work).  In some stores it is simply called "olive paste."
2 tablespoons fresh lemon juice

1.  Sprinkle fillets evenly with salt and pepper (to taste, we often use less salt than is called for).  Heat a large non-stick (super important about non-stick) skillet over medium-high heat; coat pan and fillets with cooking spray (note: my wife uses olive oil).  Add fish to pan, skin sides up.  Cook 3 minutes or until lightly browned.  Remove from pan.

2.  Coat pan with cooking spray (olive oil if you choose).  Add fennel and onion; saute 3 minutes.  Add tomato, tapenade and lemon juice; stir well.  Return fillets to pan, nestling them into fennel mixture.  Cook and cover 7 minutes or until fish flakes easily when tested with a fork or until desired degree of doneness.  Spoon fennel mixture over fillets to serve.  Yield:  4 servings (serving size: 1 fillet and 3/4 cup fennel topping).

Both my wife and I have prepared this dish, but hers comes out better.  We often make enough for two fillets per person.  If a fennel bulb is a bit large, we just use the whole thing because we love fennel (that is, after my family has eaten their fill of yummy licorice flavored raw pieces).  We adjust the amount of tapenade depending on how much we have to cook.   With these slight variations, the dish can come out differently... but it makes no difference... we always find it to be delicious.  The fennel and onions come out firm in texture, which makes the dish very refreshing.

As a side note:  Licorice happens to be my family's favorite candy flavor.  Our most favorite are the salted licorices from Europe (except the Dutch double-salted... which is quite nasty to us).  In light of our love for licorice... fennel is a HUGE favorite in our home.

Audrey, you mentioned that you use fennel for juicing.  I would love it if you could tell me a bit about your recipe for fennel juicing (even in generalities).  Thanks!
Last edited by Windmere on 8/7/2014, 9:42 pm; edited 2 times in total (Reason for editing : Added question about juicing.)
Windmere, Please post this recipe in the Recipe Section. This one is a keeper.

Forum Moderator Certified SFG Teacher




Posts

: 15567


Join date

: 2013-04-21


Age

: 69


Location

: Fresno CA Zone 8-9




---
Permissions in this forum:
You
cannot
reply to topics in this forum