Latest topics
»
Ground Cherries
by
countrynaturals
Today at 12:01 pm
»
My Solar Dehydrator at Work
by
newbeone
Today at 9:43 am
»
Spaghetti Squash Recipes
by
newbeone
Today at 9:20 am
»
New compost bin and 4x8 cedar bed
by
newbeone
Today at 8:29 am
»
Invasive Tree Roots - Very important topic for newbies.
by
walshevak
Today at 7:27 am
»
N&C Midwest: February 2017
by
CitizenKate
Today at 12:19 am
»
How's the Weather Where You're At?
by
Scorpio Rising
Yesterday at 11:49 pm
»
New England February 2017
by
Scorpio Rising
Yesterday at 8:50 pm
»
Senseless Banter...
by
donnainzone5
Yesterday at 8:10 pm
»
Gardening in Central Pennsylvania, 3rd year SFG
by
BeetlesPerSqFt
Yesterday at 6:54 pm
»
Third Year SFG in Canada
by
CapeCoddess
Yesterday at 4:43 pm
»
So. California & Inland Valleys -March / April Planting Guide
by
sanderson
Yesterday at 12:47 am
»
2017 SFG Adventures in Hampstead, NC
by
ralitaco
Yesterday at 12:38 am
»
Northern California & Coastal Valleys - What are you doing this month?
by
sanderson
Yesterday at 12:31 am
»
Our 2017 garden makeover
by
CitizenKate
2/22/2017, 11:16 pm
»
Fall means apples....
by
reynajrainwater
2/22/2017, 10:43 pm
»
CANADIAN REGION: What are you doing February 2017?
by
Scorpio Rising
2/22/2017, 9:51 pm
»
California's Drought
by
sanderson
2/22/2017, 7:08 pm
»
Butterfly Junction
by
countrynaturals
2/22/2017, 6:40 pm
»
What are you eating from your garden today?
by
Mellen
2/22/2017, 6:37 pm
»
Root Knot Nematodes - PROGRESS!
by
sanderson
2/22/2017, 1:48 pm
»
Plant ID
by
No_Such_Reality
2/21/2017, 8:24 pm
»
Western Mount/High Plains: Seed Planting Dates zone 5b
by
RoOsTeR
2/21/2017, 8:58 am
»
I'll get my Texas garden right yet
by
RoOsTeR
2/21/2017, 8:57 am
»
Roots...information....
by
MrBooker
2/21/2017, 6:19 am
»
Is this wood correct for building box?
by
sanderson
2/21/2017, 4:42 am
»
Hello from IA Zone 5
by
sanderson
2/21/2017, 4:38 am
»
Feedback for my 2017 garden plan
by
sanderson
2/21/2017, 2:10 am
»
ticks
by
camprn
2/20/2017, 11:18 pm
»
Peppers with black spots
by
camprn
2/20/2017, 10:10 pm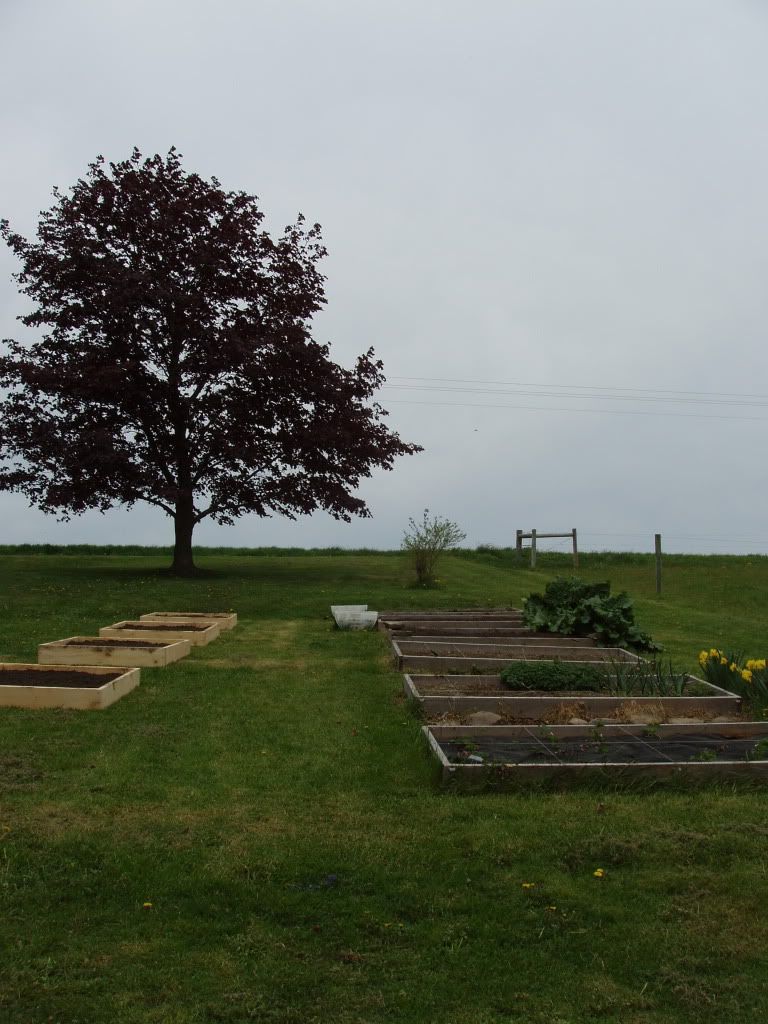 Hey everyone! I am joining in the fun if ya'll don't mind! I took these pics today.
This is stage 3 of 4. You are looking at pictures of 3 years' worth of work.
The first year we added the bottom(meaning down the hill) 3 - 4x8 beds. I purchased a bunch of bags of hummus from Lowes and Home Depot and we amended with vermiculite and peat moss. It was A TON of work. I did the whole tarp thing and wow. I got some great muscles that day! Since then I have needed to amend each spring with extra dirt due to settling, decomposition, etc.
The next year I purchased a load of mushroom soil from a farmer. It was still hot, so it sat until I could put it in the boxes at the end of May. (I am in Zone 5a in Northeastern PA.) I amended with vermiculite only as the soil already had peat in it. My then 8 yo son learned how to use the spade and consequently, after he filled all my boxes, we ended up with a hole where to dirt sat. LOL!!


THIS YEAR, you can see the newest 4x4 boxes that we added yesterday. I used plain old lumber studs from Home Depot (same with the rest of the boxes). I purchased bagged "garden soil" made by Miracle Grow, some organic and some not. The bag said it had peat already in it so I added vermiculite. I hope it has enough nutrients in it. We'll see. I will continue to posts pics as I go this year.
In the very first pic you will see my trellis setup. Eventually this year, each box will have its own trellis on the north side (side facing the farm and electric fence). I did it just like Mel said to do.
I am interested in seeing fenceposts used so grow melon, pumpkin and squash if anyone can point me in the right direction.
Well, let me know what ya'll think! Tips, tricks and compliments are always appreciated!
Someone said to me when I was buying all the bags of soil, "That's a LOT of dirt!" I replied, "Yup," with a GIGANTIC smile on my face! Gardening is my therapy.
Why do YOU garden? (so I can get to know you all!)
Oh and I know there are no grids (YET). As the budget allows...
Hi there !! I too garden for therapy ! My garden is my sanctuary. Im new to SFG this year, row gardener for about the last 3. I found this forum to be so full of fun ideas and friendly people.

Ha-v-v



Posts

: 1123


Join date

: 2010-03-12


Age

: 57


Location

: Southwest Ms. Zone 8A (I like to think I get a little bit of Zone 9 too )



What a great effort...shaping up well.



Posts

: 21


Join date

: 2010-03-15



Oh! Let me show you my color-coded garden plan for this year as well! You will see in the scans that I have two horizontal 4x8 beds. I actually made a mistake drawing them and should have put them as 4x4 beds(the newest additions).
I would LOVE to see how potatoes grown in a garbage can work! I am nervous as our are ended up with BLIGHT last year! Any resources would be appreciated.
WOW your gardens look great! A lot of work to get started, but worth it once done!
Your plans look great too! Can't wait to see it when it's all growing!

FOUNDER SFG forum 2009

certified SFG instructor




Posts

: 211


Join date

: 2010-02-26


Age

: 63


Location

: Illinois Z6



---
Permissions in this forum:
You
cannot
reply to topics in this forum