OMG, I am in tomato overload after the tomato festival at Red Fire Farm today. Over 130 heirloom tomato varieties available for tasting and sale. Another 70+ varieties in the cherry, cocktail, paste and hybrid categories. Tomatoes of every color, shape and size. Some of the varigated ones were just too pretty to eat. Wished I'd brought my camera.

It was unbelievable. You couldn't even begin to taste them all. Its a wonderful organic farm with all sorts of fresh fruits and veggies,  dairy products and baked goods. Lots of craft  and food vendors and live music. 

The workshops were great. Chefs speaking about and demonstrating making sun dried tomatoes, tomato sauce, pasta, mozzarella cheese making, canning, lacto-fermention and pickling, flower arrangements and a wild edibles walk. We got a peek in the green houses where they grow the tomatoes. Barely enough room to walk between to pick. Some plants had to be 10 ft tall. 

Admission was only $5. We spent nearly 5 hours there without realizing it.

We picked out several tomatoes we tasted and really liked and bought one of each to take home. I hope to try to save some of the seeds and see if I can ferment them and save them for my garden next year.
What a great time, I will definitely put it on my calendar to go back next year.
Lyndeeloo, What a great day you had. At $5 it was a real bargain.

Forum Administrator




Posts

: 11919


Join date

: 2013-04-21


Age

: 67


Location

: Fresno CA Zone 8-9



Here is a photo of the tomatoes we bought at the festival.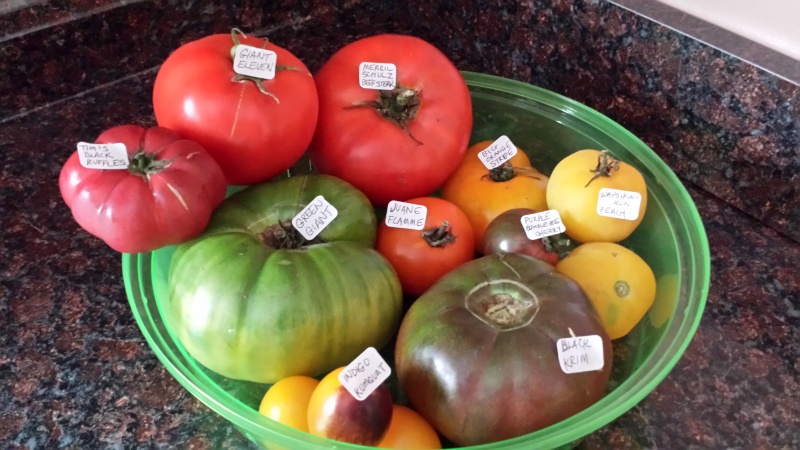 Hopefully I will see some of these in my garden next year.
You could not buy those seeds for $5 (or $10).  


Forum Administrator




Posts

: 11919


Join date

: 2013-04-21


Age

: 67


Location

: Fresno CA Zone 8-9



That sounds like a blast, lyndeeloo. I would have loved to have been there. And so inexpensive to go! Something like that would be a yearly "must" for me!



Posts

: 3636


Join date

: 2013-07-05


Age

: 55


Location

: SW Oregon



Lyndeeloo, Could you list the names starting with the upper left pink one (Tim's -- Ruffles?), going clockwise and spiraling inwards with Nane Flame (?) second from the last? Black Krim would be #6 and Green Giant #8. Thanks

Forum Administrator




Posts

: 11919


Join date

: 2013-04-21


Age

: 67


Location

: Fresno CA Zone 8-9



Happy to SANDERSON,  here goes...

Tim's Black Ruffles
Giant Eleven
Merrill Schulz Beefsteak
Big Orange Stripe
Wapsipnicon Peach
Black Krim
Indigo Kumquat (cherry)
Green Giant
Juane Flamme
Purple Bumble Bee (cherry)

The purple bumble bee is beautiful with its variegated purple deep red and dark green stripes. The Wapsipnicon Peach has a slightly rough texture that makes it feel like peach fuzz. Tim's Black Ruffles has the most beautiful deep color with perfect ribbing. I've got my fingers crossed that the seed saving works out.

Forum Administrator




Posts

: 11919


Join date

: 2013-04-21


Age

: 67


Location

: Fresno CA Zone 8-9



---
Permissions in this forum:
You
cannot
reply to topics in this forum