I would like to share my experience with raspberries in the square foot garden. I made a 2' x 16' bed, 10" deep, and oriented it from west to east, and planted 10 bare root plants last year. I chose "heritage" raspberries for a couple of reasons. I heard that they don't need a trellis, but learned that mine did. They tend to grow 5 feet high and will lean over without a trellis. I harvested about 4 pounds the first year in August and september. I also chose heritage because you can cut them down to the ground in late winter or early spring. That's what I did last winter. In the spring, I added compost and thinned the plants to about 6" apart. This year it looks like I will harvest 8 pounds. Not bad for such an expensive fruit. As long as you have the skill to build a sturdy trellis, I recommend them.



Posts

: 217


Join date

: 2010-03-09


Age

: 54


Location

: Elkridge, MD (zone 7a)



Sounds like you have a "bumper crop". 

Yes, they are a lot of work but it is worth it.  I don't do them now cuz I'm old.  I let the woods supply my berries - wild black berries.  They are small but delicious.  The one downer is the thorns.



Posts

: 636


Join date

: 2012-05-25


Location

: Central Minnesota - Zone 4



Four pounds of raspberries sounds wonderful, and eight pounds even better!

I've seen all kinds of trellises at places like Home Depot, too -- ones that look like grids, others that curve and have a designer look, wood and metal ones in different colors, tall and short ones. Some can get pricey, but I do find decently cheap ones here and there too, especially in fall, as the season comes to a close. So people may be able to buy a trellis they like, too.



Posts

: 3638


Join date

: 2013-07-05


Age

: 55


Location

: SW Oregon



Mike, thanks for this info. 

I'm looking at raspberries for next year & doing a lot of research right now.  I'm glad to see some practical experience to draw from!

Certified SFG Instructor




Posts

: 4131


Join date

: 2014-03-18


Age

: 54


Location

: Buford, GA - Zones 7B/8A



I love my raspberries. I am going to wire them up before the ground freezes.
____________________________
41 years a gardener and going strong with SFG.
http://squarefoot.creatingforum.com/t3574-the-end-of-july-7-weeks-until-frost
There are certain pursuits which, if not wholly poetic and true, do at least suggest a nobler and finer relation to nature than we know. The keeping of bees, for instance. ~ Henry David Thoreau
http://squarefoot.creatingforum.com/t1306-other-gardening-books

Forum Moderator Certified SFG Teacher




Posts

: 14165


Join date

: 2010-03-06


Age

: 54


Location

: Keene, NH, USA ~ Zone 5a



I plan to build something like this next year (picture from www.gardners.com):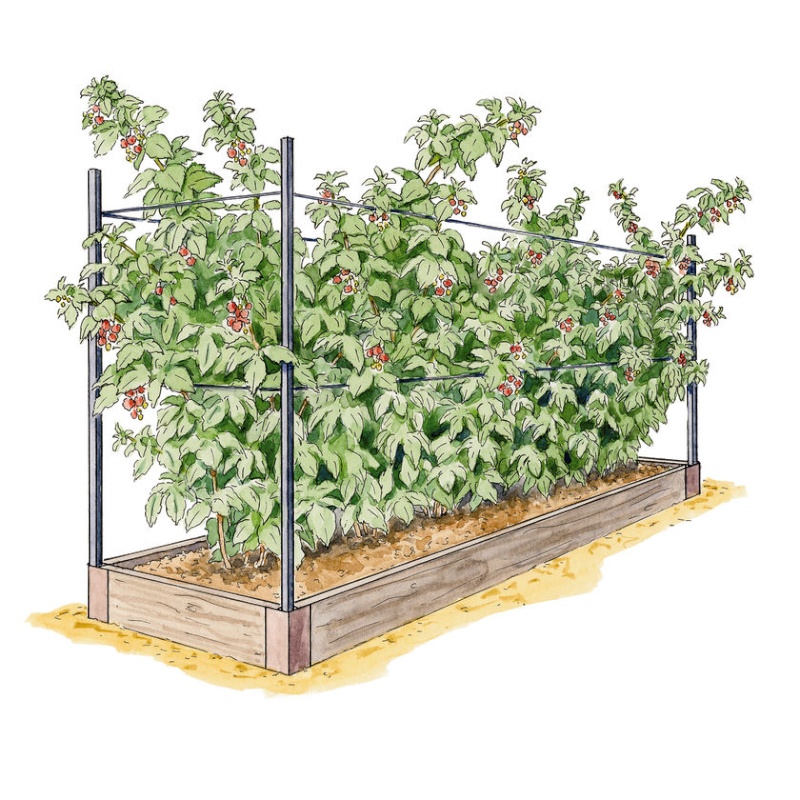 Certified SFG Instructor




Posts

: 2120


Join date

: 2010-03-02


Age

: 69


Location

: Bend, OR (Zone 5-6)



Interesting thing about raspberries. I have many many raspberries and had never actually planned to grow them in my SFG. HOWEVER  The suckers took over one of my SFG this year and are totally thriving. HUGE berries, much bigger than the plant that they originated from.  So I am going to leave them there. I am going to have to rein in my raspberries before they take over my entire garden, but it is going to be VERY hard.
I have really enjoyed having a mixture of june bearing and overbearing....

 I mean EVER bearing. Last fall I pruned them back at a variety of heights to attempt to stretch out the harvest. Some I pruned to the ground and some I pruned half way up.
I did not keep track of where they all were so I do not have the data, .....next year though.



Posts

: 2802


Join date

: 2012-01-14


Age

: 60


Location

: british columbia zone 5a




Forum Moderator Certified SFG Teacher




Posts

: 13998


Join date

: 2013-04-21


Age

: 68


Location

: Fresno CA Zone 8-9



---
Permissions in this forum:
You
cannot
reply to topics in this forum