Latest topics
»
Today's Harvest
by
sanderson
Today at 2:08 am
»
N & C Midwest; July 2017 !
by
CitizenKate
Yesterday at 10:31 pm
»
Happy Birthday!!
by
trolleydriver
Yesterday at 9:56 pm
»
New England July 2017
by
Scorpio Rising
Yesterday at 9:38 pm
»
Can anyone identify what type of watermelon this is at this age??
by
Scorpio Rising
Yesterday at 9:19 pm
»
Eggplant Blossom End Rot?
by
Fiz
Yesterday at 6:11 pm
»
help with raised beds! how much can I grow in a 4' x 4' raised bed?
by
Robbomb116
Yesterday at 4:12 pm
»
Your favorite watermelon and pumpkin
by
AlwaysHotinFL
Yesterday at 1:23 pm
»
What I've learned this year
by
countrynaturals
Yesterday at 10:29 am
»
Growing Romanesco Broccoli
by
plantoid
Yesterday at 7:20 am
»
CANADIAN REGION: What are you doing in JULY 2017?
by
sanderson
Yesterday at 2:07 am
»
What do you know about making sauerkraut?
by
No_Such_Reality
7/25/2017, 10:36 pm
»
What are you eating from your garden today?
by
Scorpio Rising
7/25/2017, 8:18 pm
»
TrolleyDriver's Compost Thermometer
by
sanderson
7/25/2017, 4:18 pm
»
Tornado Cake
by
sanderson
7/25/2017, 4:04 pm
»
Do I need to pollinate my zucchinis?
by
CapeCoddess
7/25/2017, 10:19 am
»
How's the Weather Where You're At?
by
trolleydriver
7/25/2017, 8:21 am
»
Turan in the Western Mountains
by
sanderson
7/25/2017, 1:07 am
»
Friday Rookie Topic XII: Cucumbers
by
Scorpio Rising
7/24/2017, 8:40 pm
»
More on garlic scapes
by
greatgranny
7/24/2017, 7:17 pm
»
Third Year SFG in Canada
by
SwampTroll
7/24/2017, 2:47 pm
»
My early garden
by
sanderson
7/24/2017, 3:15 am
»
Garden Footwear
by
sanderson
7/24/2017, 3:14 am
»
Square footage
by
sanderson
7/24/2017, 3:03 am
»
Healthy Meals
by
RoOsTeR
7/23/2017, 10:19 pm
»
HELP! Sweet Potato Plant!
by
countrynaturals
7/23/2017, 11:26 am
»
2017: First full year of SFGing in ND
by
Robbomb116
7/22/2017, 9:10 pm
»
2017 SFG in Brooks, Ga
by
sanderson
7/22/2017, 7:38 pm
»
Green Caterpillars
by
sanderson
7/22/2017, 2:22 pm
»
Some of our Gluten-free Cajun Recipes
by
sanderson
7/22/2017, 1:50 pm
In 90% of my yard the ground is hard and unless you water a long time deeply it seems to just get wet not clunky and super heavy soil.

Right now most of that area has punctervines all over that I am trying to kill, we'll see.

However on the side yard where I dug out all the weeds its pretty good soil.

Except the area where I put down fresh topsoil, mulched it in the winter and planted bulbs. The center area which is not the fresh dirt is rock hard til you water it than it because nice soil but still really heavy.

Just a tiny bit of water and you can dig it up and make dirt balls.

The area where I put the fresh stuff has the landscape edging around it. This side of the house is shady most of the day.

What can I do to get this area to have nice workable soil so the plants and bulbs will grow?

For the rest of the yard that's rock hard til its watered how long should I water every day to fix this issue or can it be fixed? The punctervines have no trouble growing in it, but nothing else does.


big thanks
I am very impressed w/ the results I got from adding vermiculite & compost to my existing soil.
I had top soil delivered by truck for a few beds, but that soil got clumpy.
Now w/ the a large amount of vermiculite in some areas of the bed, the soil drains faster is loose and no clumps.
The bag of fine vermiculite I bought is very large, about 4ft high. It was about $16 at a nearby nursery. I guess the coarse would be better, but it's not sold in my area.



Posts

: 151


Join date

: 2010-04-24


Location

: SuNnY SoutH CaRoLiNa



I have the same kind of clayey soil as well and only "poor soil" weeds would grow. When slightly wet it works OK, but clumps when it dries, and if too wet I could mould sculptures from it. What I've done is tilled in lots of sawdust and homemade compost into the top couple of inches to give grass a place to sprout. I needed to add a nitrogen fertilizer to help the sawdust break down, but since it's grass I would have anyway. For my ornamental garden, I used raised beds where I tilled as deep as I could and added lots of humus -- sawdust, compost, purchased bagged topsoil -- and the garden is doing wonderfully. I will do the same thing in another area for bulbs this fall. I'm resigned to making raised beds here for anything I want to grow other than grass.
Here's a pic of the ornamental garden notice the natural soil on the left -- it's rock hard when dry: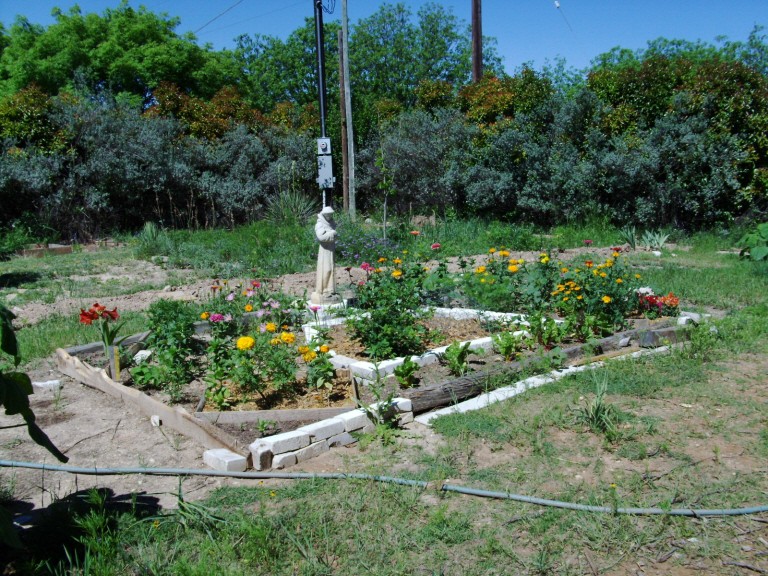 Posts

: 904


Join date

: 2010-03-03


Location

: USA



Yes that would be my ground outside of this area.

The area that I'm trying to do the flowers in had new compost, new top soil and than mulched in the winter.

I am desperately trying to find vermiculite for the sfg and if I can find it will put into this area as well.

I put up pictures in the gallery if anyone wants to try to figure this out.

Its barely wet and I could definitely make sculptures with it and the poor bulbs are trying to grow.
the pictures are called racetrack.

The inner area now has rocks. The part between the edging is what is getting clunky and heavy.
---
Permissions in this forum:
You
cannot
reply to topics in this forum