Now that is growing I need to find out what to do with it and when.
I thew in a bunch of seed in Sept, just for the heck of it..
Looks ok and if it continues to grow nicely, I'm going to find out if I can use this on my lawn.
Should I just turn it into the M.M. before planting, or cut the tops and let it go ?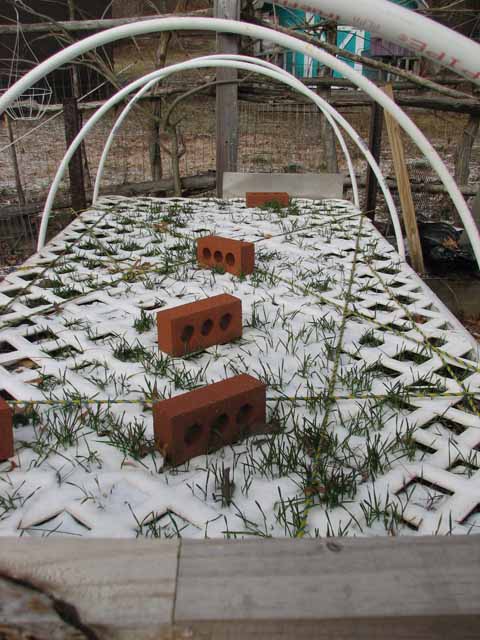 Certified SFG Instructor




Posts

: 1911


Join date

: 2013-02-16


Age

: 81


Location

: Indiana PA....zone 5



Depends on if you want the grain.  If you do, you'll need to let it finish growing.  If you're just using it as a green mulch, cut it down & turn it in 2-3 weeks before planting.

Certified SFG Instructor




Posts

: 4126


Join date

: 2014-03-18


Age

: 54


Location

: Buford, GA - Zones 7B/8A



Was it the annual rye or perennial?  The annual should (hopefully) die this winter and then you can just plant through it considering it a mulch, or take off and compost.  If it is the perennial you better pull it out and compost.  You do not want to be mowing it all summer around your plantings.
I have annual rye growing in one bed.  I intend to cut it down and turn it under a couple of weeks before planting potatoes.



Posts

: 3177


Join date

: 2011-11-20


Age

: 67


Location

: Brooks, Ga Zone 7B/8A



Not sure, just went into the farm shop and told him I wanted to plant some rye..came out of a bulk container, I sure like the way it's growing in cold weather

Certified SFG Instructor




Posts

: 1911


Join date

: 2013-02-16


Age

: 81


Location

: Indiana PA....zone 5



Looking into rye grass is getting complicated.
Rye, the grain crop, is a totally different plant then ryegrass.  Rye is Secale cereale and annual rye grass is Lolium multiflorum and the perennial rye grass is Lolium perenne.  So you will not get rye to grind for delicious bread from allowing rye grass to grow out and seed.
looks like their natural growth period is the cool winter and then die after seeding in June or so.  Also that it is best to try to kill it (pull and lay on the bed as a mulch I am thinking) before it makes a jointed stem.  At that point it is determined to make seeds and will do its utmost even if cut/pulled etc.  And then it can become a weed though one that sprouts when the weather gets cool again in the fall, which maybe would work in ones favor....
There is something about an alleopathic compound given off by ryegrasses.  I used to use it for helping control quack grass spread.  But I see it being recommended to seed with clovers and vetches for green manure uses.  So maybe it is alleopathic against other grasses but not broad leaf plants?  I never had problems growing my garden where I had had rye grass growing (back in the rototilling days).
Some good info on rye as cover crop. 
http://www.indianacca.org/abstract_papers/papers/abstract_112.pdf
Any rate all food for thought on a cold snowy day.

Thanks Turan.
When I mentioned growing rye grass for my lawn I was meaning perennial rye grass.
I planted some 45 years ago and it grew nicely.
Now I'm in another house and have a terrible lawn that needs tended after I rid it of grubs.
I will be doing a lot of reading on your link

Certified SFG Instructor




Posts

: 1911


Join date

: 2013-02-16


Age

: 81


Location

: Indiana PA....zone 5



Thank you for the tutorial, Turan.

Forum Moderator Certified SFG Teacher




Posts

: 13971


Join date

: 2013-04-21


Age

: 68


Location

: Fresno CA Zone 8-9



THanks.  Researching this was a good morning project for me.  It is one of those moments where one knows just enough to be wrong

I should of realized that rye and rye grass are very different things ages ago because I have held rye groats (for cooking with, they are almost as big as wheat groats) and I have held rye grass seeds in my hands.  But not in sequence and not somehow thinking about this beyond the word rye.  Which leads me to wondering about the word 'rye' it is an extremily ancient word.  It must have a built in connotation of cold weather growing grass but I can not find that sourced yet.
Here in Montana I would toss annual rye grass seed along pathways in the garden after I finished raising the long berms I planted in each spring.  It grew all summer and died in the winter.  I had no idea that in most of the world it is a fall seeded plant that grows all winter and dies by summer and is not at all heat tolerant.
So I learned a lot by chasing down the rye grass rabbit hole and now I have more questions than I started with.  Always a good sign.

---
Permissions in this forum:
You
cannot
reply to topics in this forum