This is whats growing in our salad box.

This is what we did with it.
Here is the picture filled post of how we made this very old Cajun winter treat.http://theroundrobincajuncountrycooking.blogspot.com/2015/01/gumbo-verde-aka-green-gumbo.html


 Thank you for another winter delight. My
microgreens
minigreens
lettuce just bolted so your recipe may get tried out asap.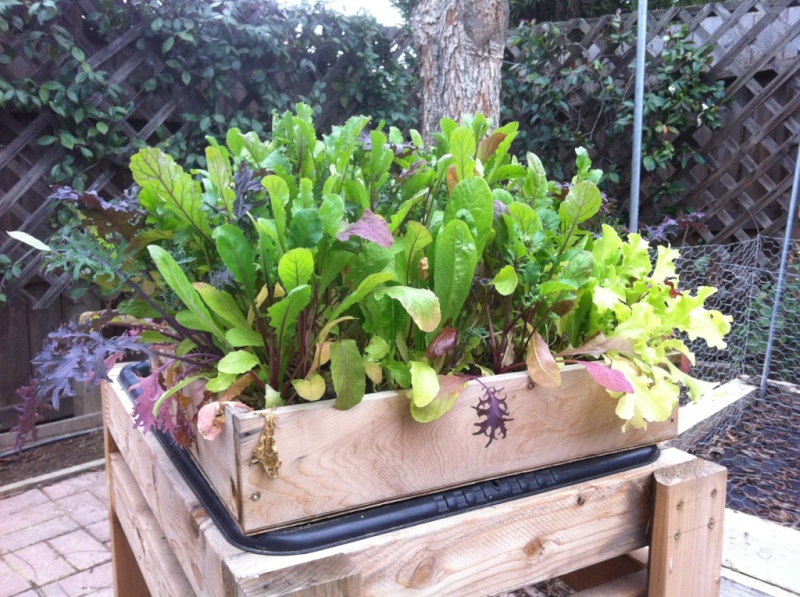 Forum Moderator Certified SFG Teacher




Posts

: 14428


Join date

: 2013-04-21


Age

: 68


Location

: Fresno CA Zone 8-9



That pretty much looks like the pan full we used.  some bacon drippings and seasoning stuff a lil sausage or chicken and ya got it.
I did find your green gumbo by searching here but you leave out the most important part in your recipe.  What's in your spices?
Ahhhh very sorry but we do not give out our spice recipe we may try selling it in the future its a mix that is very simular to Tony Chacherie's seasoning and that is available almost any where.  Ours has less salt and the other spices are balanced differently for our taste.  We used Tony's for years but sadly it is not gluten free anymore due to cross contamination.  its a mix of salt onion garlic chili paprica red and black pepper . 
It's a b****h the way gluten is added to everything.  At least you know what is in yours, as long as your spices have not been contaminated as some are these days.
Things that are hard to believe.  you have to watch stuff like shredded coconut cause they use flour to stop clumping.  granulated onion or garlic for cross contamination.  Things like hot sauce cause of the vinegar.  frenchy woo sauce no lea and perrins yes but only if its made in teh usa its complicated and I've been with Peggy 15 years and she ahs had this for 25 years and we still ocasionally make a mistake.  Some times its hard to figure out.  Specially when its something that was safe only to change.   
Never knew.  Since I am gluten sensitive not celiac I'm not obviously bothered by some things.  However, I got lazy for a while and my doctor thinks it affected my gait.  I'm much more rigorous now.  

Do you know about Obsessions beer?  Guy who created it is celiac.  Well know brewery.  And it tastes mostly pretty good.
There are a couple decent gluten free beers but since Peg is not a beer drinker we do not bother with them much.  Budweiser makes a red bridge beer that is gluten free and we cook with it, and use it poored in a can for drunk chickens and such but it aint too plesent for drinking.  I did come across a palatable brew in NY this fall I think it was Bard's or something like that it was about the best gluten free I've tasted.  Peg took a sip and said YUCK!! this taste just like beer.

That was the first beer my doctor recommended.  I gave her four of the six bottles.  I am more a red wine person (Sicilian ancestry) although my parents from Sicily did not drink much wine (hard to believe).  My mother also was scandalized at how much garlic I use in one meal (as much as she used in a year!)..
---
Permissions in this forum:
You
cannot
reply to topics in this forum