Latest topics
»
GF Collard Greens, Kale Recipes
by
BeetlesPerSqFt
Today at 12:49 pm
»
Butterfly Junction
by
countrynaturals
Today at 11:49 am
»
2016 SFG in Brooks, Ga
by
sanderson
Today at 11:48 am
»
Garbanzo (Chickpeas, Cicer arietinum) and Kidney Beans
by
CapeCoddess
Today at 11:37 am
»
N&C Midwest: December 2016
by
landarch
Today at 9:29 am
»
CHALLENGE - Smallest possible footprint
by
sfg4uKim
Today at 9:26 am
»
What are you eating from your garden today?
by
llama momma
Today at 5:10 am
»
Second Year SFG in Canada
by
yolos
Today at 12:13 am
»
CANADIAN REGION: What are you doing December 2016
by
Scorpio Rising
Yesterday at 9:02 pm
»
Holy snow Batman!
by
llama momma
Yesterday at 4:52 pm
»
Tomato Tuesday 2016
by
llama momma
Yesterday at 4:35 pm
»
New England, December 2016
by
CapeCoddess
Yesterday at 3:27 pm
»
TrolleyDriver's Compost Thermometer
by
trolleydriver
Yesterday at 1:04 pm
»
Bon fires on the Levee
by
Cajun Cappy
Yesterday at 12:17 pm
»
Mid-South: December 2016
by
Scorpio Rising
12/5/2016, 10:26 pm
»
Mid-Atl - Dec 2016 - Seed Catalog ?
by
Scorpio Rising
12/5/2016, 10:24 pm
»
Gardening in Central Pennsylvania
by
Scorpio Rising
12/5/2016, 10:21 pm
»
1st Seed Catalog Arrived :)
by
Scorpio Rising
12/5/2016, 10:15 pm
»
Amaranth
by
countrynaturals
12/5/2016, 12:06 pm
»
Northern California & Coastal Valleys - What are you doing this month?
by
countrynaturals
12/5/2016, 12:03 pm
»
Garlic: Freeze, thaw, and heave
by
donnainzone5
12/5/2016, 11:14 am
»
Live and learn
by
jimmy cee
12/5/2016, 9:08 am
»
AtlantaMarie's Garden
by
countrynaturals
12/4/2016, 2:04 pm
»
Mychorrhizae Fungi
by
audrey.jeanne.roberts
12/4/2016, 1:28 pm
»
December 2016 Avatar: Show your Winter Season Colors!
by
Scorpio Rising
12/3/2016, 11:17 pm
»
SFG not giving the results I expected
by
No_Such_Reality
12/3/2016, 7:21 pm
»
New Member
by
trolleydriver
12/3/2016, 4:14 pm
»
First season SFG results / lessons learned
by
countrynaturals
12/3/2016, 10:36 am
»
Eat Broccoli Leaves? Brussels Sprouts? Cauliflower?
by
sanderson
12/3/2016, 2:55 am
»
Winter's Coming!
by
sanderson
12/3/2016, 2:53 am
I've been playing at growing stumplings into viable transplants in an enriched nutrient water  from what I've done it seems that size that you  start off with  really matters.
The first stump
I played with was a 1/4 inch thick ( 6.5 mm ) thin sliver off the end of a hand of celery  . I scraped the underside before severing the stump and then made the separating cut.
 set it in a opaque ex fruit pot container with 1/4 " of water in it that came  from a cup of water with one drop of indoor pot plant food in it.  It didn't quite cover the surface of the stump at the top .
It was then left it on the kitchen work top out of direct strong sunshine , by day nine I noticed three separate  points of new growth starting to appear . By day 14 these were big enough for me to consider splitting the stump into three separate chunks so that there was as much flesh on each part as possible with the new growth in the middle . 
 Now at day 19 the new growth is about 1/2 " ( 13 mm ) tall and micro roots are starting to appear on each part.  I'll pot each bit up in a tube pot & see if I can get a viable rooted plant for transplanting out in the garden at the end of February . 
 Stump 2
 this was scraped across the bottom again ..to get the regeneration nodes to start working , this time however the stump was bigger at nearly an inch tall
 it was given the same 1/42 of nutrient feed water .  At day seven the new growth was present by day 14 the stumpling has a set of leaves and is about 1 & 3/4 inches tall ( 20 mm ) 
there are 1/16 " long ( 1.5 mm ) micro roots present . This will also get potted up on the same day as the other three smaller stumplings but in a six inch plant pot .
 Stump 3
I've also taken the smallest  leafed part from the centre of  of a small Chinese cabbage ( we ate the rest in oriental dishes ) a few days ago it was about 1/2 inch 13 mm tall & that included a 3/16 inch ( 4.5 mm ) thick base  .
 It was put in the same growing cup as the three pieces of celery , there appears to be the start of regeneration . hopefully this will prove one way or an other that you can grow both crops in the same container , which could be very handy indeed if your short of space or you want to get two the plants in pots as you consume the host veg so that they are up & running in  the depths of winter ready for a spring transplanting out .
 I wasn't sure which stump would give the best stumpling result that's why I did the experiment.
 So far I think I can safely say that to a degree the bigger the stump the better it is for a strong healthy plant .  I suppose it is because of the bigger volume of available  plant nutrients & regenerative substances available in the bigger stump .
One thing that's puzzled me is why did the thinner stumpling slice of celery produce three independent plants at the outer parts whilst the bigger celery stump produced a big thick central regrowth . 
The thin slice of celery with new roots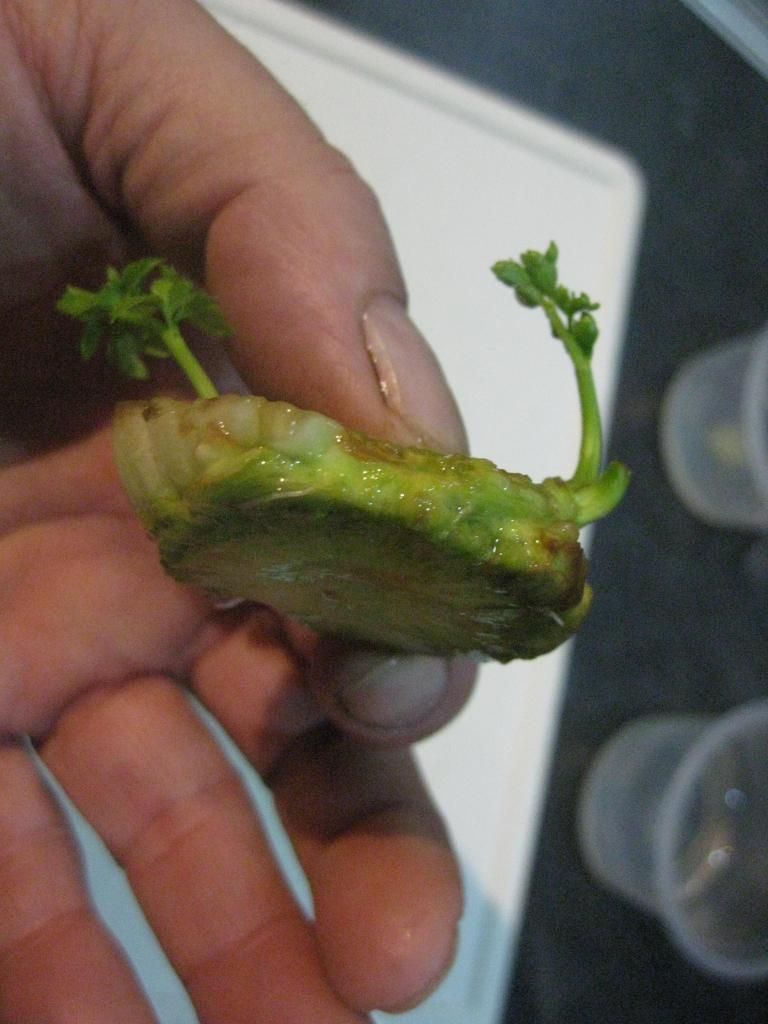 have to dash out ...  back in a few hours ...



Posts

: 3636


Join date

: 2011-11-09


Age

: 65



THAT is very interesting, David. I'm happy to now know that I can separate the multiple plants on the same stumpling. I have 5 & 6 plants on some of my turnip stumplings but was nervous about separating them. Now I will...if it's not too late. They are older and quite large. The roots are probably pretty long. Maybe I'll wait and do it when transplanting them outside in the spring..if we ever see earth this spring.

So much snow.
Btw, my stevia is going to seed now. PM me if you still want some.
CC



Posts

: 5374


Join date

: 2012-05-20


Age

: 60


Location

: elbow of the Cape, MA, Zone 6b/7a



I'm in two minds as to whether the turnip will produce a swollen turnip root veg or just produce lots of leafy green that will immediately run to seed if left whole .  OR  just rot away if split into individual plants. 
The one thing you need is root formation  so try splitting off just one leaf outbreak a tad below the stem,  so you have some of the flesh of the plant .
Then stand the fleshed leafed cutting flesh down in some very shallow water .
 Here are some more pictures of my experiments...
The big stump with a bit of decaying brown stem that was removed after the photo was taken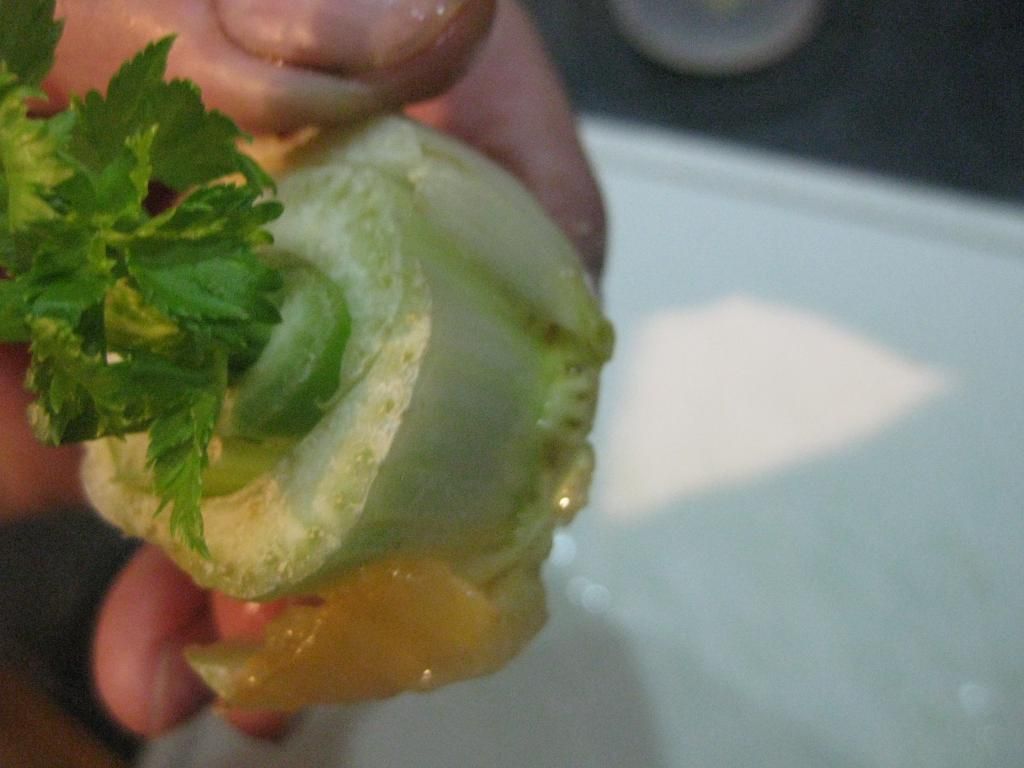 The baby one with some more greenery present growing from the edges .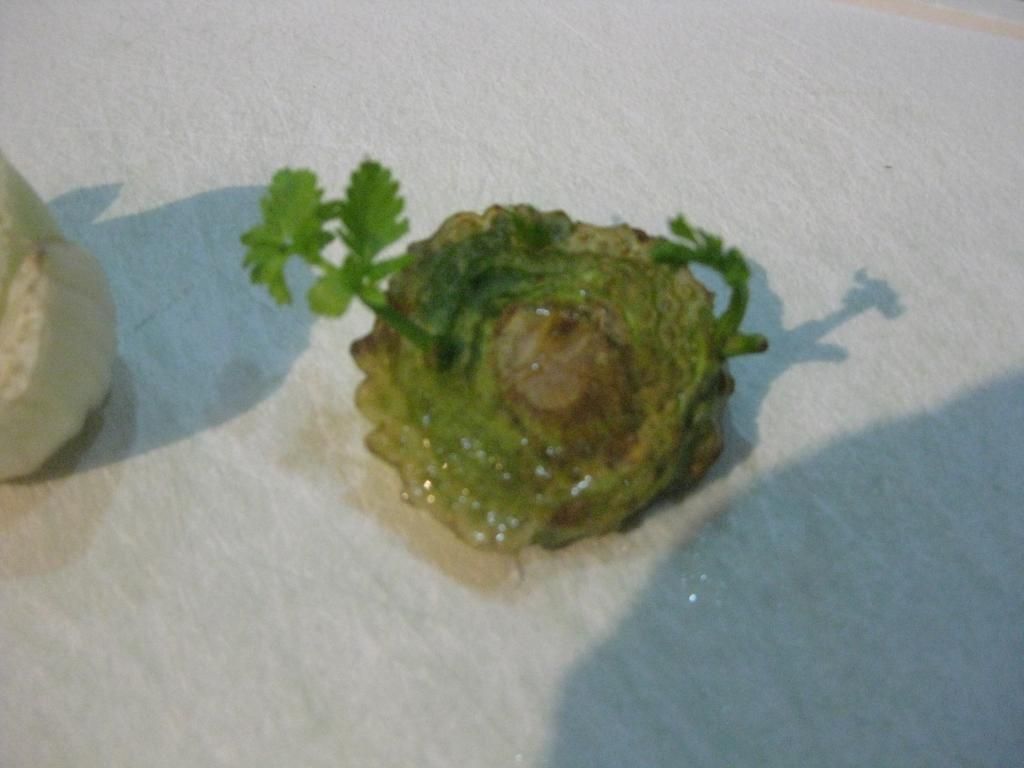 The big one with more greenery growing from the middle
 Side by side comparisons of rooted celery stumplings , the biggest is the youngest by a week or so .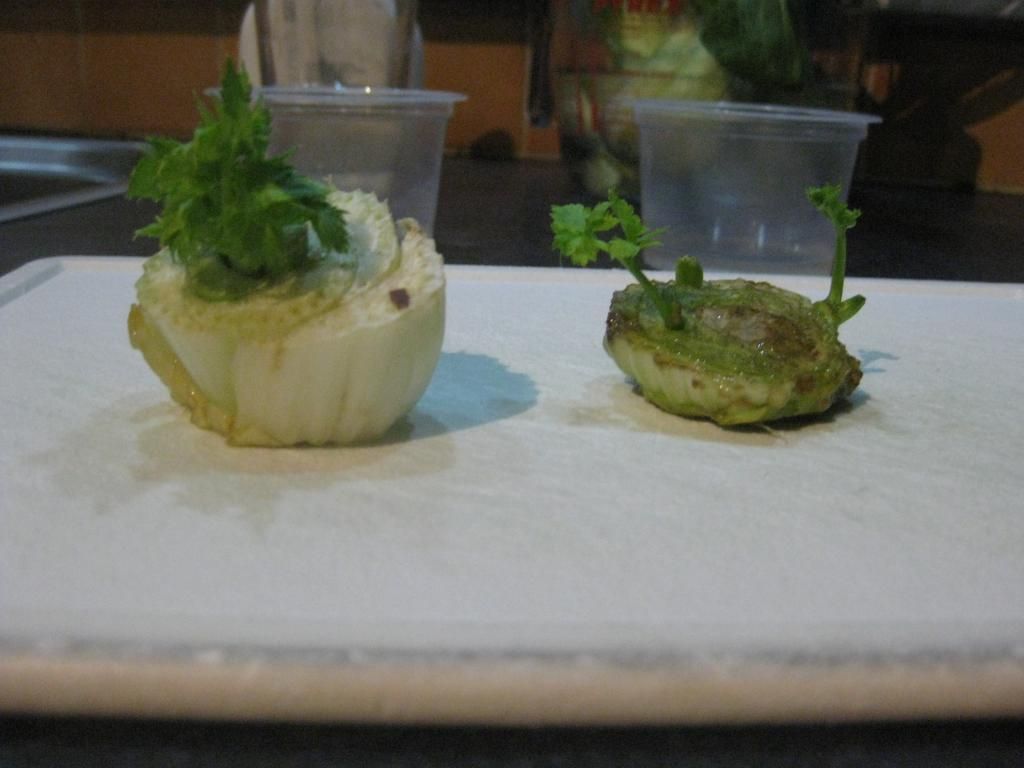 Posts

: 3636


Join date

: 2011-11-09


Age

: 65



---
Permissions in this forum:
You
cannot
reply to topics in this forum