I'm thinking of putting together a hoop house similar to how Mel did in his book.  However, I cannot figure out what size 6mil plastic I should have.  I will be making a hoop house for 2 of my beds.  One is 4 x 8 and the other is 3 x 6.  I will buy the10ft 1/2" PVC (probably 3 hoops for each bed with a center brace) and conduit straps.  The hoops will attach to the outside of the beds.
What I'm having trouble with is figuring out what width and length of 6mil plastic I should have for each bed.  I know I need enough to drape off the ends and enough to be able to wrap close in the front and back.  Once the weather warms the hoop house will be removed for the summer garden and usage of the trellis and returned towards then end of the season to extend the season a bit mainly for the green veggies.
Any help or suggestions would be great.
Thanks
2015 Projected Layout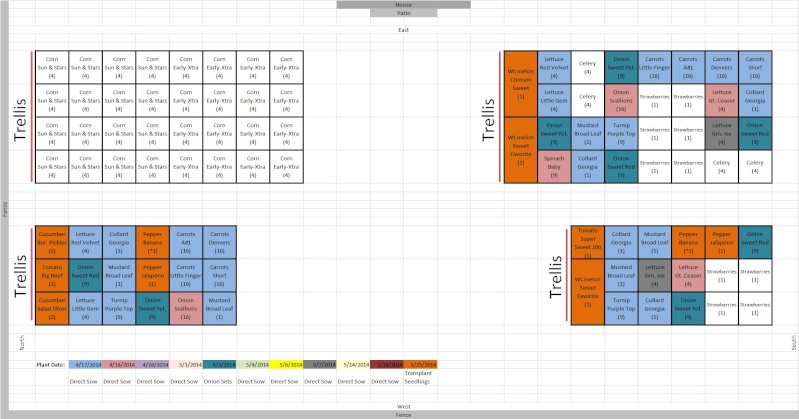 Posts

: 66


Join date

: 2012-06-10


Age

: 37


Location

: Plainfield, IL



It depends on the length of the PVC that you end up using to make the hoop.
When I build mine on a 4' width bed, I have found that 10' makes the hoop too tall, so I normally use between about 7' instead.  If you use a 7 foot length hoop, you'll be able to buy the 9 foot wide plastic that is readily available at hardware stores.  Even ten foot width will work well -- that would give you a foot and a half on each side.

As far as length, again, it depends on how high the hoop will be.  With a 7 foot width, that will make the height of the hoop about 3 1/2 foot tall (on a four foot wide bed).  So, 8 + 3.5 + 3.5 = 15 feet long, and you'll want plenty of overlap on the sides, so add 2 feet to each side.

Basically, a 10' x 20' piece of plastic should cover a 4' x 8' hoop system.

PS -- I have also found that using only three braces makes the plastic sag between the middle and outside braces if there is any amount of wind or snow.  I would recommend four pieces for sure.

Hope that helps.



Posts

: 185


Join date

: 2013-01-15


Location

: Shawnee, KS



---
Permissions in this forum:
You
cannot
reply to topics in this forum