Latest topics
»
N&C Midwest: February 2018 !
by
aliceingardenland
Today at 7:35 am
»
Happy Birthday!!
by
AtlantaMarie
Today at 6:14 am
»
has55's R & D Journey
by
sanderson
Today at 1:55 am
»
parsnips in square foot garden?
by
sanderson
Today at 1:43 am
»
Seed Organizing Ideas
by
sanderson
Today at 12:06 am
»
WANTED: Pictures of Compost Bins
by
bigdogrock
Yesterday at 10:28 pm
»
A new SFG fan from Texas
by
BeetlesPerSqFt
Yesterday at 10:27 pm
»
2018 SFG in Brooks, GA
by
yolos
Yesterday at 7:06 pm
»
The New Square Foot Gardening Foundation page is now online!
by
sanderson
Yesterday at 6:40 pm
»
February: What to plant in Northern California and Central Valley areas
by
sanderson
Yesterday at 6:31 pm
»
How's the Weather Where You're At?
by
Scorpio Rising
Yesterday at 6:24 pm
»
Invasive Tree Roots - Very important topic for newbies.
by
sanderson
Yesterday at 6:23 pm
»
excited to be here!
by
Kate888
Yesterday at 2:57 pm
»
Northern California & Coastal Valleys - What are you doing this month?
by
sanderson
2/18/2018, 2:58 pm
»
Butterfly Junction
by
sanderson
2/18/2018, 12:16 am
»
New England Feb 2018
by
sanderson
2/17/2018, 8:14 pm
»
Eggplant - (Japanese) Millionaire
by
Scorpio Rising
2/17/2018, 11:42 am
»
TrolleyDriver's Compost Thermometer
by
has55
2/17/2018, 8:17 am
»
SUGA 2018
by
SQWIB
2/16/2018, 3:15 pm
»
LED grow lights......any advice?
by
sanderson
2/15/2018, 12:08 pm
»
Mystery plant - need ID please
by
yolos
2/14/2018, 8:44 pm
»
new to the site from Arkansas
by
Scorpio Rising
2/14/2018, 8:36 pm
»
Hiya from Massachussets
by
Scorpio Rising
2/14/2018, 8:31 pm
»
What I learned this year
by
Scorpio Rising
2/14/2018, 8:21 pm
»
Happy Valentine's Day!
by
Scorpio Rising
2/14/2018, 8:19 pm
»
Jicama
by
countrynaturals
2/14/2018, 3:29 pm
»
CANADIAN REGION: What are you doing in February 2018?
by
Kelejan
2/14/2018, 1:56 am
»
What are you eating from your garden today?
by
Scorpio Rising
2/13/2018, 10:10 pm
»
Fourth Year SFG in Canada
by
trolleydriver
2/13/2018, 7:32 pm
»
Turan in the Western Mountains
by
sanderson
2/13/2018, 2:57 am

Happy Friday, everyone!  I don't know about all of you, but I'm feeling pretty antsy lately.  I want to get outside, dig in the dirt, see the green grass, listen no the birds sing!  But it's not even time to start planting seeds indoors yet here.  As a matter of fact, there's four feet of snow on the ground and it's going to be -15F tonight.  Yuck

So to make myself feel a little better, I thought I'd go through my pictures and post some nice ones of my garden last year.  I hope you enjoy it too

  Unfortunately, I didn't take as many pictures as I should have.  I'll have to make sure I remember to do it more this year.
April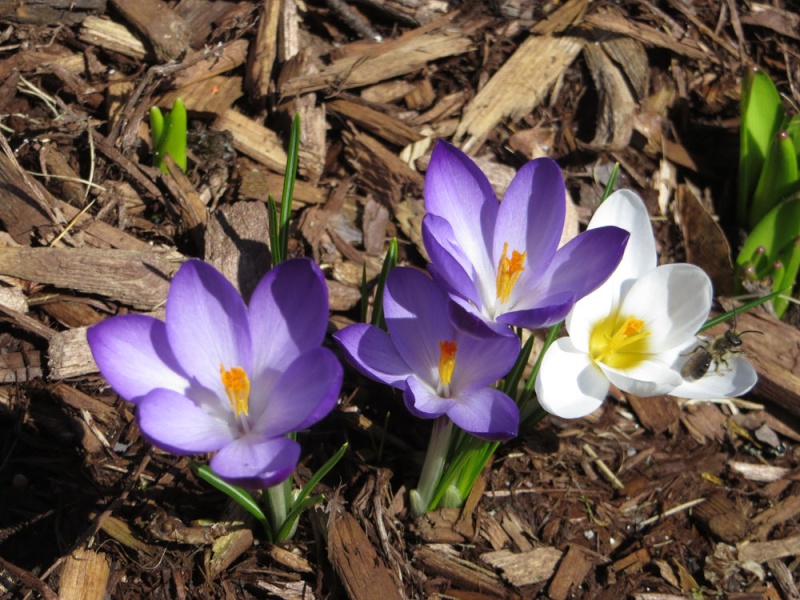 Crocuses are my favorite sign of spring in my garden.
May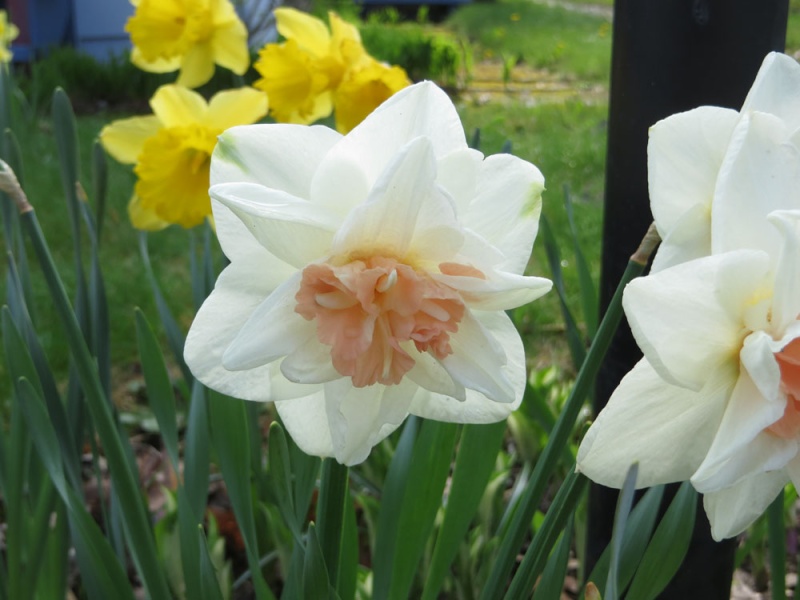 I love daffodils, too, especially these pink ones.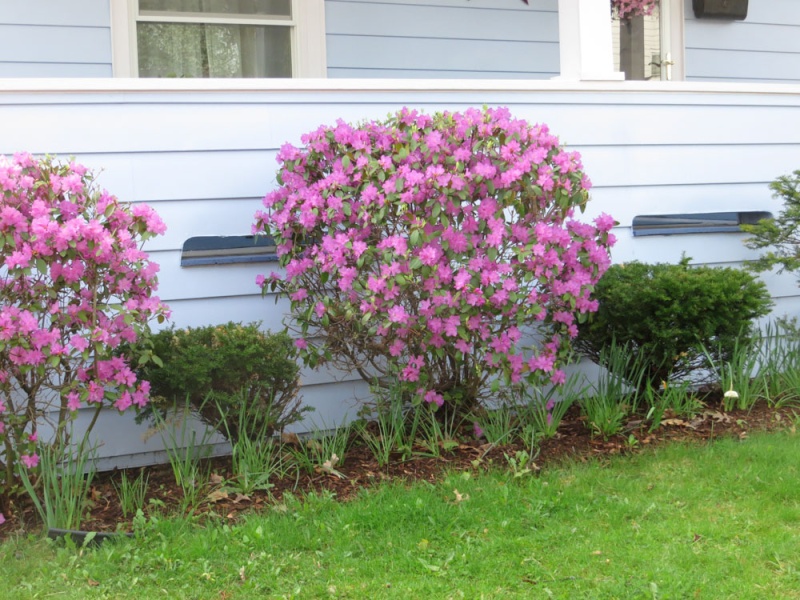 My azaleas are always the first to bloom in the neighborhood.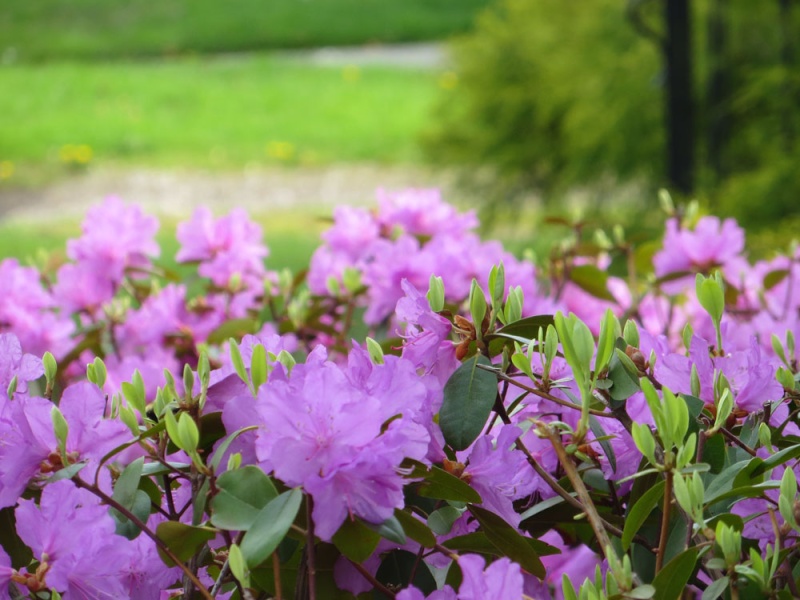 I found this fat chicken at a local amish greenhouse! 
June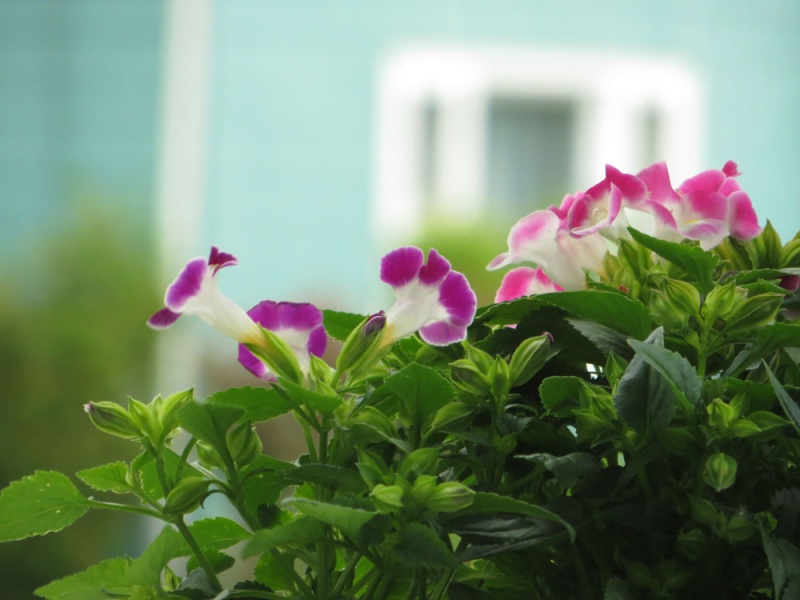 For some reason, the only picture I took in June was of these pretty shade loving posies I had in a pot on my front porch.
July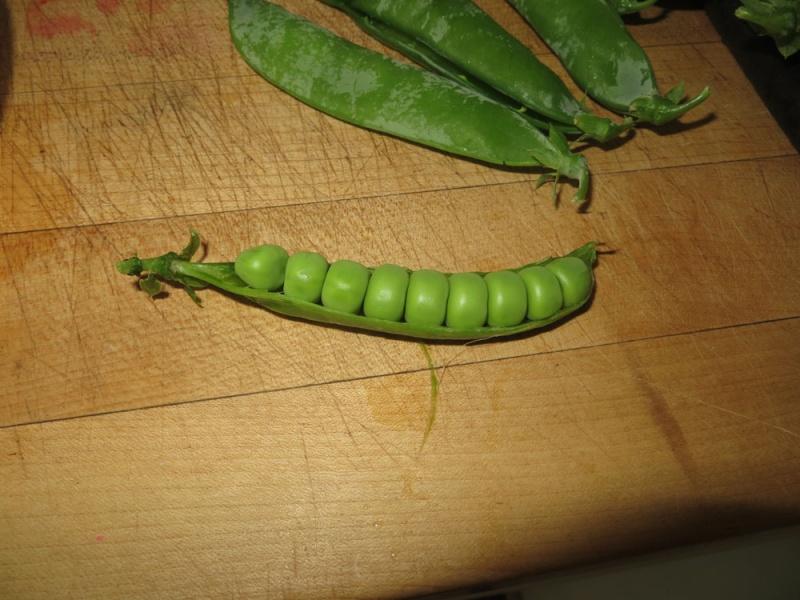 These are Laxton's Progress #9, named apparently because they are supposed to have 9 peas in them.  This is the ONE AND ONLY 9 pea pod I had last year!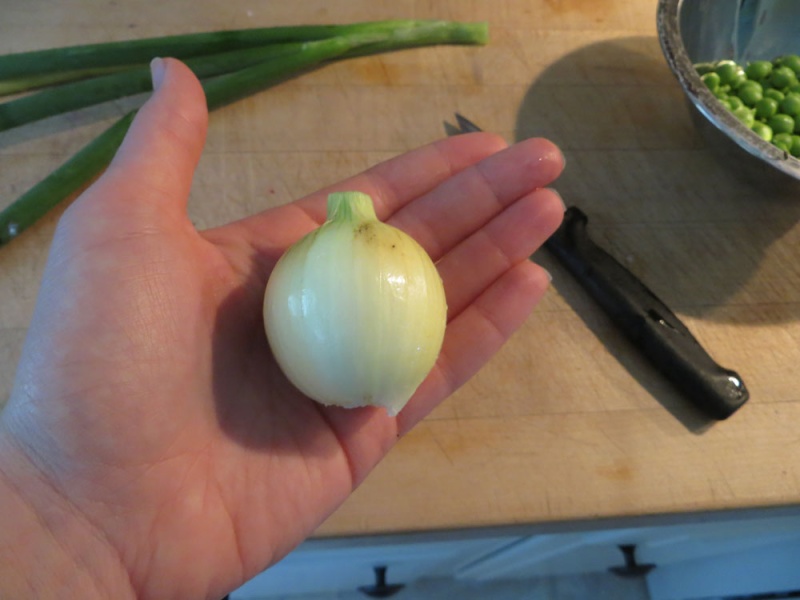 This is my wonder-onion.  I had planted it as a seed in 2013.  Unfortunately, most of them got dug up by a neighborhood cat shortly thereafter, so I gave these onions up for dead.  This one, though, somehow managed to survive being pulled up all through 2013, and then somehow managed to survive a winter where it was so cold that our ground literally froze over 4 feet deep.  I pulled it up before it was done to add to my peas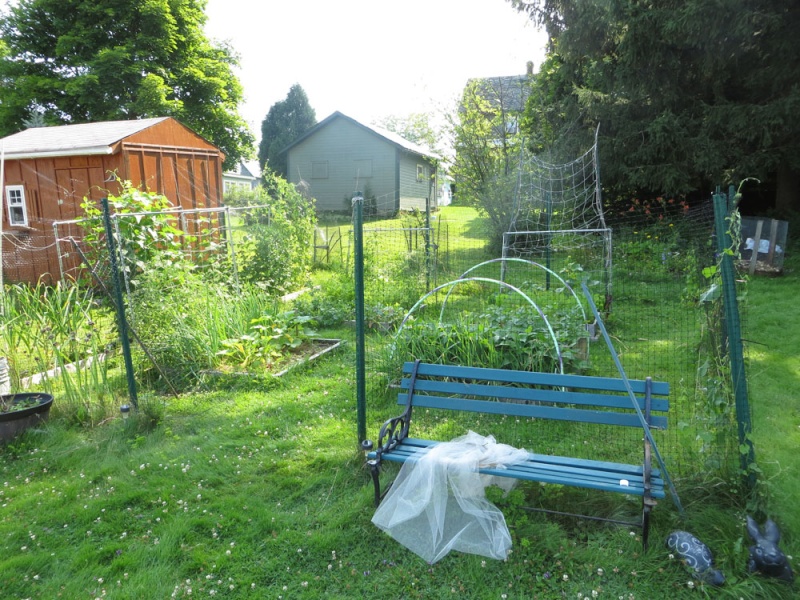 My messy back garden!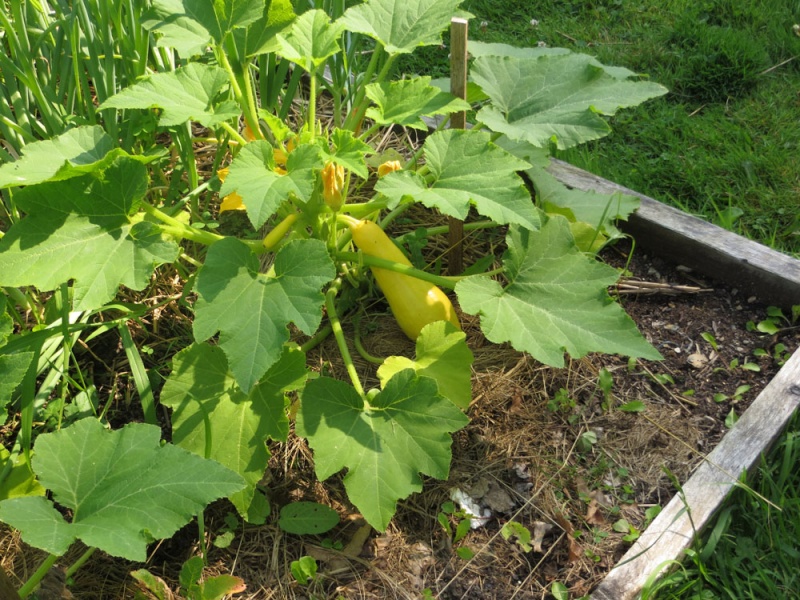 This is a yellow squash called Success PM, which is supposed to be resistant to PM.  And it really is!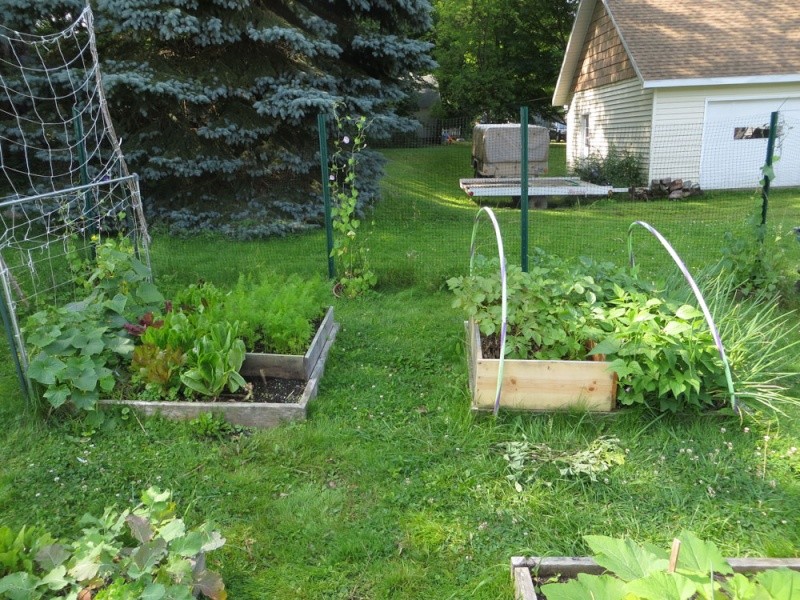 Cucs, carrots and lettuce in the left box, potatoes, bush beans and onions in the right box.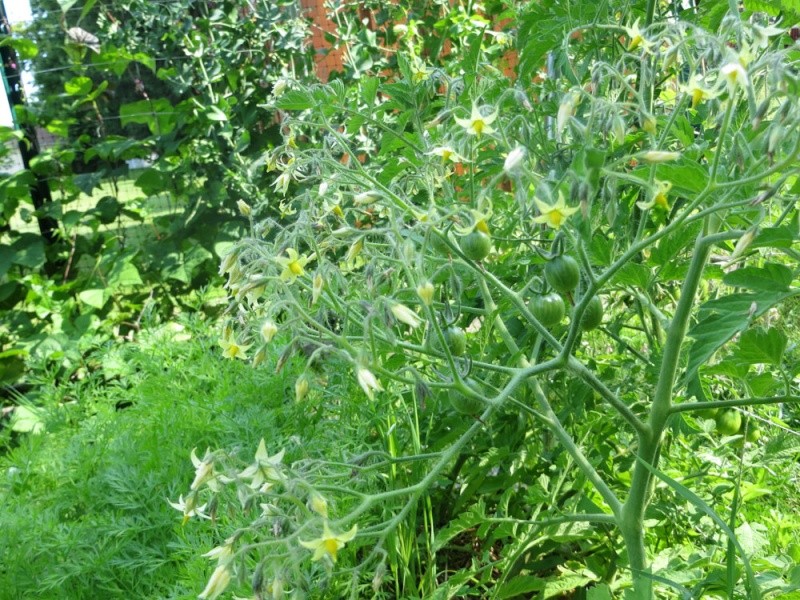 It's hard to see it very well, bu this is a close up of the huge cluster of flowers and tomatoes on my Blondkopfchen cherry tomato.  It produces hundreds and hundreds of small yellow tomatoes.  Sometimes they look like they have more flower clusters than leaves.
August
Mr. and Mrs. carrot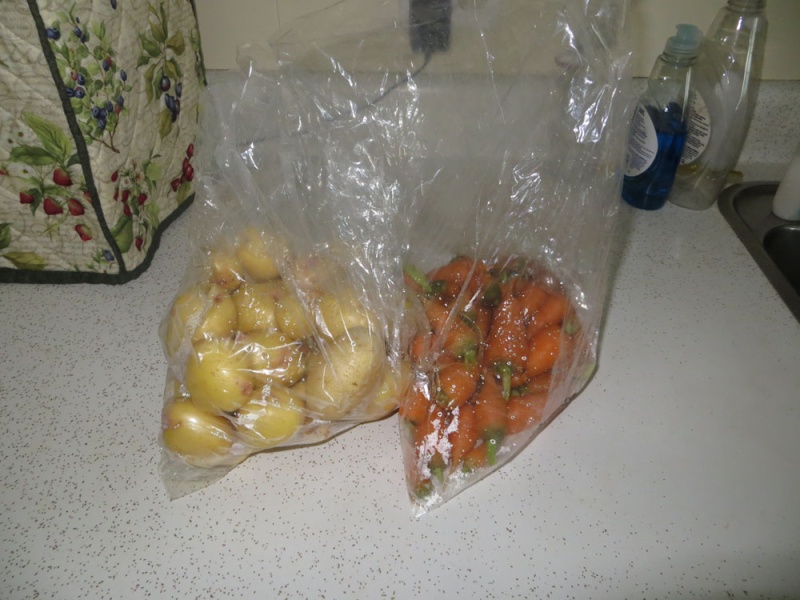 A nice harvest of little finger carrots and new Yukon gold potatoes.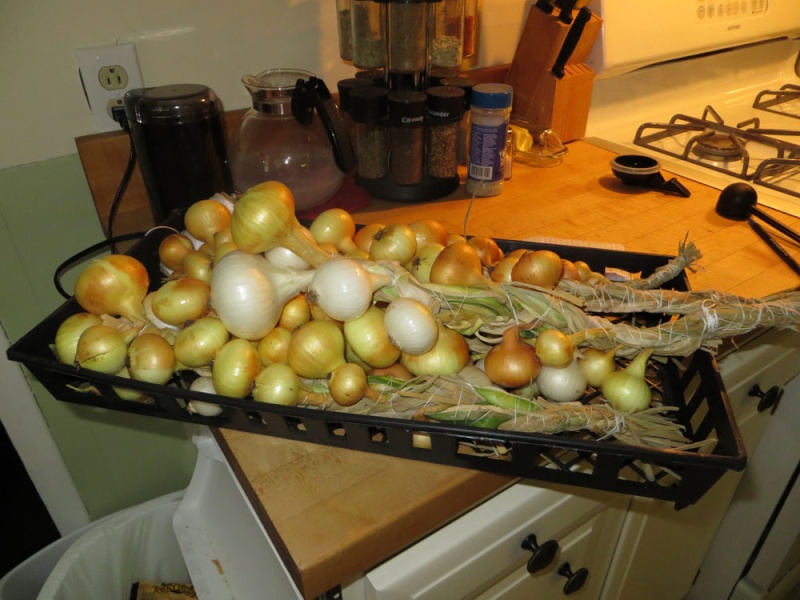 My main onion harvest, all braided and ready to be hung up.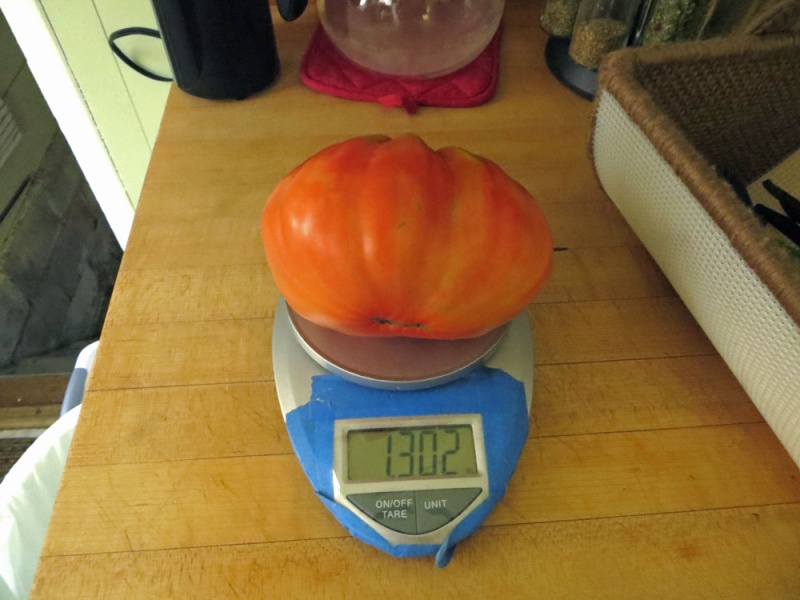 A huge 1.3 pound tomato!  I collected the seeds from an heirloom tomato I bought in the store several years ago.  It's my favorite tomato now!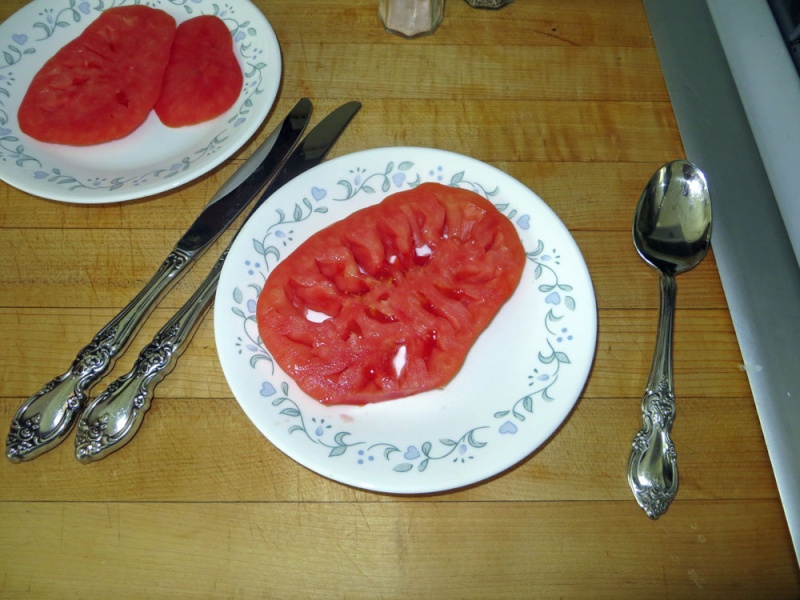 It makes huge tomato steaks.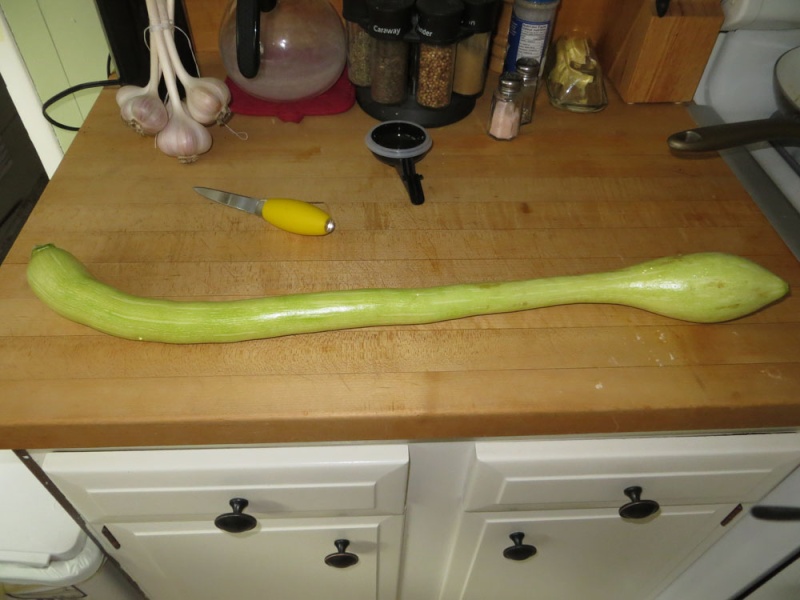 A trombocino squash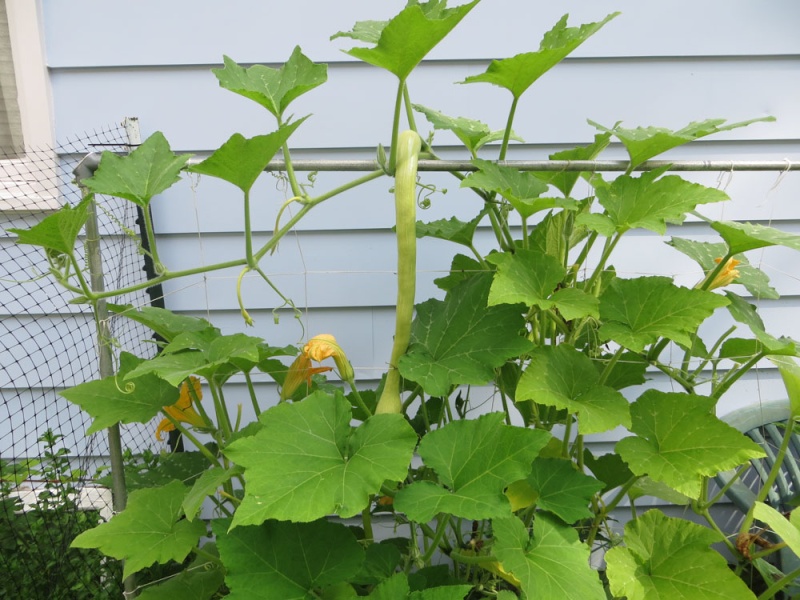 And here it is still on the vine.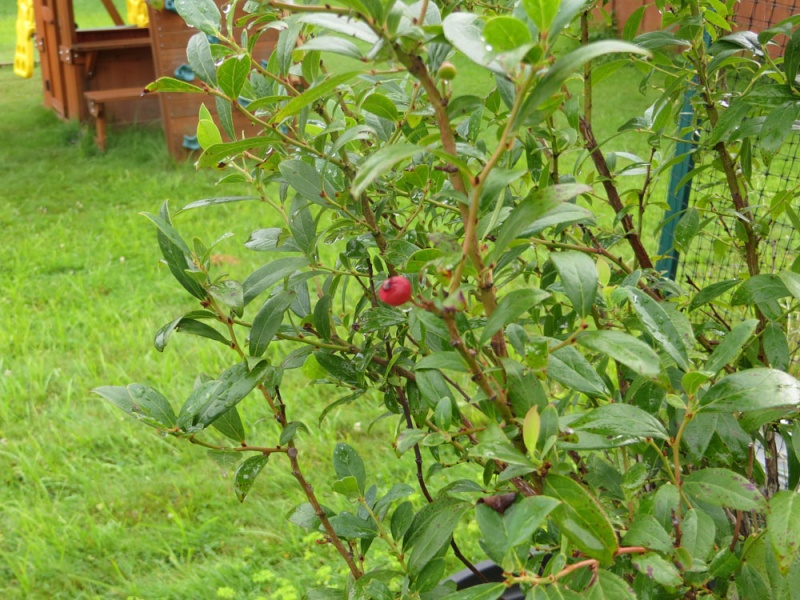 I also bought some new blueberry bushes last year, because my old dwarf bushes died after last year's extreme cold.  These ones are called Pink Lemonade!  The berries are a really pretty shade of pink, but they taste just like regular blueberries.
Well, I hope you enjoyed some pictures of green things.  It's got me just itching to get some seeds planted!
Julie, Thank you for the garden tour. I think it's good to look back on successes, especially while waiting for spring.

Forum Moderator Certified SFG Teacher




Posts

: 15384


Join date

: 2013-04-21


Age

: 69


Location

: Fresno CA Zone 8-9



+1, Julie!  Nice garden you have!

Thank you for showing it to us.

Certified SFG Instructor




Posts

: 4427


Join date

: 2014-03-18


Age

: 54


Location

: Buford, GA - Zones 7B/8A



Thank you, Julie.  I notice that your first picture was taken in April, so I suppose you have at four/five more weeks to go before you see you crocus again so please be patient.  At least you have pictures to look back on.




Posts

: 5058


Join date

: 2011-04-24


Age

: 82


Location

: Castlegar, British Columbia



Thanks everyone for the nice compliments.  I'm glad you all enjoyed the pictures too!  Kelejan, yes, I have a while yet to go before those crocuses come up; usually mid-late April

But I'm trying to be patient!
And your growing all these nice plants with tree roots included ?

Certified SFG Instructor




Posts

: 1929


Join date

: 2013-02-16


Age

: 82


Location

: Indiana PA....zone 5



You bet, Jimmy.  I'm positive the garden would be even more productive without the roots.  I have a little side garden next to my house that doesn't have any trees around, and it does amazing things.  Gotta love SF gardening and the fertile MM!
Wow. Great pictures and garden setup. Can't wait for spring to get here now...thanks alot!



Posts

: 185


Join date

: 2013-01-15


Location

: Shawnee, KS



Nice pictures!!  Really enjoyed this, Thank You!!

Certified SFG Instructor




Posts

: 4858


Join date

: 2010-08-20


Location

: Central Ohio zone 6a




---
Permissions in this forum:
You
cannot
reply to topics in this forum