My potatoes grew a lot faster than I had expected. I have already decided they get their own 4X4 box next season. Then I can just stack a whole box on top of another. I hadn't really thought it through so had to put together a box to build up the soil rather quickly. I am optimistic that it will work. This has brought the enthusiasm back to gardening.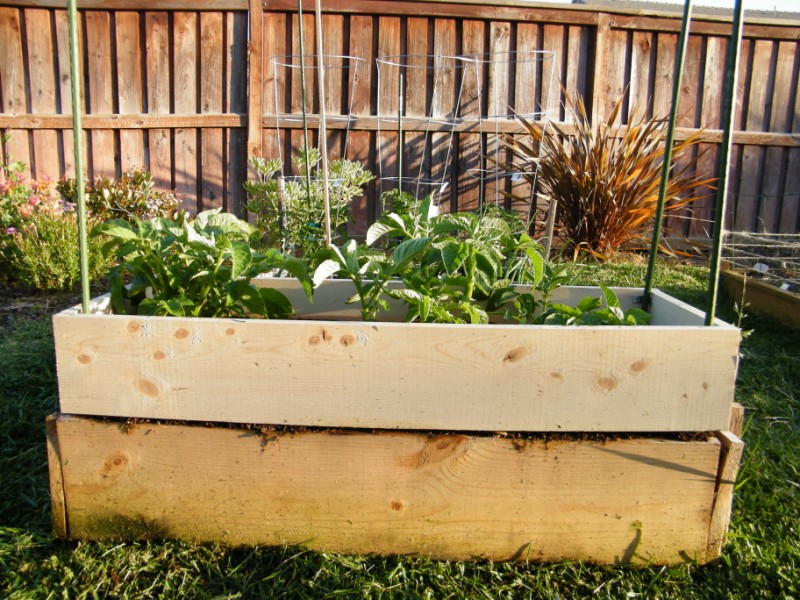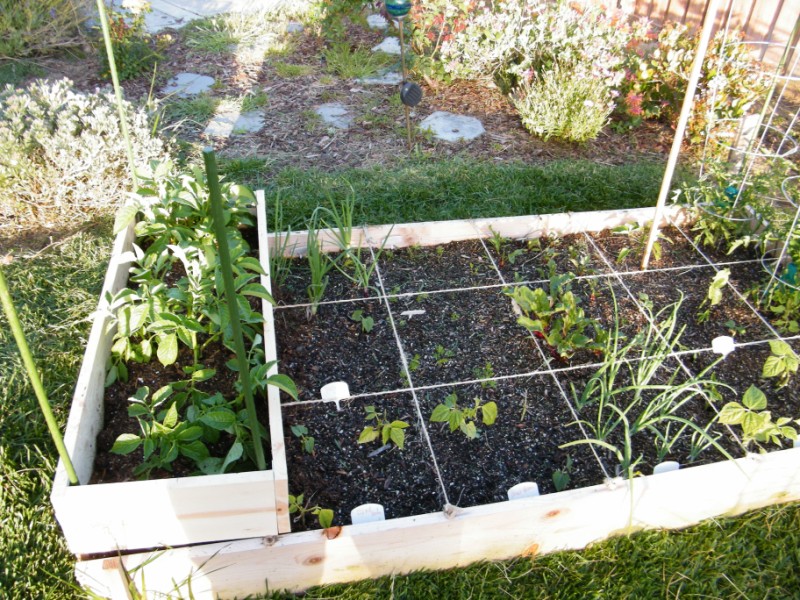 Posts

: 2467


Join date

: 2010-05-05


Age

: 62


Location

: Warner Springs, CA USDA Zone 8a, Sunset Zone 7 (I think)



Wow, they are doing well, aren't they?!? You have a really nice set-up going in your yard.
I love this whole SFG thing......living in town, I didn't think I could have a garden. Silly me.



Posts

: 215


Join date

: 2010-03-05


Age

: 42


Location

: southeast MN, zone 4a



Your gardens look very nice! And your potatoes are really growing good! We started off last year with just two rows of potatoes in our SFG, and we made a SFG just for the potatoes this year. Just two rows produced a lot of potatoes last year, so I can't wait to see how many we get this year, the best part is, no digging!

FOUNDER SFG forum 2009

certified SFG instructor




Posts

: 211


Join date

: 2010-02-26


Age

: 63


Location

: Illinois Z6



I'm right there with you Chopper. My potatoes are going CRAZY and will certainly have their own box next year! Mel's Mix is MAGIC!

Certified SFG Instructor




Posts

: 778


Join date

: 2010-03-02


Location

: Frisco, Texas



Nice looking boxes.

I see you have cages for your tomatoes. I'm wondering how you have those set up. Do you have anything on the bottoms of your boxes? I'm thinking ahead to next year when I need to rotate my tomatoes and may not have room to put all of them near the trellises. We have weed barrier stapled to our boxes and if I use cages would I just punch them through the barrier? That would seem to defeat the purpose of the barrier because I know our weeds and grass would find the tiniest hole to grow through.

I'm just wondering how you managed to use cages in your boxes.

Thanks for any advice.



Posts

: 1450


Join date

: 2010-03-16


Age

: 62


Location

: Southeastern Missouri (6b)



---
Permissions in this forum:
You
cannot
reply to topics in this forum