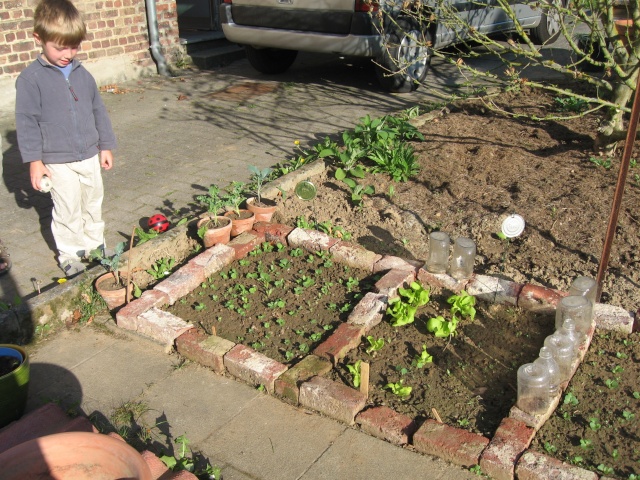 This is my eldest inspecting my square foot garden, which I started at the beginning of April this year. Since I have two kids and a job, and am pregnant, square foot gardening seemed like a low maintenance way to start a potager! You can see our radishes and lettuces thriving. The potted broccoli and cabbages are awaiting the radish-harvest to be planted. The jars and plastic bottles cut in half act as snail barriers in the night and as mini greenhouses on cold and windy days. On bright, sunny days I remove them. Yes, my lettuces are pampered! Notice the cute labels I made from tin can lids and some wire. They say 'kool' (brassica) and 'blad' (leaf), since I have an ambitious plan to combine traditional crop rotation with SFG. I know it's not necessary, as in SFG you 'rotate' informally and automatically, but I've been brainwashed by my mother and grandmother that there is no way my cabbages will survive if I don't rotate my crops, so here I am, caught between the 'old' and the 'new'. I hope this picture inspires other beginners who are starting small.



Posts

: 18


Join date

: 2010-03-31


Age

: 38


Location

: Tervuren, Belgium, zone 8



Your garden looks great and the tin can lid markers is a cute idea! What's really cute is your little helper!

FOUNDER SFG forum 2009

certified SFG instructor




Posts

: 211


Join date

: 2010-02-26


Age

: 63


Location

: Illinois Z6



Nice garden with the bricks. I'm thinking about making a few like that with bricks as well.



Posts

: 122


Join date

: 2010-03-10


Age

: 45


Location

: Nebraska (Zone 5a)



Nice efficient use of space! I like the bricks. I might try that, too, in one of my odd shaped spaces. If those tin can lids move and sparkle in the sun I bet they keep the birds away too. Good idea.
Thanks for the picture.
Claire


Certified SFG Instructor




Posts

: 765


Join date

: 2010-03-05


Age

: 77


Location

: Cleveland Heights, Ohio (5b)



Thank you,everyone, for the kind remarks.
I do think the tin can lids keep the birds away. Even the neighbourhood cats were a bit wary at first as the lids clang softly against their supports when the wind blows. But cats learn fast... Fortunately they only use the pumpkin patch as a toilet for now. I planted my pumpkins in the large patch behind my SFG, under and around the hibiscus bush. I love pumpkins because they are no work at all. Just a little bit of weeding in spring, and after that they cover the whole patch and keep it weed free for me! Only problem is the large number of pumpkins to harvest. I've still got half a freezer full from last year, and that's after supplying the whole family with pumpkins...



Posts

: 18


Join date

: 2010-03-31


Age

: 38


Location

: Tervuren, Belgium, zone 8



I have been watching this topic and love the idea of your lid labels too. Any chance you can take a close-up of one and give me an idea how you put it together? I am for anything to keep the wild critters away!



Posts

: 439


Join date

: 2010-03-19



---
Permissions in this forum:
You
cannot
reply to topics in this forum