Not mine this time, but a friend (about 30% of mine died from the husband incident, but he still lives...for now...)
details: it has been super, duper wet and rainy here lately and they looked fine before the storms. And we did have a small amount of hail. She is located in 6a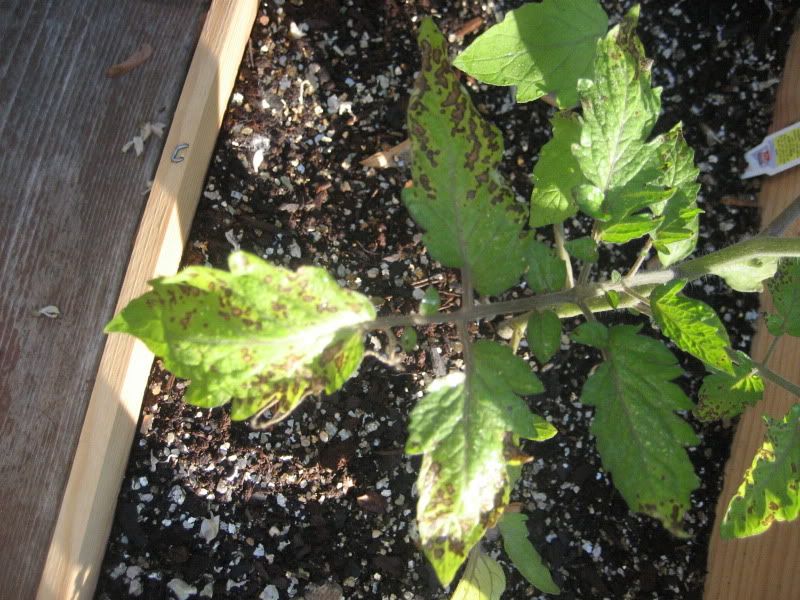 Last edited by chocolatepop on 5/6/2010, 12:49 pm; edited 1 time in total



Posts

: 768


Join date

: 2010-03-11


Age

: 37


Location

: Flint Area, Michigan (zone 5a-5b)



You may have planted them outside too early. I am in 7a, and I'm not supposed to plant tomatoes outside until sometime between May 1 and May15.



Posts

: 209


Join date

: 2010-03-09


Age

: 54


Location

: Elkridge, MD (zone 7a)



opps sorry, let me add in the original post that the friend is in 6a.

Wow really may1-may 15? My last frost here in 5b michigan is may 15 and most of us up here plant tomatoes memorial day weekend!



Posts

: 768


Join date

: 2010-03-11


Age

: 37


Location

: Flint Area, Michigan (zone 5a-5b)



I'm no expert, but that looks like what happened to a couple of ours when we put them in too early and it frosted overnight. We lost a bunch of leaves, but the tops are growing like crazy!

Hopefully that's all it is, because the rest of the plant will probably make up for it quickly.



Posts

: 778


Join date

: 2010-04-29


Age

: 48


Location

: Central Virginia, 7A as far as I can tell



Ok, I'm no fungal or virus expert and I see a tag behind the plant... I'm a wee bit suspicious of a Blight.... I wonder if any other plant that came from the same greenhouse are having similar problems...
I would snip off the affected stems and not put them in the compost.

Forum Moderator Certified SFG Teacher




Posts

: 14083


Join date

: 2010-03-06


Age

: 54


Location

: Keene, NH, USA ~ Zone 5a



mine did that last summer on the bean and pea plants, the tomato was mildy like that and it survived.



Posts

: 125


Join date

: 2010-04-29


Location

: sterling colorado



Had the same situation here...lots of rain followed by 40 degree temps. Even had a sudden 3-hour frost the end of April. Day or two later, all the plants started looking like the ones in the photos (tomatoes, cucs, basil, peppers). I'm clueless at gardening (which is why I'm trying SFG), so I kept the plants in the warm sun, when the soil dried out a bit I fed them some compost tea, and then I even said a prayer for my little "babies". They're looking much better now. So I'd agree that it was the excess rain and cool temps that caused the problem.

Does anyone know if this will affect their future growth/fruiting?



Posts

: 24


Join date

: 2010-03-13


Age

: 54


Location

: Haymarket, VA



Not sure exactly what is wrong, but I know from experience that as long as the tip is healthy and still growing the tomatoes will recover. They are amazing critters. A few years ago a hailstorm decimated my crop and a friend just told me to keep watering. They came back and produced more than I've ever seen. If these were mine, I'd pull off the affected leaves, give them a bit of a boost nutrient wise -- either 1/2 strength soluble fertilizer or compost tea and let them heal.



Posts

: 904


Join date

: 2010-03-03


Location

: USA



---
Permissions in this forum:
You
cannot
reply to topics in this forum