Hi, all! I am new to Square Foot Gardening and am working on my first 4x6' raised SFG! It is beautiful and functional, and aside from requiring a LOT of bags of compost (the bed is 12" deep), it has been a joy to work in!

So, here is my dilemma...all of my seeds are sprouting nicely, but I definitely put a generous pinch of seeds in each hole rather than the required 1-3 per hole. Now I have a LOT of sprouts and am unsure what to do with them. The carrots, lettuce, spinach and onions are the issue - should I thin all of them down to one main sprout? The carrots, onions and spinach are about 1" tall; the lettuce is 1/2".

I would appreciate any suggestions from the group!



Posts

: 2


Join date

: 2010-05-06


Location

: Palmyra, PA



I would cut all the sprouts but one. It is hard to cut the plants but it will be worth it when every thing starts to grow.



Posts

: 5


Join date

: 2010-03-08


Age

: 42


Location

: Brevard, NC



Personally I would just go ahead and thin them. Although you could wait a little bit and eat the thinnings then. It's really up to you.



Posts

: 122


Join date

: 2010-03-10


Age

: 45


Location

: Nebraska (Zone 5a)



I think it's probably best to thin the carrots and onions, since it's the root (or bulb) that you want to develop. I have my onions planted 16 per square, but I'll be thinning them to 9 per square through the spring - I can use the green onions early and let others grow to full size. Carrots will probably grow all weird and stunted if you have them too close together, so I'd thin them right away to the ideal distance.

The lettuce and spinach? I'll be thinning mine as I harvest fpr my salads, so I think they would be okay to leave and thin as you use them (harvest occasional whole plants rather than a few leaves from each plant).



Posts

: 530


Join date

: 2010-03-21


Age

: 66


Location

: Colorado Springs, CO Zone 5b



Thanks everyone for the advice! I decided not to anything with the lettuce and will just harvest the outer leaves as they mature. As for the spinach, I did thin them to 2-3 plants per hole and am hoping that I can do the same thing as with the lettuce. I thinned the onions to 2/hole and will go back and take them to 1/hole. As for the carrots, their sprouts are very fragile, so I thinned them to about 3/hole and will thin them to 1/hole after they grow just a little bit more (so I can get a good handle on the one I want to pull out without pulling out the whole thing). Since this is my first garden, I am just glad to see ANYTHING coming up, and will be so glad when it comes to harvest time!



Posts

: 2


Join date

: 2010-05-06


Location

: Palmyra, PA



I only planted one seed per hole.... oops. I just planted last night should I go add to them? It's my first garden LOL.



Posts

: 1


Join date

: 2010-05-08


Location

: Blanding Utah



If this is your first garden then I assume you just bought your seeds. You will probably be ok with one per hole with new seeds because you should have a pretty good rate of them germinating. Thats my 2 cents. Last year pretty much EVERYTHING sprouted, this year with the same seeds i have noticed a slight decrease in all the seeds germinating but still most of them are sprouting right up.



Posts

: 210


Join date

: 2010-03-03


Age

: 40


Location

: Burlington County, NJ - Zone 6b



This is my first year gardening as well. I planted three carrot seeds in every hole, and every single seed sprouted! After the carrot plants grew to about 1 1/2", I took a pair of scissors and cut the extra plants right at their base. I also pulled some the extras (roots and all) to give to another gardener. I now have exactly 16 carrot plants per square foot. About a week and a half after thinning, the remaining plants seem to be thriving.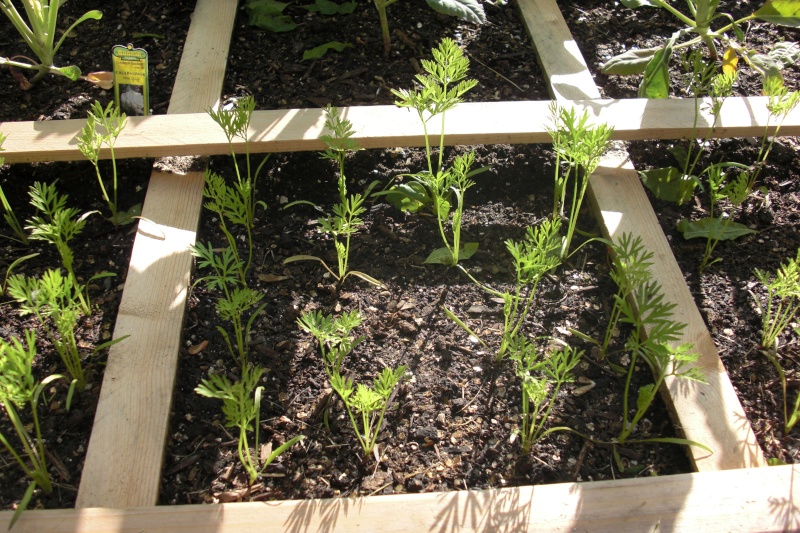 Posts

: 1


Join date

: 2010-05-08


Location

: St. Louis, MO



I am thinking that 4+ lettuce plants sprouting out of one hole is not going to yield any greens. You are likely to have 4 crappy stunted lettuce plants rather than some early greens and then a full plant. I could be wrong - a bit of a habit with me.

I think what people are saying is if you want 4 plants/sf and you plant 12 - but not all in the same hole then you have some early greens for thinning. If you have 4, 5,6,7 seedlings coming out of the same hole - I would not expect more than 2 at a time to thrive. My point - it they are sprouting out of the same hole - thin them to no more than 2, preferably one.

Am I reading the dilemma correctly?



Posts

: 2467


Join date

: 2010-05-05


Age

: 62


Location

: Warner Springs, CA USDA Zone 8a, Sunset Zone 7 (I think)



---
Permissions in this forum:
You
cannot
reply to topics in this forum