Hi all,
I've been a flat earth gardener for 40 years or so. I recently (last summer) moved to a new house and had to start over with a pretty blank slate. I remembered watching Mel's show on PBS, along with The Victory Garden, so I decided to go with raised beds. I insisted on getting a house with a "mullet yard" - small & formal in the front, big and open in the back. Being in a new neighborhood, I spent the spring putting in flower beds to impress my new neighbors.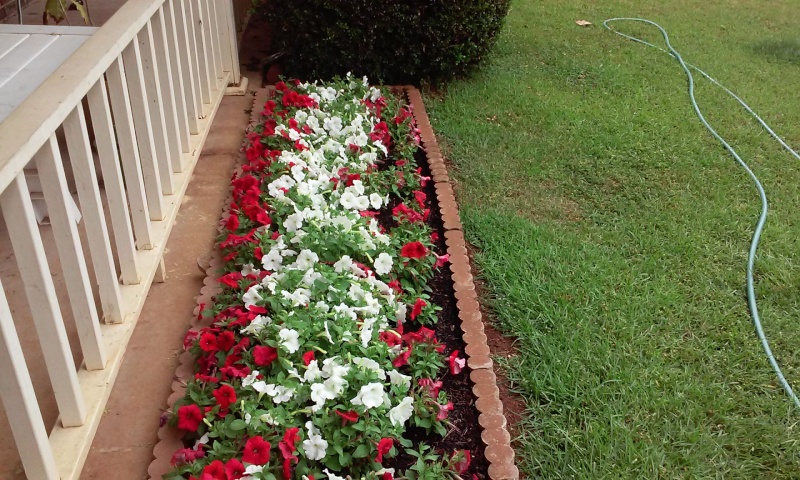 I've now moved to the back yard, albeit a bit late, and am putting in my raised beds. I'm building twin beds, wrapped around the back corners of my little back patio. I'm using cinder blocks, two levels high. I only have the first one (almost) done. I removed the sod cap, and dug them in a couple of inches, leveling (more or less) with paver sand. I then laid down some cardboard and filled with some Mel's Mix. I filled this in two sessions. (Hand mixing the stuff, one wheelbarrow load at a time will wear you out, and it isn't cheap, either.) The first batch had 6 types of compost - municipal compost, composted cow manure, composted chicken manure, mushroom compost, worm castings and cotton burr compost, plus horticultural (not coarse) vermiculite and peat moss. The second batch didn't include the municipal compost and used coarse vermiculite. 
During this construction project, I had to pause to install an electric fence to keep the neighbor's pittbull from climbing the fence and digging in my new garden, but I finally got the thing filled and quickly transplanted some peppers and tomatoes that had been waiting on me. I haven't installed any grids yet, and am still working to fill all of the holes in the blocks, but it is finally up and running.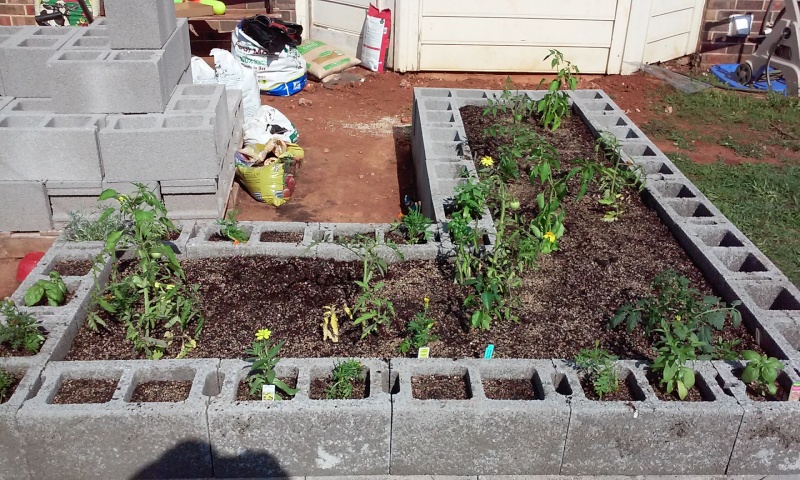 I'm disappointed that I got it going so late in the season (tax day is usually the day to start putting in your garden in these parts, so I'm almost 2 months too late, for a standard, 1 season flat earth garden, anyway), but I view this a a very long term infrastructure investment, and I am planning for a 3-4 season garden, once I really get it finished.  
For years, as a flat earth gardener, I've believed that February is the best month for a gardener - no work, just wonderful daydreams and seed catalogs. I am expecting my raised beds to change that attitude.
--Eric



Posts

: 2


Join date

: 2015-06-06


Location

: Meridianville, AL



I'm not sure what a flat earth gardener is, but:

-- Welcome!
-- Nice flower bed
-- I grow about half my garden at a neighbor's place, and over there we use cinderblocks two high, just like you do. It works great -- he always gets amazing results, and the beds are wonderfully durable and easy to stand or sit on. Even the little holes in them are good for securing tools or a hose, etc.
-- I hope you like your new garden! I think you made a great choice for long-term durability and low maintenance.



Posts

: 3638


Join date

: 2013-07-05


Age

: 55


Location

: SW Oregon



Bama_Eric, Welcome to the Forum from California!
Cinder block is a nice durable material for the boxes. Plus, you can reconfigure it (should you care to remove the Mel's Mix). AT first I winced when you mentioned removing the sod a couple inches but then I read you filled with sand. A pit can become a soggy mess but you restored the grade. For your second bed, I would recommend that you add a layer of weed fabric on top of the card board. It's hard to see in a photo, but it looks like you have an invasive looking grass. Don't worry too much about being late. You have a new home, the front yard is pretty and you are building your beds.


Forum Moderator Certified SFG Teacher




Posts

: 14016


Join date

: 2013-04-21


Age

: 68


Location

: Fresno CA Zone 8-9



Bama-eric 
from Kelejan
Pretty flowerbed and I am sure you neighbour is happy about it.  Looking forward to seeing your  further developments.  Don't worry about being a bit behind, by next year everything will be just fine.  Your compost mix sounds great and you seem to know what your are doing.




Posts

: 4886


Join date

: 2011-04-24


Age

: 82


Location

: Castlegar, British Columbia



Hi Bama_eric.  Welcome from Atlanta, GA!

Looks like you're going to be having a good time!  Looking forward to seeing your progress...

Certified SFG Instructor




Posts

: 4137


Join date

: 2014-03-18


Age

: 54


Location

: Buford, GA - Zones 7B/8A



[quote="sanderson"]Bama_Eric, Welcome to the Forum from California!
AT first I winced when you mentioned removing the sod a couple inches but then I read you filled with sand.
Actually, I only dug down a couple of inches where the blocks went, and then levelled with paver sand. The interior was just scalped down to the dirt, then covered with cardboard before I filled with Mel's Mix.
As I've been planting, I've discovered that I really miss the grids more than I imagined I would, and I will work on that, especially for the companion bed I plan to put in next week.
I also think I prefer the horticultural vermiculite to the coarse. I think I heard Mel comment (on a radio interview I found on youtube) that he didn't like the look of perlite and how it tended to float to the top. To me, the coarse vermiculite seems to look and behave about the same. What am I missing here?
One final question - the cotton burr compost instructions indicated that you should not use it with peat moss. I did so anyway. Any ideas on this?
Thanks for the tips and inspiration.
--Eric



Posts

: 2


Join date

: 2015-06-06


Location

: Meridianville, AL



Re the finer vermiculites, they will break down faster and lose the properties you are buying them for in the first place. There are quite a few more grades than merely fine/medium/coarse, though, so with some diligence it's possible to find something one likes that might still hold up a while.



Posts

: 3638


Join date

: 2013-07-05


Age

: 55


Location

: SW Oregon



---
Permissions in this forum:
You
cannot
reply to topics in this forum