Greetings everyone,
Well I was surprised to see that the mysterious plant that emerged from one of my gardens is actually a zucchini. Go figure. No idea where it came from, but none the less, I am letting it do its thing. 
Question, as the picture shows there is a a small squash that has lost its flower and started to go at it on its own. What I am seeing now is that same squash has now started to shrivel up and lose its green color. Turning more pale maybe a bit yellow. To me it looks as if it hasn't had any water, but that isn't the case either. The rest of the plant looks just as it does in this picture and is putting out more flowers.
I did read on this forum that it might be due to a lack of pollination. That seems unlikely because I am blessed with many bees and other pollinators.
Sorry, I do not have a picture of the current state, but will try to get one later.
Any help is always appreciated.
Blessings,
Gary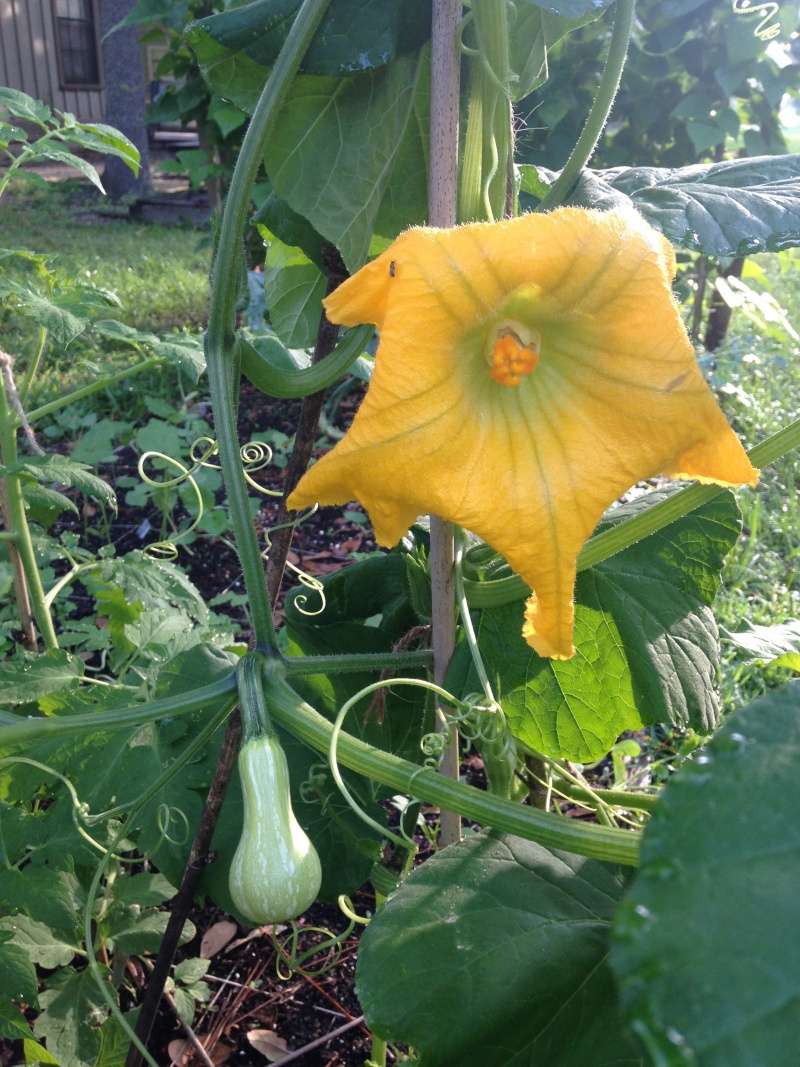 Posts

: 86


Join date

: 2010-12-14


Age

: 54


Location

: Gainesville Florida, Coastal and Tropical South, zone 8-9



That looks like a butternut squash.
Is it just the fruit collapsing, or the entire plant?
This is what happens due to no/poor pollination. The fruit aborts.
http://gardensouth.org/wp-content/uploads/2011/06/IMG_9167w1.jpg
____________________________
41 years a gardener and going strong with SFG.
http://squarefoot.creatingforum.com/t3574-the-end-of-july-7-weeks-until-frost
There are certain pursuits which, if not wholly poetic and true, do at least suggest a nobler and finer relation to nature than we know. The keeping of bees, for instance. ~ Henry David Thoreau
http://squarefoot.creatingforum.com/t1306-other-gardening-books

Forum Moderator Certified SFG Teacher




Posts

: 14165


Join date

: 2010-03-06


Age

: 54


Location

: Keene, NH, USA ~ Zone 5a



One of members goes by the name of Pollinator. He's an expert on the subject.

And he has noted that squash flowers are often skipped over by pollinators in favor of other flowers that insects find more appealing. So having a lot of pollinators doesn't mean you'll have a lot of pollinated squash, much less well-pollinated squash. Some plants require multiple visits to fill out the fruit properly!

For what it's worth, I've had that problem myself. Enough pollinators, but lots of unpollinated flowers.

And there's even another problem to contend with: sometimes you might have only male flowers out, or only females ... but of course you need to have both sexes going at the same time or there's no pollen to pollinate with in the first place.



Posts

: 3638


Join date

: 2013-07-05


Age

: 56


Location

: SW Oregon



Thanks everyone for the input. Didn't think about only male/female flowers. Of course right now I am really not sure what it is. Planted zucchini a long time ago and never planted butternut.
Here are a couple of pictures that show what the "squash" looks like and what it looked like prior. The "prior" picture is actually on the plant now with its detached flower. I am wondering if it is going to do the same thing.
Blessings and thanks everyone!
Gary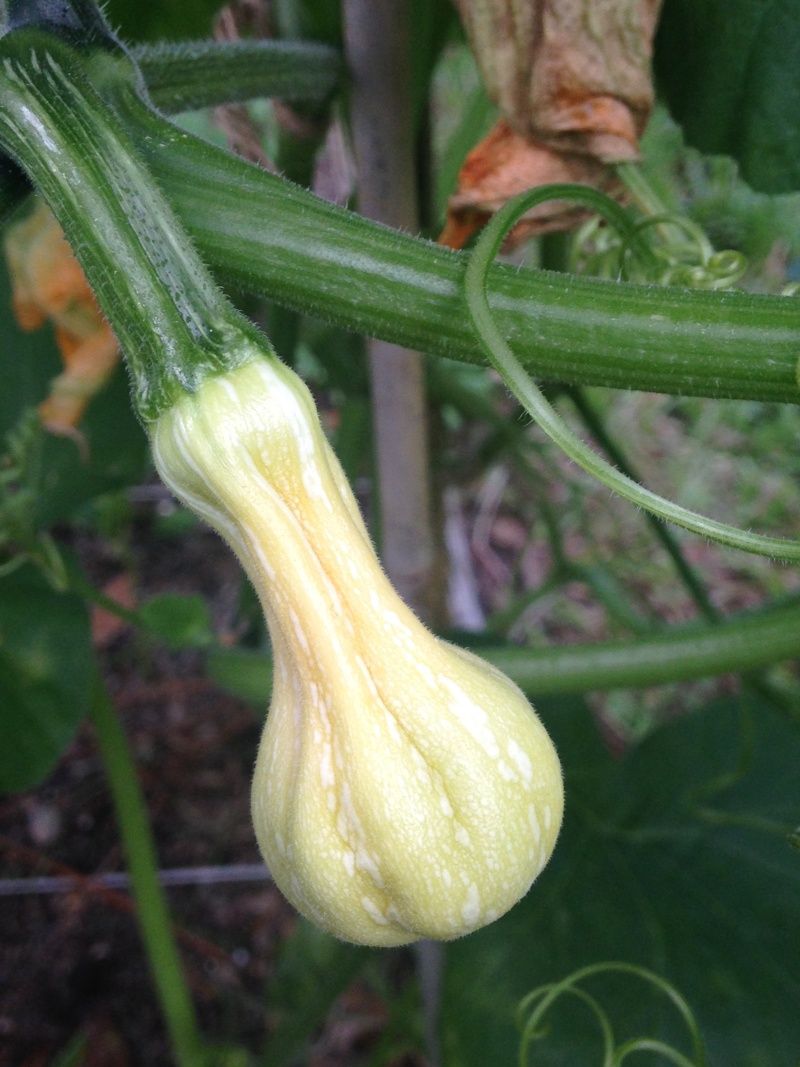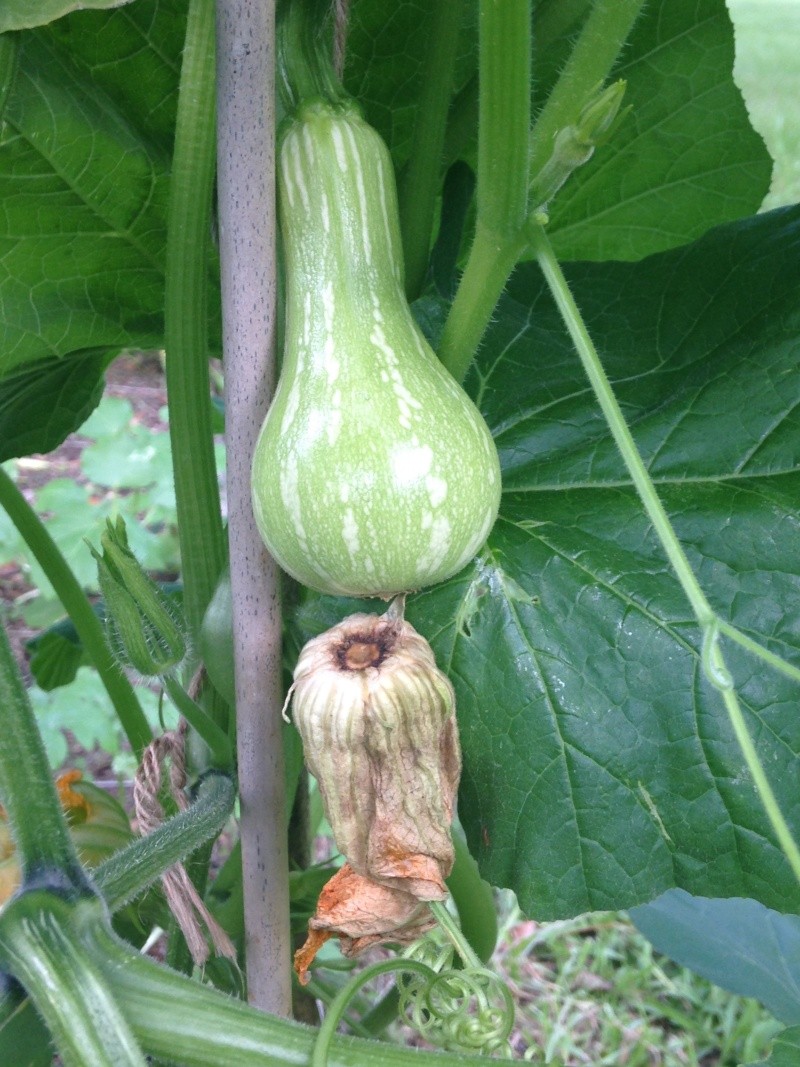 Posts

: 86


Join date

: 2010-12-14


Age

: 54


Location

: Gainesville Florida, Coastal and Tropical South, zone 8-9



If you search out videos on youtube on hand pollinating squash, you can easily take care of it yourself.  It's a little harder with only one plant due to the need of good male flowers when your female fruit/blossom is ready, but it can be done :-)



Posts

: 1916


Join date

: 2012-12-07


Location

: Central Calif Mtns.



@hartge01

wrote:
In this picture in the bottom left is an unopened male flower. In the upper right is an unopened female flower. Look at the shape of the bump that the petals attach too on the female flower. To me it looks like roughly the same shape as your bigger fruit in the picture center, slender at the stem end with a ball at the flower end. If that is so, then that is the shape this plants fruit are supposed to be.
Mystery squash are invariably interesting cross breeds. Squash cross with other squash very easily. You can often pick the fruit when young and tender as summer squash and/or let mature as a winter squash. The categories summer /winter are more than a bit arbitrary.
Have you picked the original question fruit and looked inside to see if it looked like an aborted fruit or something else going on? How is this fruit doing?



Posts

: 2269


Join date

: 2012-03-29


Location

: Gallatin Valley, Montana, Intermountain zone 4



---
Permissions in this forum:
You
cannot
reply to topics in this forum