Latest topics
»
2018 - First Annual Seed Exchange Week - January 20-28 (Edited)
by
countrynaturals
Yesterday at 12:33 pm
»
Are vegetables hurt by too much light?
by
BeetlesPerSqFt
Yesterday at 8:38 am
»
Seed Starting!!
by
brianj555
1/19/2018, 9:14 pm
»
Spring Fever Anyone?
by
sanderson
1/19/2018, 3:06 pm
»
How's the Weather Where You're At?
by
sanderson
1/19/2018, 2:56 pm
»
Weight Watchers Turkey, Bean and Vegetable Chili
by
hammock gal
1/19/2018, 8:43 am
»
Sow True Seeds
by
AtlantaMarie
1/19/2018, 8:00 am
»
Colored Mulch
by
No_Such_Reality
1/18/2018, 7:12 pm
»
Taking on 4 Season Gardening
by
Roseinarosecity
1/18/2018, 5:19 pm
»
Fourth Year SFG in Canada
by
trolleydriver
1/18/2018, 3:53 pm
»
SUGA 2017
by
SQWIB
1/18/2018, 12:57 pm
»
Senseless Banter...
by
sanderson
1/17/2018, 9:42 pm
»
Butternut squash, turkey Italian sausage, cannelini bean soup
by
yolos
1/17/2018, 9:25 pm
»
Happy Birthday!!
by
yolos
1/17/2018, 9:12 pm
»
N&C Midwest—January 2018!!!
by
Scorpio Rising
1/17/2018, 7:08 pm
»
Is there ever enough compost?
by
has55
1/17/2018, 2:41 am
»
What are you eating from your garden today?
by
Scorpio Rising
1/16/2018, 9:10 pm
»
Gophers
by
countrynaturals
1/16/2018, 12:32 pm
»
High heat tolerant tomatoes
by
walshevak
1/16/2018, 6:03 am
»
Mid-Atl - Jan 2018 - Brrrrrrrrrr! and Happy New Year
by
AtlantaMarie
1/15/2018, 6:43 am
»
CANADIAN REGION: What are you doing in January 2018
by
sanderson
1/15/2018, 3:53 am
»
New England Jan 2018
by
hammock gal
1/13/2018, 5:50 pm
»
My first Attempt
by
21Actual
1/13/2018, 5:05 pm
»
Air Fryer! HELP!
by
sanderson
1/13/2018, 3:26 pm
»
New SFG box-Humanitarian way
by
sanderson
1/13/2018, 3:24 pm
»
Drafts?
by
trolleydriver
1/13/2018, 1:18 pm
»
Hello from Northern Ontario Eh!
by
BeetlesPerSqFt
1/13/2018, 1:07 pm
»
January 2018 Avatar: Surprise Us
by
sanderson
1/12/2018, 4:57 pm
»
Review of Terms of Service
by
Ginger Blue
1/12/2018, 4:02 pm
»
DIY Plant Markers
by
countrynaturals
1/11/2018, 7:32 pm
After I retire from my daily tasks I generally spend some quality time after dinner surfing this site. I get lost in looking at many of the SFG pics of some rather envious gardens. Y'all have given me so many ideas. I do wish I had a plan before I started this venture. By including your ideas I am certain that next years garden will be a bountiful delight. You see, my goal is not only to augment our income but also to take pride in the fruits of my labor. True, a garden is seasonal but the pride can last forever.
I started out with some very rough land. Most of my posts have been about my chicken run and just a few segments regarding my garden. Actually, my garden is the primary focal point of my objective. Eggs, Chickens and Steers were an after thought yet I spent so much time in clearing land for them. Go figure. 
Growing veggies in my own Garden WAS/IS Number One. My closest friends seemed to think was a rather peculiar venture for me because the only thing I have ever managed to grow in my life is a beard. Even then, most of the time it looks scruffy so I typically lose it after a month or so after trying to shape it into something that looks presentable. It never works out.
Well, my garden is coming together at last.
As I posted before, I managed to get everything in the ground during the week of May 15. The journey to the 15
th
was laborious. We have a lot of land but only a very small portion was cut out to accommodate the house and yard. The rest of the land was left to Mother Nature to use as she saw fit.
Our front yard measured 200' wide by 300' deep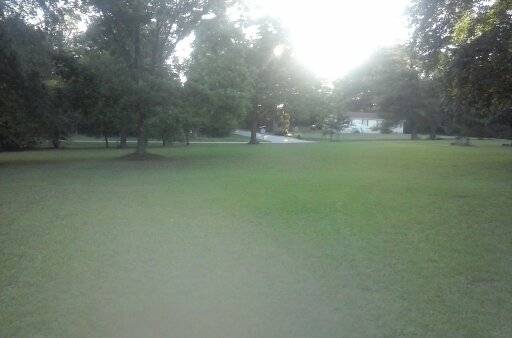 and was reasonably taken care of by the realty company. Our back yard was left to the imagination of the new owner. To give you an idea, the back yard of our property had been manicured only about 70 feet out from the back of the house. However, the tree line sets another 250 feet beyond that and this area between was allowed to accommodate the whim and caprice of natural selection.
The ground was uneven. Thicket, thistle, Formosa and Wisteria stood firm with their roots planted deep. After a January rain I learned not to enter without boots. Standing water or squishy footing lasted for days. While a tangled soggy mess indeed, it lie true East and West in full sunlight. With regards to a perfect a site for a garden, who could ask for anything more?
Because I had no set plan I never thought of recording my progress. Now that I see what I have accomplished, I wish I had. Be that as it may, I popped in the earbuds and with Puccini's Turandot setting the pace, as Calàf, certain of his victory, Mother Nature would soon yield and the garden would be mine.
We moved from a small lot in the city with absolutely no equipment to take on such a challenge. Enter Li'le Red, my Missouri mule. url=http://www.servimg.com/view/19235712/62]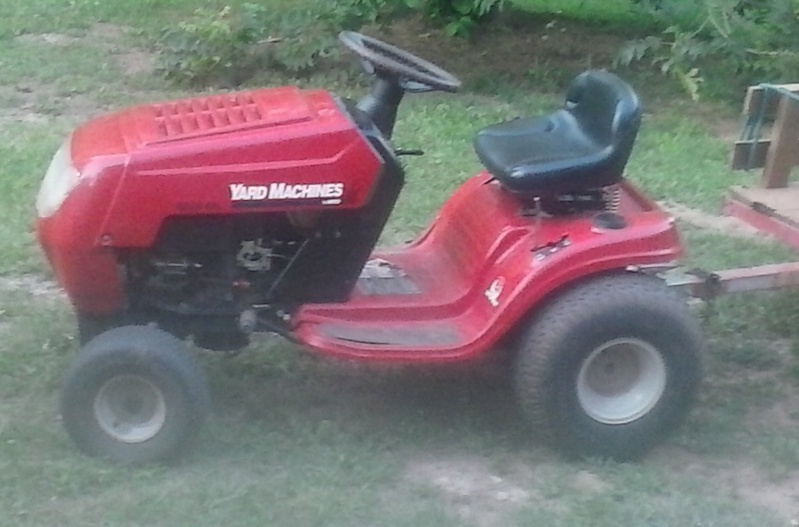 [/url] A true friend helping us move arrived on the final day with Li'le Red on his trailer and announced that it was a house warming gift. I insisted on making some amends. After several beers and glasses of tea (I don't drink) he agreed to accept a pittance reflecting Li'le Red's true value.
Hell is indeed a terrible place; just ask li'le Red, for I have dragged him through it many times over. I have far exceeded the manufacture's design applications for this equipment many fold. While clearing the area I would find many a treasure. Nonsensical stuff such as steel beams, scaffolding, blocks and bricks.
After Pee Wee and I made a mess of things with our rented backhoes
[img]   [url=http://i18.servimg.com/u/f18/19/23/57/12/peewee10.jpg[/img]
http://i18.servimg.com/u/f18/19/23/57/12/peewee10.jpg[/img][/url[/url]]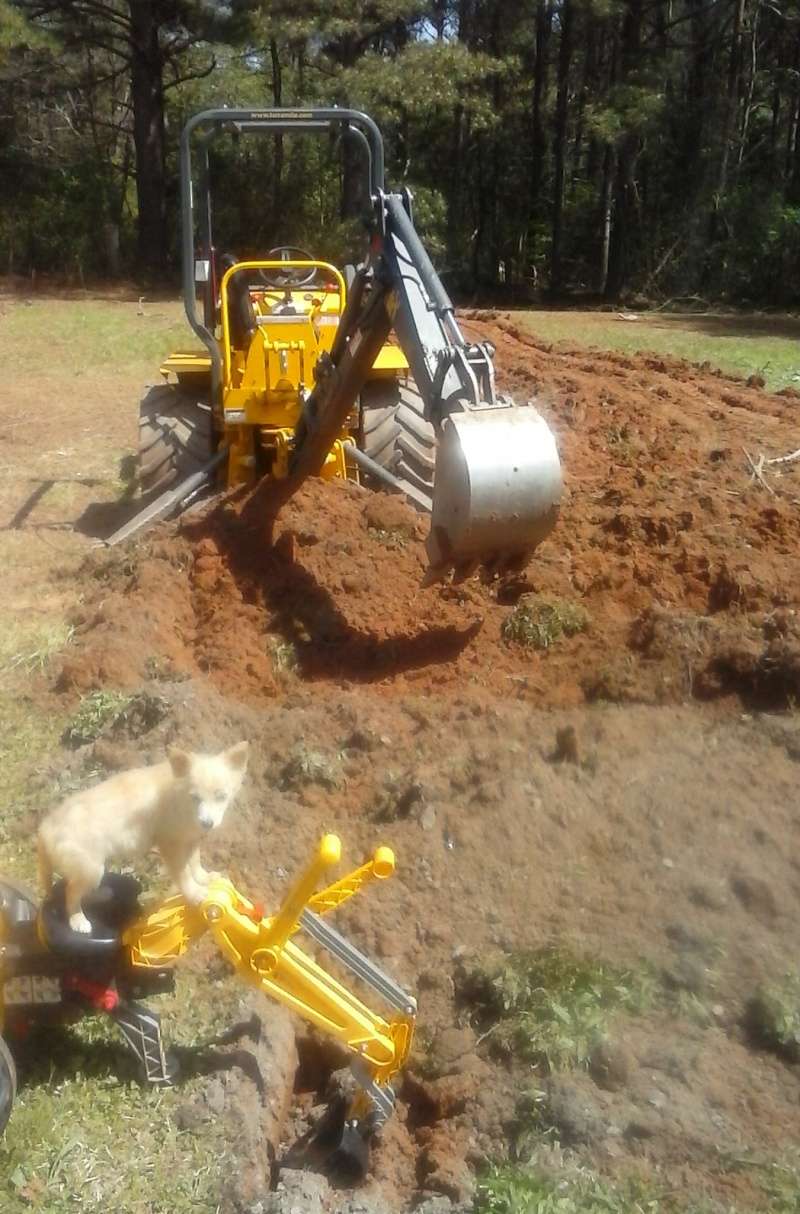 we called in the services of a local farmer to disc the lumps of clay and added forest top soil that I had added in hopes of dropping the PH from 7.5. As a general contractor I still have a transit so I was able to create a grade to drain the land to the North East corner. Using the scaffolding and some railroad spikes I made a harrow for the fine grading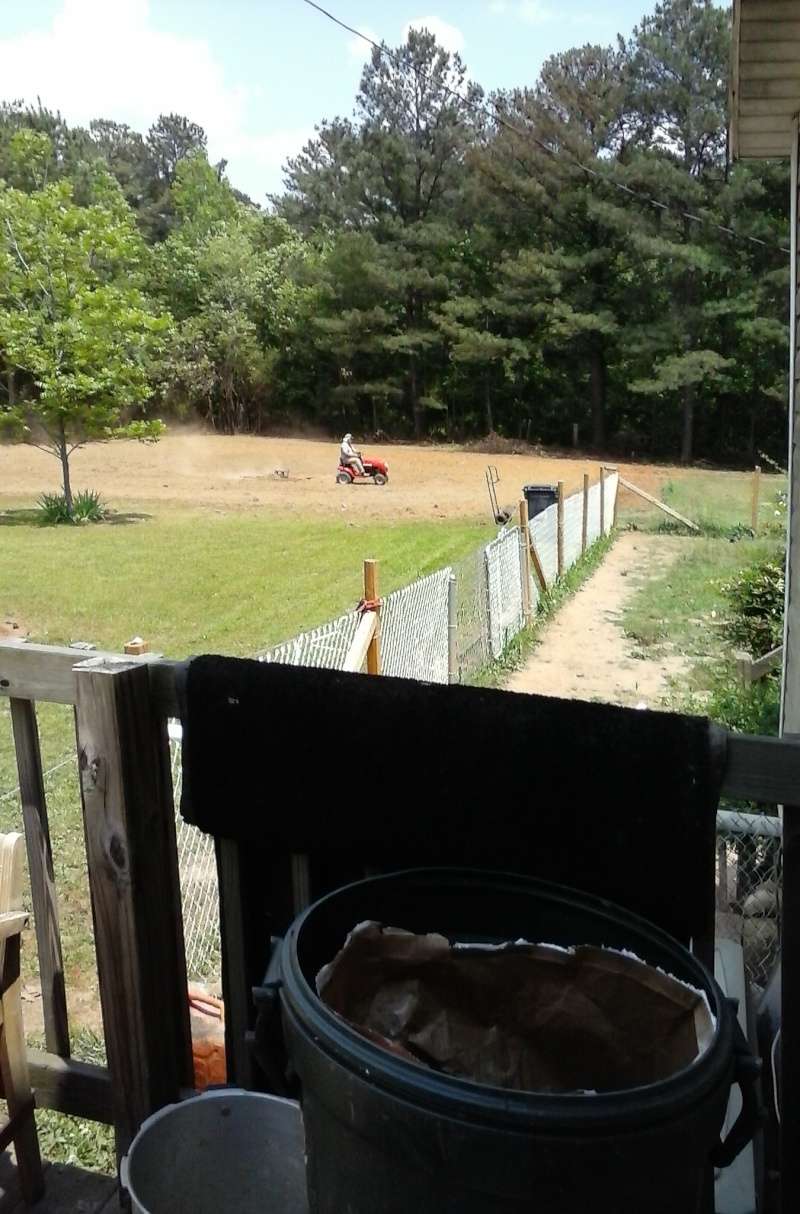 which li'le Red tirelessly pulled back and forth.
We have accomplished much. The land would not perk but now after a firm rain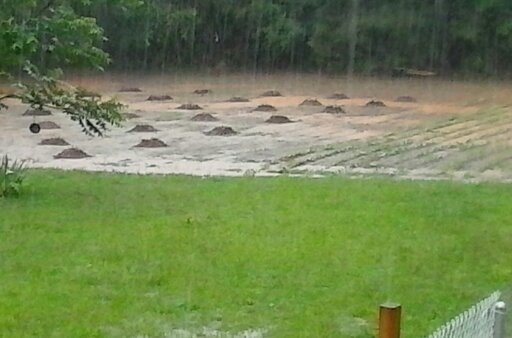 five minutes later there is not any standing water.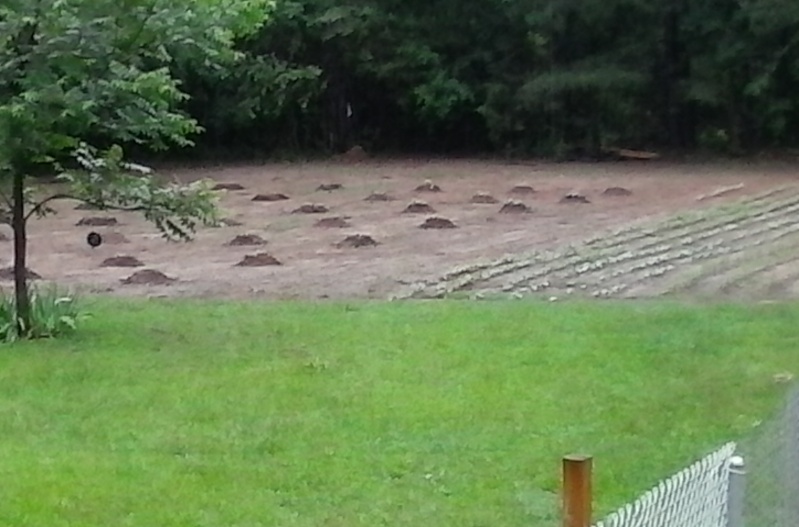 To be sure, my garden pales to the fantastic specimens posted on this site. I take solace only in knowing that this is a learning experience. It can only get better from here. I have researched many of your posts to learn the do's and don'ts from our members. The information is helping me considerably. Before years end I will have my garden, chickens and beef (Brenda refuses to raise pigs - how she puts up with me is anyone's guess for I can be a bit messy at times).
Anyway, here is my gardenurl=http://www.servimg.com/view/19235712/68]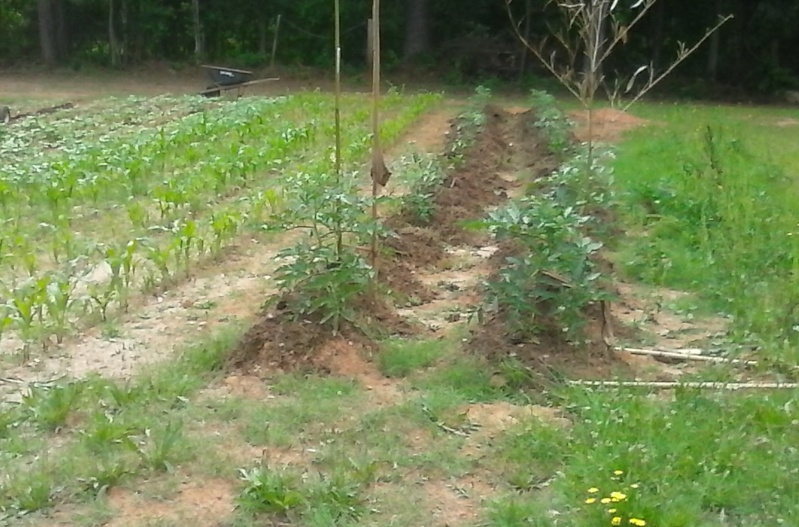 [/url] as of 32 days from the initial sowing of the first seed. It is not much,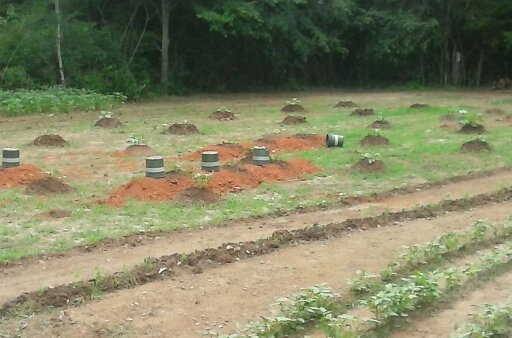 but it is my starting point and I have many of you to thank for the guidance.
Scruffy.



Posts

: 84


Join date

: 2015-05-27


Location

: Georgia 30223



Scruffy, you amaze me.  Keep going.




Posts

: 5033


Join date

: 2011-04-24


Age

: 82


Location

: Castlegar, British Columbia



Rooting for you and your wife! Looking good.


Forum Moderator Certified SFG Teacher




Posts

: 15209


Join date

: 2013-04-21


Age

: 69


Location

: Fresno CA Zone 8-9



Wow, Scruffy...  All that nice, flat, open space in the front yard.  What a nice setup.  I can think of SO MANY things to do with a canvas like that!

Everything looks great!

Certified SFG Instructor




Posts

: 4396


Join date

: 2014-03-18


Age

: 54


Location

: Buford, GA - Zones 7B/8A



That is Brenda's playground. Right now it is too hot for her to venture out but she has all sorts of ideas. Her thumb is much greener than mine and her ability to plan ahead typically produces results that do look quite nice.



Posts

: 84


Join date

: 2015-05-27


Location

: Georgia 30223



---
Permissions in this forum:
You
cannot
reply to topics in this forum